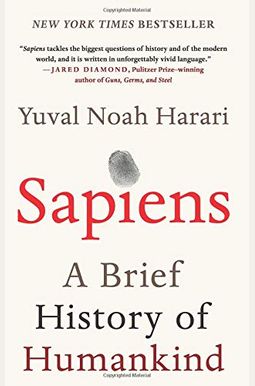 
 
Sapiens: A Brief History Of Humankind
Book Overview
This Description may be from another edition of this product.
Official U.S. edition with full color illustrations throughout.
#1 New York Times Bestseller
The Summer Reading Pick for President Barack Obama, Bill Gates, and Mark Zuckerberg, now available as a beautifully packaged paperback
From a renowned historian comes a groundbreaking narrative of humanity's creation and evolution--a #1 international bestseller--that explores the ways in which biology and history have defined us and enhanced our understanding of what it means to be human.
One hundred thousand years ago, at least six different species of humans inhabited Earth. Yet today there is only one--homo sapiens. What happened to the others? And what may happen to us?
Most books about the history of humanity pursue either a historical or a biological approach, but Dr. Yuval Noah Harari breaks the mold with this highly original book that begins about 70,000 years ago with the appearance of modern cognition. From examining the role evolving humans have played in the global ecosystem to charting the rise of empires, Sapiens integrates history and science to reconsider accepted narratives, connect past developments with contemporary concerns, and examine specific events within the context Read More chevron_right
Frequently bought together
Frequently Asked Questions About Sapiens: A Brief History Of Humankind
Books like Sapiens: A Brief History Of Humankind
Book Reviews
(13)
Did you read Sapiens: A Brief History Of Humankind? Please provide your feedback and rating to help other readers.
Insulting rubbish

Derived From Web

, Jan 28, 2022

The first 30 pages were interesting, but this passage stopped me cold. When agriculture and industry came along people were able to rely on the skills of others for survival. If you work as a water carrier or an assembly line worker, you could pass on your unremarkable genes to the next generation. Hard working people are insulted by condescending rubbish. There was very little discussion of early Homo sapiens. Can't imagine what Bill Gates, Barack Obama, the Wall Street Journal, and NY Times saw in this book. Give this one a try.
Interesting, but too long

Derived From Web

, Dec 20, 2021

I think this book came from a meeting between the author and the publisher where the author submitted a 100 page manuscript. It needs to be 500 pages. How would I do that? Just repeat everything five times. Wouldn't that take a lot of time? Do you want the deal? Use the word 'Sapiens' in italics. Every page. The book is interesting, but thin. I was avoiding re-reading the same points by skipping forward. When a new idea is introduced, it's definitely interesting, and the subject is explored well. I don't need to read it again.
So Dumb!

Derived From Web

, Apr 16, 2021

He gives opinions as facts. He doesn't bother to explain what obsidian is because he is condescending. He must think his readers are stupid. It is poorly written and researched. It's not for anyone who is interested in the topic. I would give it a negative rating. Please don't insult yourself by reading this.
Fact free social justice screed.

Derived From Web

, May 10, 2020

I was very disappointed in this book. Thought it was a scientific book about cultural anthropology and the development of humans, but in reality it is a left wing opinion that is full of errors. Subsections like capitalism are complete with a Marxist theory of monopoly that was disproven in the 50s, and the author is just plain wrong. The author needs to go back to school.
Importan history of humankind

Derived From Web

, May 13, 2019

The history of human development in language is presented by the professor of history. The first 60-70% of the book is excellent, but then he moves to contemporary criticism and belief in global warming. The book moves from an understanding of human development to a professorial update on how and why we must do that. The book is worth reading, but the concluding chapters have the same academic prejudice as before.
I wasted my money

Derived From Web

, Mar 18, 2019

I have read similar books. Each of them have their own ideas and topics. The author's opinions about random things throughout history were the subject of this book. Was the agricultural revolution a scam? I made it about 30% of the way through. The rest was just random musings about strange ideas the author had, and nothing about what it promised to be.
Tedious ... incoherent ... unproven assertions

Derived From Web

, Nov 10, 2018

It was a sludge of incoherent assertions, incoherent claims, and summary paragraphs of one article after another. Occasionally, an interesting view or insight was presented, but these were never developed before the author left the topic.
Shallow Self Important Nonsense

Derived From Web

, Oct 20, 2018

Bill Gates, Barrack Obama, and Mark Zuckerberg all like this half baked postmodern, neo Heglian, neo Marxist, reductionist, animal rightist, hodge podge? The author is smart and knows how to turn a phrase, but announces Truth from Olympus while dismissing others' world views as myths. He doesn't know about the self referential paradoxes. The author lives in a myth. He will tell us that his story is not a myth. I am pretty sure that no one will remember this book being ever written.
used only twice

Derived From Web

, Oct 14, 2018

I liked the oral interpretation done by the actor on my phone, but I got a very wooden performance by the actress on my desktop. I apologize to ladies. This is not a sexist comment. I'm pretty sure that I would be happy to have any of the above read this or any book. Why can't you choose the reader? Not much as their gender.
Don't be fooled. This book is opinion masquerading as science.

Derived From Web

, Sep 28, 2018

If you want to learn about the author's feelings about modern society in the past, this book is for you. If you want to learn something scientific about the progress of our species, you should look for something else. I've never felt like I spent money on a book. In this case, I did. It could have been an interesting read. It's not worth more of my time.