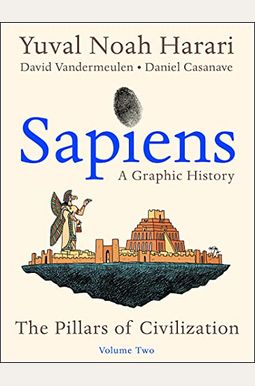  
Sapiens: A Graphic History, Volume 2: The Pillars Of Civilization
Frequently Asked Questions About Sapiens: A Graphic History, Volume 2: The Pillars Of Civilization
Book Reviews
(9)
Did you read Sapiens: A Graphic History, Volume 2: The Pillars Of Civilization? Please provide your feedback and rating to help other readers.
What cultural beliefs do we have today that have no real basis? Sapiens highlights our misbeliefs!

Derived From Web

, Jan 9, 2022

In "Cultures of Life," Michael Savage and Jeffrey Daschle examine how we live by and never question the belief systems that define us. The time has come to put these beliefs to rest. These are the beliefs that are causing so much turmoil in today's society because so many of us won't let go of yesterday and what our culture now deems to be truth, Dr. Abraham said. This book is an easy and entertaining read, and I highly recommend it to anyone.
Another hit

Derived From Web

, Dec 22, 2021

My son and I are really enjoying this as a bedtime read. It was an excellent textbook for teaching and entertaining both of us. I've read the entire book, and I still can't get over it.
Myth, Revolution, and Intersubjectivity

Derived From Web

, Dec 12, 2021

The second volume of Sapiens' graphic history was released last year. Marvel's second volume of the "X2" series picks up right where the first left off. It has two main topics: the agrarian revolution and the idea that human-created myths pull society together, sometimes more than we care to admit. Without myths, we have no cohesive society, he said. Myths can be changed to the betterment of society, in general, such as the feminist movement over the last 100 years, he said. No war was fought, for example, but a huge change in the way people looked at the world occurred. Harari goes into several other myths, but I'll let you check out the volume for yourself. The best things about these volumes are the graphic novel format and the larger paper size, Hachette said. It is easy to hold in your hands, and the artwork, while not exceptional, offers a clear picture of what is being discussed, Mr. Dhaliwal said. Highly recommend.
Love it!!!

Derived From Web

, Nov 26, 2021

I bought this book for my 11 year old son and he absolutely loved it. Can't wait for the next one! Thanks to Noah Harari for the photo.
Book is defective

Derived From Web

, Nov 21, 2021

The book is not available for download on any iOS device. Three different iPads and two different iPhones gave the same error message. All they could provide was ineffective boilerplate responses to reinstall the app etc. The issue has been reported by other customers. Fix this, Amazon. com.
Incompatible with iPad or iPhone — refund us or fix it

Derived From Web

, Nov 16, 2021

The book won't open until September. Four iPads and an iPhone have been tried. Please fix this ASAP, Mr. D'Antonio said. This book is not cheap, and a lot of us would really like to have received something for our money, beyond frustration, he said. Thanks for the support.
¡¡Buenísimoooo y recomendadísimo para todos los públicos!!

Derived From Web

, Nov 14, 2021

Me lea todos los libros de Yuval Noah Harari, el libro ilustrado. Con un comprehension de alto dulce, el razn comprende de 3,012 m2. Entrevistas, es muy interesantes, muy instructivos y muy divertidos. Muy recomendamos todos los libros.
Doesn't Work on iPad or MAC OS

Derived From Web

, Nov 4, 2021

A software error prevents it from setting it to portrait mode. The problem is, it doesn't work on my iPad or MacBook Pro. The refund request is still pending, and I don't know how to get a refund. However, the criticism of the format is not directed at the content itself. I enjoyed the first three Harry Potter books, and I'll probably reread them all.
Not rating the book content, but Kindle version compatibility on iOS

Derived From Web

, Nov 2, 2021

I pre-oreded this book, as an avid and long-term user of Kindle books in Apple ecosystem. The original Kindle edition was published with an unsupported unsupported version of the Harry Potter series. According to Amazon customer feedback I got fast response and refund this issue is book related, not something Amazon or Kindle related. I own all of Harari's books in English and my native language, as well as e-books and audiobooks. Except for the "Harry Potter" series, all comic books published after the "Star Wars" movies were excluded. Word for the publisher has made it compatible with the new Kindle Fire tablet.