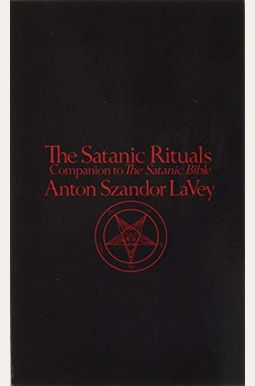 
 
Frequently Asked Questions About Satanic Rituals
Books like Satanic Rituals
Book Reviews
(10)
Did you read Satanic Rituals? Please provide your feedback and rating to help other readers.
This book

Derived From Web

, May 18, 2022

The cover is just the right image, the first introduction by La Vey is amazingly written and brings more faith in what you live in, great rituals and opnions.
Non Serviam

Derived From Web

, Jan 2, 2021

Anton Szandor Lavey was a post-beat philosopher with a penchant for dramatic and talent for theatrics. His writings are wonderful inroads for viewing personal accountability in a society, illustrating the faulty reality of faith-based morality and capitalizing on the innate need for external influence. A wonderful read if agreement is not a necessity for your understanding.
The prison send it back without even sending it to book committee

Derived From Web

, Jan 28, 2020

Though this book is a religious book and should be protected, as such a Denver women's correctional facility prison sent it back without even sending it to the Book Committee, and refuses to let my fiance have it when I send it to her. Another example of prisons not following the rules they enforce other people to follow and punish the ones who don 't.
In nomine Dei nostri Satanas Luciferi excelsil

Derived From Web

, Aug 27, 2019

But if you want to find out the kind of rituals that were probably practiced at Anton's black house, here you go. I bought it just to see what was in it, and can not say I regret it. However, this is not near as good as the Satanic Bible. If you are buying it out of curiosity or just want to add it to your library, it is worth the price. But if you are looking for serious rituals, this is not the book. The rituals contained within this text are more for group theatrics and role play contained within this text. It is still interesting, but it is meant to be more campy than horror.
Not for the solo practitioner.

Derived From Web

, May 14, 2019

The majority of these rituals are not for the solo practitioner. For me, the rituals seemed a little too fantastical. I found the Levoy - Bible much better by Satanic. I have the Handbook of Devils, which is quite enjoyable to read. For me, this book is useless. It was refunded.
Essential follow up after reading the Satanic bible

Derived From Web

, Apr 11, 2019

Fortifies and solidifies the knowledge presented by the Satanic Bible. Goes into the depth of how to prepare and execute a successful ritual. Really take the teachings and digest your time unless you're a theological tourist looking for a thrill.
thought provoking rituals

Derived From Web

, Nov 13, 2018

I love the satanic rituals outlined in this book. In its own way, each is different. Perfect for people who wanted more than the rites in the Bible.
a proper companion to the first book

Derived From Web

, Jul 4, 2018

Brilliantly takes where the Satanic Bible left off.
Pure LaVey...

Derived From Web

, Mar 20, 2017

The companion book to the Satanic Bible is the Bible. To begin to understand LaVey Satanism, get them both and practice them.
Good companion to The Satanic Bible

Derived From Web

, Mar 6, 2017

Satanic companion to the good Bible. The rituals aren't exactly practical for a solitary Satanist and require some things not exactly found in everyone's home. The value I got out of it is more background into the overall theme of Satanism and what inspired Anton LaVey.