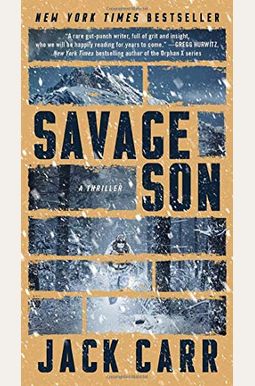 
 
Savage Son: A Thrillervolume 3
Book Overview
INSTANT NEW YORK TIMES and USA TODAY BESTSELER
A great book.it's f*cking riveting --Joe Rogan
​​Take my word for it, James Reece is one rowdy motherf***er. Get ready --Chris Pratt, star of The Terminal List, coming to Amazon Prime
A rare gut-punch writer, full of grit and insight, who we will be happily reading for years to come. --Gregg Hurwitz, New York Times bestselling author of the Orphan X series
In this third high-octane thriller in the seriously good (Lee Child, #1 New York Times bestselling author) Terminal List series, former Navy SEAL James Reece must infiltrate the Russian mafia and turn the hunters into the hunted.
Deep in the wilds of Siberia, a woman is on the run, pursued by a man harboring secrets--a man intent on killing her. A traitorous CIA officer has found refuge with the Russian mafia with designs on ensuring a certain former Navy SEAL sniper is put in the ground. Half a world away, James Reece is recovering from brain surgery in the Montana wilderness, slowly putting his life back together with the help of investigative journalist Katie Buranek and his longtime friend and SEAL teammate Raife Hastings. Unbeknownst to them, the Russian mafia has set their sights on Reece in a deadly game of cat and mouse. In his most visceral and heart-pounding thriller yet, Jack Carr explores the darkest instincts of humanity through the eyes of a man who has seen both the best and the worst of it.
Frequently Asked Questions About Savage Son: A Thrillervolume 3
Book Reviews
(12)
Did you read Savage Son: A Thrillervolume 3? Please provide your feedback and rating to help other readers.
Basically....Read it!

Derived From Web

, Mar 9, 2021

I've seen the first two movies, and I'm a huge Jack Carr fan. You may find yourself lost in the middle of a book, or you may be reading them out of order. However, he still provides enough information throughout the story where you could follow and understand the what's and why's -- just not as well had you started with the first book. I've fallen in love with Elizabeth Warren's writing.
Another excellent read from Jack Carr

Derived From Web

, Feb 25, 2021

Highly accurate and timely. If you enjoy reading Brad Thor, you will most definitely enjoy his novels. It's great to be back home, said Dr. Goin. I have thoroughly enjoyed all of Jack Carr's books, and look forward to reading his next one.
Reece is on the hunt!

Derived From Web

, Jan 28, 2021

It's a shame the finale didn't include "True Believer." Great story, great story telling, Raymond said. James Reece is out of blood, Devon said. Enjoyed it, Mr. Dhaliwal said. For example, the six months in Siberia would take about 18 months to organise. I feel Mr. Carr went a little far with making Reece seem like a folklore beast in the wilderness, but it's fiction, I get it. I look forward to "The Devil's Hand" and really enjoyed the sneak peek reading the Prologue, Morgenthau said. It's great to be back home, said Jack. I'm really looking forward to seeing what he brings to the table in the new season of V. Pure Autobiography.
What's next? Can't wait to find out!

Derived From Web

, Dec 31, 2020

Sold me with the Terminal List, he said. I'm still not sure what happened there, but I know that True Believer was there. Savage Son is a smash. I highly recommend Carr's book to anyone who has a place on the must read list. James Reece, Jack Bolger and Joseph Makatozi all rolled up into one!
Thrilling

Derived From Web

, Oct 27, 2020

Amazing book.i think my fave so far of Jack Carr's 1st 3 books, and that's sating something because his 1st book The Terninal List has been life changing to me. as an avid reader.
James Reese is on the move again.

Derived From Web

, Sep 6, 2020

Great read by Jack Carr. The level of detail described in the locations, tools of destruction and character development are spot on. His mind and the James Reese character are packed with SEAL missions and adventures, and they spill out through out the story. What makes me wonder is real and what is fiction?
Already Waiting for Book 4

Derived From Web

, May 30, 2020

As a 40-something mother of two with no military background or experience, I probably don't fit the "mold" for a typical consumer of this genre, but I cannot put these books down! The characters are relatable, and the suspense builds with each page. I look forward to reading the next book of the series, he said.
Incredible read!!! Carr has crushed it again!!

Derived From Web

, May 3, 2020

Having been a Tom Clancy fan my entire time in the Corps and reading everything he wrote from Ryan to Clark to Ding, I've missed the kind of visceral experience I felt reading those books. He has a pedigree of excellent writing and story tellers, and I'm delighted that we found him. I am waiting impatiently for Reece's next mission. Thanks for a great series of books! Can't wait for the next one! A new book about the Beatles, "Reunion" by Simon & Schuster.
Jack Carr is as good as they come.

Derived From Web

, Apr 24, 2020

The first book I read as a sixth-grade boy was Louis Lamour's Last of the Breed. His ability to make you see and hear what he wrote was legendary. There are some who will literally flinch in the hand to hand combat scenes because they are so immersive. They are the only two people I have cried with, hated with James Reece and gotten revenge with James Reece. I would just like to have a beer with him, Mr. Rule told the judge. Thanks again, Jack Carr, for returning me to my love of reading. A very good night all round, Sir Richard. Proud father of a U.S. Army Soldier.
Excellent in this series

Derived From Web

, Apr 22, 2020

Savage Son is the third and final book in the series by Jack Carr. The ending was worth the all night binge - I had to get to the ending. Savage run can be read as a stand-alone, but then get the other two books and enjoy the ride.