Buy 3 Get 1 Free
Our Best Sale Yet! Add 4 Books Priced Under $5 To Your Cart     Learn more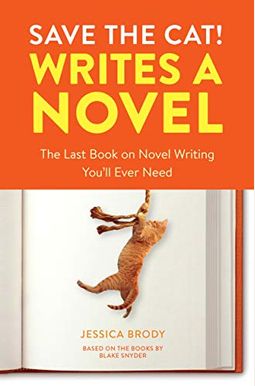  
Save The Cat! Writes A Novel: The Last Book On Novel Writing You'll Ever Need
Book Overview
The first novel-writing guide from the best-selling Save the Cat story-structure series, which reveals the 15 essential plot points needed to make any novel a success.
Novelist Jessica Brody presents a comprehensive story-structure guide for novelists that applies the famed Save the Cat screenwriting methodology to the world of novel writing. Revealing the 15 beats (plot points) that comprise a successful story--from the opening image to the finale--this book lays out the Ten Story Genres (Monster in the House; Whydunit; Dude with a Problem) alongside quirky, original insights (Save the Cat; Shard of Glass) to help novelists craft a plot that will captivate--and a novel that will sell.
Frequently Asked Questions About Save The Cat! Writes A Novel: The Last Book On Novel Writing You'll Ever Need
Book Reviews
(13)
Did you read Save The Cat! Writes A Novel: The Last Book On Novel Writing You'll Ever Need? Please provide your feedback and rating to help other readers.
Highly Recommend

Derived From Web

, Mar 16, 2022

I have had several years on record of trying to read my WIP and because of the suggestion of the author, Bethany Atazadeh, I learned about this book and took a chance on writing it. Outlining and understanding my outline has never been easier for a newbie like me. I now realize why I haven't yet published it, and it is because I do not have the information that this book has to offer. I do not see myself writing without this book as a reference in the future. I highly recommend new authors to get this book because it seems to have given me the chance to finish my debut novel and have it finally published.
The title doesn't lie! This book is EVERYTHING!

Derived From Web

, Oct 26, 2021

I bought this book with others of a similar nature, books on novel writing and story structure, and this book knocks all the rest of them out of the water! Jessica Brody does a fantastic job explaining the save the cat! message from Save the Cat! While giving a myriad of detailed examples to fully encapsulate every point and sometimes doing so from different angles to show the versatility of this story approach. The beat sheet described in the book is really in virtually every story I've ever read! She presents all information clearly and concisely, as well as with a wry wit. I will use this book for the rest of my career as a reference book. If you want to become an author, this is a must read! ! !
An enlightening read for aspiring writers

Derived From Web

, Dec 15, 2020

No, it is definitely not the last book on novel writing that you will ever need. But this book gives a structural understanding of the necessary nuances that help you greatly improve your story. I found many useful tips in this book and recommend it sincerely to every aspiring novelist.
GET IT

Derived From Web

, Jul 1, 2020

A special place to get the basics down, the important ones. The best way to save the cat identofoes different genres of story rather than tone can be useful to any writer who starts a new project, wanting to know what they have. GET THIS BOOK, Snyder knows how to boil it all down and deliver a lot of general screenwriting and story - information to help you on your writers - journey.
Every writer needs to read this

Derived From Web

, Jan 5, 2020

This book was recommended by social media by other writers that I met through social media. I didn't plot my current Wip, but after reading this I know exactly where I need to focus on revisions and restructure to match the Save the Cat beats. It is funny because now that I know the beats, I found myself identifying these beats in movies and books. I plan to use this method in future stories I write.
More a Summary, Less Instructive

Derived From Web

, Nov 28, 2019

I would say that nearly 90 % of her book deals with the author breaking down a variety of different genres of literature by referencing and citing examples from popular books. There is not much else to write a novel about how to write a novel. If you want examples of genre conventions, this would be for you. If you want to learn how to write a novel, there are many other options available.
Great resource

Derived From Web

, Jul 15, 2019

Whether you are actually writing a novel or story of any kind or are interested in story structure, this book has something for you. It is fun on top of informative, so it's a breeze to read. Only criticism is that I always seem to want more examples of books that are described in the various genres.
Every Novelist Should Have This!

Derived From Web

, Apr 14, 2019

I have read only half of the book so far and it is amazing how it has helped me so much with lining up and plotting my next two stories! I did have knowledge, and having this book first helped, but this just pushes it that much further. Best tool on my shelves!
A Fantastic Resource!

Derived From Web

, Mar 12, 2019

I can not easily praise this book ''. It has vastly exceeded my expectations. I read a lot of books of writing resource books and this is far and away the best. This is the book I longed for but could never find. It has assisted me enormously. Not only is it jam-packed with information, but it was also entertaining. There should be no writer without this book!
The best!

Derived From Web

, Jan 13, 2019

The STC Writes a Novel is an excellent adaptation of the original STC. So, should you buy either? Maybe. If you want more explanation of genre types and lots of concrete examples of what novels are in which genre, read STC-Novel if you want more explanation of genre types. Brody also gives very specific beat sheets as an example in each genre and lots of advice for novelists. If you like to read books like How-to, read this version definitely. If you're a give me an idea, let me figure it out '' type, then you probably need just the original. The original STC is also more entertaining, but not as deep. If you can afford it, read both! If you can afford to! If you are a fiction writer, reading one of them is an absolute must.