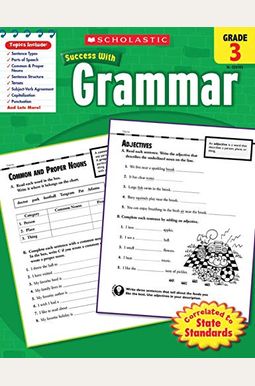  
Scholastic Success With Grammar: Grade 3 Workbook
Frequently Asked Questions About Scholastic Success With Grammar: Grade 3 Workbook
Book Reviews
(12)
Did you read Scholastic Success With Grammar: Grade 3 Workbook? Please provide your feedback and rating to help other readers.
Nothing special

Derived From Web

, Apr 20, 2022

Good for a student who needs a little more practice, but as a private tutor, I was disappointed in the lack of variety of topics and the overuse of multiple choice questions.
Came Fast

Derived From Web

, Apr 20, 2022

This is a great product. It helps my son with grammar and reading, helps my son. I give him sheets to study even if he has homework.
Makes understanding grammar simple

Derived From Web

, Apr 20, 2022

My son is able to understand quickly the concepts taught in this book. The design is simple and the instructions are easy to follow.
Great Resource!

Derived From Web

, Apr 20, 2022

I will use this great book with my students and recommend it to them all. Fantastic, Thank you! ''
I wish I could give it 3.5 stars but it's better not worse, so it gets 4.

Derived From Web

, Jun 18, 2021

I wish I could give it 3.5 stars, but it is worse not better, so it gets 4. The book is nearly perfect for our needs. This will be our first year of going to the home school, and the first semester we are going to review all second grade. So saying that it is a review or a good intro for the subjects for 2nd grade. We are trying home school because my kid isn't expected enough, so maybe I have a bad gauge on what is expected, but this seems really simple to follow the stuff she did last year. But as I said, perfect for what we need. A couple of cons. It dedicates 26 pages to verbs! It dedicates 26 pages to them! That's 26 of 62 pages on verbs just. Wild! Wild! It has no adverbs and that's a bummer, but it's OK that her work books didn't address A LOT of adverbs, so that finding something online is fine. TLDR. TLDR. This is a great book for an intro to the 2nd Grade Grammar or a good review after the summer break for 3rd Graders.
This is a good learning tool.

Derived From Web

, Sep 23, 2020

The only thing I wish they did was to spend a little longer on some of the more confusing topics. We're currently home schooling our 3rd grade son and I am a grammar freak, so we push ahead of his curriculum. This book covers exactly what he needs to learn, but I feel like they could have spent a few more pages per section. For example, understanding the different pronouns is important. However, it has been an excellent tool to supplement his learning in general.
Great Supplement

Derived From Web

, Jul 18, 2020

Because of the Pandemic, I bought several of these books. I had a feeling that a lot of what my children needed to learn was either forgotten or not learned. Can we expect from crisis learning, followed by a summer slide ''? I bought the following grade and the pandemic grade. From this group my children get 1 day of rest and several other books from this group. I recommend them highly ''. It certainly brushed their skills back to assist me without excessive neediness.
Thorough Lessons

Derived From Web

, Apr 22, 2020

I appreciate the knowledge in this book! '' It is short to the point and has a straight description of nouns, adjective etc. The only thing I would suggest is to provide more examples. This does come in the back with the answer key!
a good starting point for someone just learning English

Derived From Web

, Jan 16, 2020

Or if you were like me, a latch key kid who never did his homework and are almost functionally illiterate, this is also a good starting point for you. i don 't know why it isn 't more commonly realized, but the grammar school was the most important training we receive. i'm 74 and have spent most of my life trying to do remedial work to come up to a useful level, when i got to college, i found out that i would need quite a bit of grammar school remedial work to be qualified to begin studying for any decent degree. If you are remedial, my advice is to admit it and get busy studying.
Decent enough resource.

Derived From Web

, Nov 11, 2019

Gets the job done the way it gets the job done. However, I am shocked at what passes for Grade 3 grammar these days, and I'm shocked at what passes for Grade 3. We blow in a sitting through several lessons and do the work orally, as it is easy to do so.