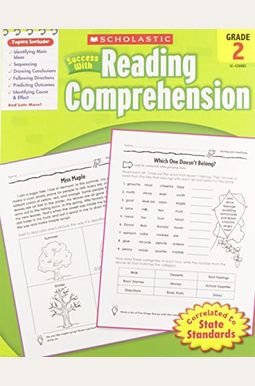 
 
Scholastic Success With: Reading Comprehension Workbook: Grade 4
Frequently Asked Questions About Scholastic Success With: Reading Comprehension Workbook: Grade 4
Book Reviews
(10)
Did you read Scholastic Success With: Reading Comprehension Workbook: Grade 4? Please provide your feedback and rating to help other readers.
Not worth the price. Not 2nd grade level.

Derived From Web

, Aug 24, 2020

It is geared towards writing. The passages and recall information are not in second grade. A five question easy activity is just a few paragraphs. I bought this because I wanted to challenge my second graders reading skills. He only had two days to finish the booklet.
Sparse pages for what you pay.

Derived From Web

, Aug 20, 2020

The book's content is very thin compared to other books in the same category. The books seem to be more expensive. The books by Dellosa are better for the money. The book series is better. There is a larger writing section in the Comprehensive curriculum than there is in the book. I don't like Scolastic books, they seem to be lacking for what you pay, and I bought a few different books.
Recycled it Instantly

Derived From Web

, Jul 19, 2020

I was amazed by the amount of words per page. When they' re just learning reading and comprehension, a child won't have the attention span to read a lot. The study session was unrewarding because of the amount of reading required per page and lack of variety in lessons. I stopped putting my son through the pain of not being able to stay focused on the task at hand.
Preps kids for absorbing what they read

Derived From Web

, May 13, 2020

These are great. I give my daughter a page to read. She is learing to quickly find information in a story. She will be entering 2 nd grade in the fall. If your child is not a fan of reading, this book is an easy way to make them do it. My daughter likes these and doesn't like reading them.
Definitely Helps!

Derived From Web

, Mar 15, 2020

My oldest child, who is in the 2 nd grade, is not doing much reading in school. I give him a book to read at home. The book helps my child understand what is being read. I owe it all to this book, because it is less of a struggle when you know what the public school isn't doing.
Not Worth The Price

Derived From Web

, Jun 16, 2019

The booklet is only 48 pages. It is the same chapter from the same publisher's 2 nd grade book that sells for $7.49 at the store.
Kid Approved!!!!

Derived From Web

, Feb 25, 2019

Wow. The books remind me of when I was in school. Making learning fun is what my son is doing right now. The books are good for visual learners.
Great Educational Value

Derived From Web

, Jan 31, 2019

I started home- schooling my two kids this school year, and I bought the workbooks to use with the online curriculum we are using. I' ve always been a fan of the educational products from Scholastic. My kids enjoy working in all of them, but their favorite is Grammar. The answer sheets are at the back of the book. The start of the answer sheets is on the back of the last page of the workbook. I had to make a copy of the last page so I could remove the answer sheets. For the next school year, I will be purchasing the Scholastic workbooks.
Not a lot of information for the price

Derived From Web

, Jul 23, 2018

I would like to see a couple of sample pages in the description. I bought a 2 nd grade book for $7.50 and already have 400 pages. This book has 48 pages that are the same as my big book, and I paid $4.78 for it. I would have liked to know that I already had the same information.
Excellent!

Derived From Web

, May 23, 2018

I saw this and thought it would be a fun way to get my step- daughter's grades up because she was having issues staying focused in school with reading and comprehension. She hated it when we had her do a couple of pages after school, but now that she knows what she's doing, she's willing to do it. It's a great book, and it explains things very well. She's done her pages by herself the last several times I' ve told her, and it was perfect. Her penmanship has improved. I will order more for 3 rd grade.