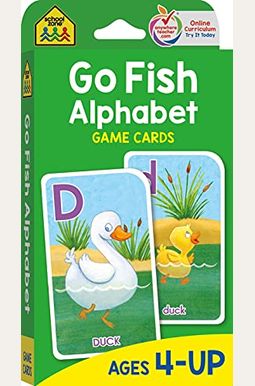 
 
School Zone Go Fish Alphabet Game Cards
Book Overview
Little ones will enjoy playing a smarter version of Go Fish. In this Go Fish game, winning involves drawing the most upper and lowercase letter pairs. Here, each pair is represented by a parent and child animal. There are even age-appropriate terms, like hatchling for baby alligator. With activities for two or more players, our Go Fish Alphabet Game Cards emphasize turn taking and cooperation. Or, kids can have fun matching letters and creating words on their own. Involve your child in these valuable pre-reading skills today and make preschool, kindergarten and first grade all the more enjoyable.
Frequently Asked Questions About School Zone Go Fish Alphabet Game Cards
Book Reviews
(14)
Did you read School Zone Go Fish Alphabet Game Cards? Please provide your feedback and rating to help other readers.
Perfect kindergarten game

Derived From Web

, Nov 29, 2021

My son wants to play this with his family every night after dinner. Through fun and games, his letter recognition has improved.
A Hit!

Derived From Web

, Jul 3, 2021

We spend a lot of time playing a card game. It's easy and educational for all ages.
Not really go fish

Derived From Web

, Jun 8, 2021

Go fish is meant to be played with these cards. It isn't really fun to play because there is only a match of 2 not 4. Go fish is not as fun as real go fish and the whole point of go fish is to keep track of who has what, that is really hard with only matches of 2.
Great cards! in so many ways!!

Derived From Web

, Jun 7, 2021

Our 5-year old granddaughter has been helped by these cards to understand upper and lower case letters. The relationship of alphabet characters becomes personal to her when these learning concepts are made visual and tactile. Thanks to these cards, she can own alpha-digits. She can take them with her when she wants to. The upper or lower case cards are placed around the edge of the dining room table. She walks around the table looking for the match after holding the other case cards in her hand. She learns from the games we've created for her. Highly recommend! It's!
Good way to play go fish

Derived From Web

, Apr 2, 2021

There is a set of cards. The pictures are cute and I like that they are all letters. All were accounted for. The cards are light and textured. Not super slick like cards can be. There was a card showing the babies. The pictures are helpful in asking the card. My daughter is very excited to have this. It's easier to hold the cards with a made up card holder. She has small hands and it's hard to hold them all. We are very pleased with the set.
Fun and educational

Derived From Web

, Mar 10, 2021

My 5yo daughter is learing to recognize letters. I'm impressed we've been struggling with the alphabet.
Go fish cards

Derived From Web

, Feb 25, 2021

Go fish is a great game to learn. It isn't a traditional go fish. Learning is involved.
Adorable

Derived From Web

, Feb 16, 2021

Although they aren't the most durable cards, they are cute and a great way to introduce toddlers to the game of Go Fish while also learning about letters and animals.
Some cards may be difficult for young kids but we are loving it

Derived From Web

, Nov 25, 2020

My kids know their letters on sight. For us, this game works, but it wouldn't work for most young kids. I have put up pictures of different kinds of Birds that kids may or may not have trouble with. If my kids didn't know their alphabet they wouldn't be able to get the yak frog, and they couldn't identify the walrus baby, the other set of cards had different names. orangutans are monkeys and Jaguar is a cat.
Great find, and I highly recommend!

Derived From Web

, Jul 21, 2020

The Go Fish cards were the cheapest I've ever spent on a kids game. I used the Go Fish game to help my child with her identification of all her letters, and it worked great. The Go Fish game did exactly what I wanted it to do. My child was helped with lower case identification by these cards. My child also loves the game. The cards seem to be well made, and it's nice to look at them. I highly recommend this find.