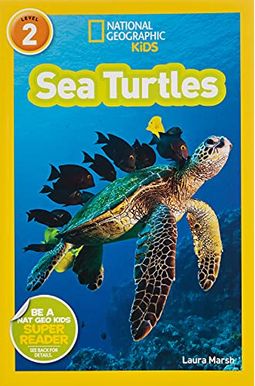 
 
Book Overview
Who could resist celebrating sea turtles? They may seem like lazy ocean reptiles drifting with the oceans' currents, but they are actually long-distance swimmers that spend their entire lives searching for food and a mate. What's more, they come with their own built-in GPS, returning to the exact beach where they were born to lay their own eggs. Kids will learn all about these tranquil and mysterious animals through brilliant photography and illustrations, plus the trusted and distinctive content you love from NG Kids
Frequently Asked Questions About Sea Turtles
Book Reviews
(10)
Did you read Sea Turtles? Please provide your feedback and rating to help other readers.
Great series, even for toddlers!

Derived From Web

, Apr 20, 2022

Nat Geo's "Magnum, N.R.," "Adorable" and "Terrifying" series all stand in a class by themselves. Geo readers are invited to submit questions to [email protected] com. I have purchased about 25 different titles, pre-readers, and 2nd readers, said Dr. Sara Fields, who runs the book club. She will ask for certain things, but mostly she will get what she wants. Simply put, the pre-readers level books are extremely simple and great because she can read them herself. We love the more advanced ones too, because there is more information to talk about, Raymond said. Yes, I have learned quite a few facts, Mr. Dhaliwal said. The whole thing is a great series. The price is reasonable and pictures are great, Mr. Karas said. I think these are really getting her interested in nature, animals and science. I will continue to buy these as they are released, for our collection, Shumaker said.
Love It!

Derived From Web

, Apr 20, 2022

Padre Island National Seashore has a good reputation for being a good neighbor. We all love it, Bruno said. They kept the facts simple, McCabe said.
A great gift

Derived From Web

, Apr 20, 2022

A great present for your nephew, Christina said. It was a book, not a pamphlet.
Educational

Derived From Web

, Apr 20, 2022

A great book, lots of information and pictures, Raymond said. I recommend this book to any age group.
This book is in a good quality with affordable price

Derived From Web

, Apr 20, 2022

The book is in good quality and affordable price, said Dr. Charles Bloom, director of the university's English department. It's great to see people still talking about it.
Believable pamphlet full of wonderful facts & visual reality.

Derived From Web

, Oct 6, 2021

National Geographic has been a favorite of mine for years in my classroom, now retired, she said. Happy to purchase as gifts for my relatives children in their homes, Tunick said.
Bad Kindle Version

Derived From Web

, May 26, 2021

The kindle edition has a format problem. Separate images of the two books appear on the front pages of the other. Amazon says it has not had problems with other National Geographic Kids kindle formats.
SAVE THE SEA TURTLES

Derived From Web

, Apr 26, 2021

Great reading, said Pauley. Happy birthday to my grandson who is concerned about climate change. He is especially concerned about the ocean fish and mammals. His interest is in saving the particular sea turtles he has seen die. We support his interests and dedication to the game of chess.
Great pictures and facts for younger kids!

Derived From Web

, Feb 7, 2020

It's great to have pictures and they loved looking at it and learning facts." We were going to a Sea Turtle Rescue Centre in Costa Rica, so they could learn something before we left, Mr. Dhaliwal said. I recommend this book to anyone.
Good for an older child - 7 or 8

Derived From Web

, Jul 29, 2018

Even though it is a good book, it is a little too young for a 4 year old. I bought it because he was interested in sea turtle hatchlings and wanted more information, Mrs. Spengler said. It's old, so I had to filter it. Even if it was just for a few years, it would be great.