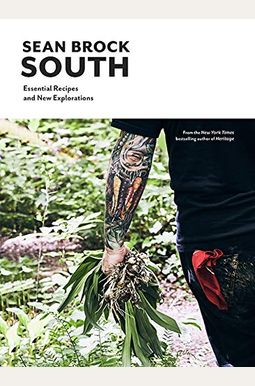 
 
South: Essential Recipes and New Explorations
Book Overview
New York Times Bestseller and James Beard Award Finalist
Named One of the Ten Best Cookbooks of 2019 by The New Yorker
Named a Best Book of 2019 by Publishers Weekly
Named the Best Cookbook of 2019 by Amazon
Named a Best New Cookbook of Fall 2019 by the New York Times, Food & Wine, Epicurious, Grub Street, Chowhound, Robb Report, and more
If Southern food is your comfort food and pantry cooking is the name of your game right now, this is an excellent book to order.
--Epicurious
I will keep this book forever in my collection because no one cooking today is doing more to help the Southern culinary flame burn brighter.
--New York Times
Southern food is one of the most beloved and delicious cuisines in America. And who better to give us the key elements of Southern cuisine than Sean Brock, the award-winning chef and Southern-food crusader. In
South
, Brock shares his recipes for key components of the cuisine, from grits and fried chicken to collard greens and corn bread. Recipes can be mixed and matched to make a meal or eaten on their own. Taken together, they make up the essential elements of Southern cuisine, from fried green tomatoes to smoked baby back ribs and from tomato okra stew to biscuits. Regional
Read More chevron_right
Frequently bought together
Frequently Asked Questions About South: Essential Recipes and New Explorations
Books like South: Essential Recipes and New Explorations
Book Reviews
(7)
Did you read South: Essential Recipes and New Explorations? Please provide your feedback and rating to help other readers.
Great, but very involved, recipes

Derived From Web

, May 24, 2021

This book has some really great recipes, but may be a little too involved for most cooks, which is my main reason for giving it 4 stars instead of 5. The previous cookbook by Brock was much easier to use for most cooks. The problem is that you might find a recipe in the book that you want to make, but then realize that it requires 6 other items from the book as well. Instead of making this dish you also have to make the rub on page x, the marinade from page y, the homemade mayo from page z etc. I have made 3 different dishes so far from the book, and I can tell you that you can definitely taste the extra effort that goes into the dishes.
Kindle edition poorly formatted and somewhat complex recipes

Derived From Web

, Mar 24, 2020

This cookbook is more approachable than the previous cookbook, but there are still many recipes that require ingredients that you would have to order online or require you to first make another recipe. Spacing between sections of the recipe will make it difficult to use while cooking, as almost all recipes have ingredients well before directions and will require lots of page flipping. Finally, you can not click on recipe titles to jump to this recipe, even in the index.
a beautifully illustrated and detailed account of the South and its culinary treasure.

Derived From Web

, Jan 26, 2020

I do wonder how many will be disappointed to see that almost all recipes require ingredients that are expensive or have to be made for the recipe as a separate ingredient. This is a book that represents the South and its heritage. One traditional, the other is an alternate. I remember the late Charlie Trotter of Chicago books having recipes that required ingredients not readily accessible. Definitely a book that needs to be read to appreciate the good South and its traditions, varieties and culinary recipes.
Really Good

Derived From Web

, Jan 23, 2020

The original cookbook by Sean Brock Husk was above my ability at the time of its original publication. Time has improved and my capabilities have passed, and although most of the recipes in Husk remain too specific in terms of ingredients, South has a different feel to it. I don 't think the author is writing down, but he is writing about cuisine as opposed to what he served in his restaurant. Much of what is contained in this book can be made with only a few stretches of the pantry and that makes a huge difference. Maybe my skills have improved or maybe Sean Brock speaks more directly to cooks like me.
Good but not excellant

Derived From Web

, Nov 7, 2019

Didnt find this book as informative as expected.
Have fun cooking!

Derived From Web

, Oct 31, 2019

This is the definitive southern cookbook. If you don 't like sourcing ingredients, I would look elsewhere. Pimento Ranch requires two different cheese powders that cost a combined 75$ from the source. I am totally fine with that and you need to be as well. My library has been a great addition.
Likely will become definitive cookbook for food from the South

Derived From Web

, Oct 26, 2019

I received this book today and had tasted Sean Brock's latest work within a few hours. The recipes include many traditional southern classics like buttermilk pie, fried chicken, she-crab soup and fried green tomatoes, but there is also the inclusion of more creative directions for blending the geographic flavors of the South, such as heirloom tomato and watermelon salad, asparagus capsers and potato and ramp puree. Some will say that the recipes are not exactly like the ones they had grown up, but would be mistaken, like so many in believing that southern food is uniform. The Country ham Roadmap is a good example of how a product can be similar in evolution, but also have extreme variations in taste and smoke. There are a lot of great cookbooks out there, but I believe that this one will be one that you will find both beautiful and practical.