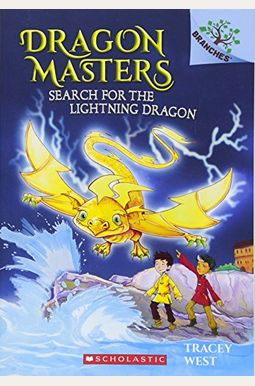 
 
Search For The Lightning Dragon: A Branches Book (Dragon Masters #7): Volume 7
Book Overview
Will the Dragon Masters find the Lightning Dragon? Or will an evil wizard find him first?
Pick a book. Grow a Reader This series is part of Scholastic's early chapter book line, Branches, aimed at newly independent readers. With easy-to-read text, high-interest content, fast-paced plots, and illustrations on every page, these books will boost reading confidence and stamina. Branches books help readers grow In book #7, the Dragon Masters have to track down the Lightning Dragon But first, they need to find his Dragon Master -- a boy named Carlos. The Lightning Dragon shoots dangerous sparks of energy Will Carlos be able to connect with his wild dragon? Or does a darker master have plans for the Lightning Dragon?
Frequently bought together
Frequently Asked Questions About Search For The Lightning Dragon: A Branches Book (Dragon Masters #7): Volume 7
Books like Search For The Lightning Dragon: A Branches Book (Dragon Masters #7): Volume 7
Book Reviews
(16)
Did you read Search For The Lightning Dragon: A Branches Book (Dragon Masters #7): Volume 7? Please provide your feedback and rating to help other readers.
Dragon Masters

Great series of books for young readers. Second sale shipped fast and it was in excellent condition!
LOVE LOVE LOVE

Derived From Web

, May 11, 2020

They kept saying, "There are books that you must have gotten at a book fair for a good price." Realizing that these books would be so good to read aloud with my students, I decided to give them a try. The boys LOVE them and so do I! There are so many books that both boys and girls will enjoy reading. Pauley, one of the co-authors of the book, said: "Both are extremely excited to read. Now I am waiting for all of the books to be delivered. Amazon pre-ordered copies of the two new books, "The Second Hand Masters" and "The Third Hand Masters." Based on the success of the first book, "The Magic Tree House" series, Scholastic is developing a sequel, "The Magic House Masters of Mischiefs." It's that time of year again when people talk about serious illness. What I love about these is that they are part of the Scholastic Branches books - so they are fun, interesting and for 1st-3rd graders! Don't get me wrong, I still recommend getting these books. Quattrone has done a great job, said Dr. Colin Hubbard, the Institute's executive director.
Great book series to spark imagination

Derived From Web

, Feb 28, 2020

The book series stands in a class by itself, especially the questions at the back of the book. There are some unusual names that they might need help with at first. My son is a 2nd grader and he is finishing one night, but he said he would reread them. For any kid who has to finish something, this is a great chapter book.
Good series

Derived From Web

, Nov 1, 2019

My son has read all the Harry Potter books. I recommend that you start by reading the book in order. It's not a boring book for an adult while reading to your child who can't read at that level. Such a great deal of fun, said Dr. Cara Weingarten, "and would be very good for a child to read on their own."
My 6 year old son loves these and has read them all!

Derived From Web

, Oct 31, 2019

My 6 year old son has read all the books.
Book Review

Derived From Web

, Apr 19, 2019

At the end of the first book we'd learned why the Primary Dragon Stone was in trouble. In this photo released by NASA, the infant Lightning Dragon is shown in its mother's womb. Now they must find the new dragon and reunite him with his family. The boys have been looking for it for a few days, and haven't had any luck. Diego brings it to life, says Brigitte, referring to Griffith's friend. While they are talking about where the baby dragon is the Stone Dragon that makes Griffith pick it's new master for the baby Lightning Dragon. The group has splintered and is now seeking new members. Some go after the baby Lightning Dragon, some stay with Griffith to study more about the baby and then they go with Diego to find the new Dragon Master. There are some very serious consequences to this book, and I won't lie. The newest addition to the team, Dr Pepper (Will Smith), is introduced at the end of the episode. This is a great deal of lunacy, I have to admit. I look forward to reading more of your books.
These little books helped him realize reading could be fun! For us

Derived From Web

, Jun 29, 2017

My son had a very hard time reading. He was already a dragon nut, so I had to give them a whirl. He's a big fan of them, and I think he'll be happy with the new rims, too. This helped turn a page in his reading desire and ability. The books helped him realize reading could be fun. For our very active, adventurous little boy, that was all that mattered. He started them in first grade and more have continued to come out during his second grade, and he anxiously awaits every new one!
My wife and I have been reading the entire series ...

Derived From Web

, Jun 18, 2017

He's a big fan of the stories and can't wait for the next installment to be published.
Not Hooked

Derived From Web

, May 11, 2017

It wasn't the quality of literature I would like to use for small groups in reading, he said. They need to be hooked to the book and kept reading, even if it's just a few pages.
Ends with a Cliffhanger

Derived From Web

, May 3, 2017

My daughter has read all five of the "Twilight" books, and I have had no complaints. In "The Two Brooms," the children discover a new dragon and a new master of dragons. Like the other books, this one ends on a cliff hanger. The baby dragon is returned unharmed. The book ends with the three main characters determined to find the dragon. However, with a sequel not out until September, your little dragon master may be a bit stressed and upset about the fate of the newest dragon. Had I known about the cliff hanger, I might have delayed reading this, as she's worried about the fate of the characters, too. So, I thought I'd post in case anyone else out there has a young, sensitive-hearted reader that may end up asleep all night with worry. Though, I must confess, these are great books. Perfect for early readers. We'll get the next one and the baby dragon will be found and life will be wonderful again.