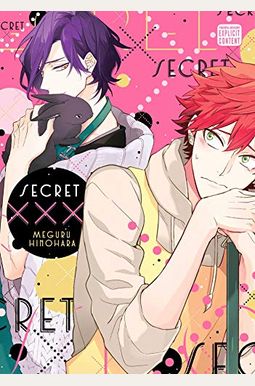 
 
Book Overview
Shohei's just trying to find love in a pet shop, so why are all these bunnies making it so difficult?
Shohei
loves
bunnies He loves them so much he's even taken to volunteering at a local pet shop. Store owner Mito is as sweet and kind as the fuzzy critters he cares for, and it's not long before Shohei finds himself wanting to cuddle with him as much as the bunnies But Shohei is hiding a dangerous secret, one that makes this dream an unlikely reality.
Frequently bought together
Frequently Asked Questions About Secret Xxx
Book Reviews
(10)
Did you read Secret Xxx? Please provide your feedback and rating to help other readers.
Love the art style

Derived From Web

, Oct 16, 2021

Some of these reviews have me laughing, this first shot actually came first. The sequel is the game of therapy! I love this author and hope that someday we get more of this couple.
Bunnies EVERYWHERE

Derived From Web

, Oct 4, 2021

I love bunnies '' and love smut ''. There was more than I expected to be honest, but I didn 't mind. This is a one shot only so the story is limited to a volume, so if you don 't mind shorter stories pick this manga. The characters are funny and each chapter brings something new!
Just an absolute darling

Derived From Web

, Sep 23, 2020

This manga is absolutely adorable! It really does not have anything for dark content, it's super fluffy and has some seriously erotic scenes. I have been buying a lot of YaoiBL lately, but I always love reading this again because this manga, THIS MANGA is some sort of brain candy right here. I have already started reading the author's next work, The Therapy Game, mainly because of this manga!
Been Waiting!!!

Derived From Web

, Jun 25, 2020

I followed it for a while hoping that it would get an official English translation. And it is finally here! Regardless of the spicy bits, it feels like an actual relationship, rather than just pictures in a book. It does not hurt that the art is very suitable for the type of story.
Cute and Lovely

Derived From Web

, Jun 7, 2020

I found this story online only so that I had to read it in print form once I found it. It is so beautifully done and I LOVE her art style. The bunnies are just to die.
Freaking Adorable

Derived From Web

, May 31, 2020

Just to say that this was totally worth the time spent to read every night and day the story is exciting and beautiful. This made me poor, but it was worth it for my money. Beautiful story.
adorable

Derived From Web

, May 29, 2020

So loved it and loved how the character's parents ended up being involved and really okay with their relationship. Too often, nothing is seen. Theme is fun and worth a read!
Really Enjoyable!

Derived From Web

, Apr 24, 2020

This is a yummy story with a lot of sweet action. The seme effeminate enjoyed greatly. Mito is manly and fluffy on the outside, very beautiful when it comes to it. I enjoyed his small sadistic side as well. Would love to read more about this couple and perhaps a romance between Mito and Sohei's brothers.
Not a fantasy.

Derived From Web

, Apr 20, 2020

I chose the book thinking that the main character would be transformed into a rabbit or something and the big secret would be in the realm of fantasy, not reality. I really enjoyed the book, because it is a simple story of a man falling in love with another ''.
Cute like a bunny

Derived From Web

, Apr 15, 2020

The artwork is beautiful throughout, which is impressive and so nice. It is a nice story about overcoming relationship challenges with some melodrama mixed in, but nothing heavy, which is a refreshing change. No trigger warnings are displayed. Honestly, it reminded me a little of the early days of my relationship and all the emotions you feel at the beginning, which is sweet. I look forward to more from the author!