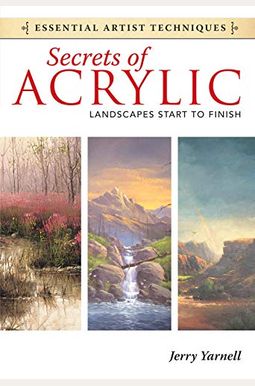  
Secrets Of Acrylic: Landscapes Start To Finish
Book Overview
Let Jerry Yarnell teach you how to paint acrylic landscapes
You can master landscape painting with the help of popular painter
Jerry Yarnell
. Jerry starts by exploring different areas of landscape painting that often create problems for beginning and intermediate artists. He'll walk you through individual studies, so you can practice and explore new techniques without worrying about ruining a complete painting, then he'll show you how to apply those techniques to create finished works of art. Learn how to: - Work with the right materials
- Master all essential techniques
- Choose, mix and apply color
Frequently Asked Questions About Secrets Of Acrylic: Landscapes Start To Finish
Books like Secrets Of Acrylic: Landscapes Start To Finish
Book Reviews
(12)
Did you read Secrets Of Acrylic: Landscapes Start To Finish? Please provide your feedback and rating to help other readers.
Very handy painting tips

Derived From Web

, May 25, 2022

This is a professional tool for acquiring those finishing touches that give your painting that excellent look. It is easy to understand and presented in such a way that all steps could easily be followed, yet you can create your own style. It is definitely a great resource for artist who want to add some zest to their paintings!
Wonderful

Derived From Web

, May 25, 2022

The way he does all his works!
Detailed

Derived From Web

, May 25, 2022

A lot of learning. For this, very good tool and fun.
The Best Book For Landscape painting in acrylics

Derived From Web

, May 25, 2022

This is one of the BEST books for landscape painting you can buy. I am mostly for acrylic paint, it goes threw the technique,Colors,Brushes,Ect... Everything you need to know about landscape painting is in this book, plus it has activities that throw you step by step,great for beginners and pros.
Good Book, but WARNING!

Derived From Web

, May 25, 2022

Like all of Jerry Yarnell's books, this one has detailed instructions on painting various elements of landscapes in acrylic. As another reviewer noted, there are no landscapes with briefings from start to finish. Just various elements of landscapes - trees, water, moving water, rainbows, rocks, etc. I think that all these elements could be combined into a end to a complete picture. But a warning : if you already own Jerry Yarnall's landscape painting secrets, DO NOT BUY this book. Because of this, I deduced a star from what would otherwise have been a 4-star rating.
He does cut copy and paste major sections of previous books into the new / other books. So if you buy more than one, you repeate

Derived From Web

, May 25, 2022

He does cut copy and paste new sections of previous books into the major other books. If you buy more than one, you buy the same thing over and over again. Beware the buyer!
The books tips and demos are useful IF you only choose it

Derived From Web

, May 25, 2022

The books - Tips and Demos are useful if you choose it only. But it is just like Yarnells'apos ; Landscape Secrets in a smaller size and maybe a page or two different, if I had known, I would have chosen another book. It has been donated to our local library because the cost to send it back was greater than the cost of the library.
Great for those knowledgabe about acryllics, but not on landscapes.

Derived From Web

, May 25, 2022

This is a fantastic book for those who are uncomfortable with dealing with landscapes in Acryllic. Acryllic dries very quickly and can be intimidating when you are talking about paiting things on a grander scale than a portrait or still life. The author uses the technique of the thumbnails, in which you apply different landscape aspects on a canvas pad, rather than on a larger canvas. At Michael's, I get canvas pads and canvases for next to nothing when they go on sale or clearance. Once you go through the excersises, you can apply them with confidence to a larger compostion. I really like this book ''.
You can always learn something

Derived From Web

, Sep 10, 2021

Overall, I can 't put my finger on it, but this book really did not do much for me, though I really like Jerry Yarnell and thinks he is a great teacher.
Exceptional artist

Derived From Web

, Jul 9, 2021

It is a different book to explore great techniques. I already followed so many different artists, sometimes I forget what medium I am working with. This man is an exceptional artist, though.