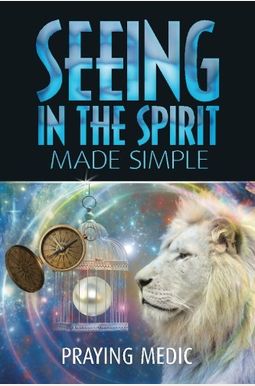 
 
Seeing In The Spirit Made Simple
Book Overview
Can Anyone See In The Spirit?
Seeing in the Spirit Made Simple provides clear, simple, biblical instruction that will help you see into the invisible world of the spirit. It is the second book in The Kingdom of God Made Simple series; a self-study course designed to train believers how to live out the fullness of the life offered to us as heirs of God's kingdom.
The predominant view in the church today holds that seeing in the spirit is a rare gift given to only a few special people, or an anointing we must seek. With the same straightforward, down-to-earth style used in Divine Healing Made Simple, the author holds this view up to the light of scripture, and suggests that it has no biblical basis. Rather than being a gift given by God to only a few people, seeing in the spirit is an innate ability we all possess, which lies undeveloped in most of us. Through prayer, training and exercise, this ability can be awakened and used by virtually anyone. The author provides Bible-based teaching along with dozens of testimonies and illustrations. There are also practical exercises at the end of the chapters to help develop your ability to see in the spirit.
Praying Medic and his wife have only recently learned how to see in the spirit. Come along as they re-trace the path they've taken that has led them to see angels, demons and the heavenly Read More chevron_right
Frequently Asked Questions About Seeing In The Spirit Made Simple
Book Reviews
(11)
Did you read Seeing In The Spirit Made Simple? Please provide your feedback and rating to help other readers.
Clarity is Power

Derived From Web

, Apr 21, 2022

Thanks also to Michael van Vlymen, who wrote an excellent book on the subject for introducing me to the Praying Medic (www. prayingmarshall. com). They say that clarity is power. Now this book brings so much clarity in the sense that it covers all aspects of seeing in the spirit—which gives us the power to start acting in the spirit. The chapter with regards to prophesy was so enlightening, since it was a part of my seeking understanding, and this book made it easy for me to understand, Morgenthau said. Those that have the desire to See in the Spirit but need a push and clarity will find this book to be of great help.
FIVE STARS! ONE OF THE BEST!

Derived From Web

, Apr 21, 2022

When I first heard that Praying Medic was writing the book Seeing in the Spirit Made Simple, I was very excited. I knew if he covered this topic in the same way he covered Divine Healing that he would make it accessible to many, many people. This book makes sense with clear instruction from scripture. This is one of the best books written on the subject and I love the way he explains how spiritual sight can work with and enhance our gifts and callings, Raymond said. Inspirational quotes, inspirational stories, and lots of real life examples to inspire and encourage you! I highly recommend this book to anyone.
Encouragement for the seeker

Derived From Web

, Apr 21, 2022

Now we have the opportunity to see what is truly happening with the disciples, to see the work of the Lord, in all its fullness. The level of engagement you get from Lu is at a level that doesn't intimidate, and yet can challenge your current thinking at times. Whether you're a seasoned traveler or a first-time buyer, Dr. Goin will help you navigate common warnings and misconceptions. If you're already seeing in the spirit, then I would definitely make medic praying someone you'd consider a friend and encourager along the way. I don't think veterans will get as much new how to information out of it, but I'm coming at it from a completely newbie standpoint and may be wrong in that. Praying medic has been instrumental in helping to free my mind from a lazy, self-righteous, and hopeless gospel into one of purpose and encouragement.
AWESOME

Derived From Web

, Apr 21, 2022

I am getting ready to order every book. He is walking in the power of the Holy Spirit, as we all should be, he said. It's great to be back home, said Blair.
I really enjoyed reading this book and highly recommend to any Christian ...

Derived From Web

, Apr 21, 2022

I really enjoyed reading this book and highly recommend it to any Christian who wants to See in the Spirit.
I do plan on purchasing everything he writes. Very approachable

Derived From Web

, Sep 16, 2019

The first book I read was by the Lord, "Traveling in the Spirit." It shadowed much of what I have experienced in the 30 plus years not knowing what I was doing and being startled enough to not ask for more, Morgenthau said. His writing style is easy, nothing is needed but faith and an open mind, Raymond said. He also tells us why we believe in doing God's will, and why we don't. Barrenas shows you how to do the exercises. No one improves their game of basketball without practice, Kerr said. I never knew what to do with it, how to do it, or even how to meditate. The Lord has clearly said what He is saying and He is teaching.
No Meat & Potentially Dangerous

Derived From Web

, Aug 23, 2018

Easy to read, but there is no meat in this book. Also, I found some dangerous parts of the book, that might all too easily lead people down wrong paths. He added: "I think that on these topics it's crucial to stick to Biblical Teachings and not wander far from that narrow path." Scholars Paul Smith and Sandra Schaeffer found that "good doctrine" might lie at the heart of the Vatican's mission. Other books I've read about Christian Seers have been far more insightful and with better details and with more adherence to Scripture, Raymond said. But he also writes that there are not much meat, and that too much liberty is wandering away from solid theological doctrine and the Holy Bible itself. However, I would not recommend this book because I can list five far better ones from people who have done their research and are more responsibly conveying the information.
Awesome book!!!!!

Derived From Web

, Jan 14, 2018

I highly recommend this book to anyone who wants to learn how to meditate. As I was reading the last chapter, I asked the Lord a question about my ability to operate in this manner, and He immediately responded. I also used to see angelic activity, but had begun to doubt it was really that and it returned while reading his chapter on that subject. It's a book to have in your heavenly arsenal.
Greatee Understanding of Seeing in the Spirit

Derived From Web

, Jan 27, 2017

The book is a great introduction to the courts of heaven. I'm grateful the author shares this book if you are struggling with the courts. She is a dreamer, and has been since a child, but never knew what they meant. I found that book very helpful in helping me dream more. 0 1462228 5201 It was very helpful to me, as I read this book, in helping me dream more. But I also learned to be okay for asking more established leaders in this area for help. When I heard the news, I usually avoided it. Thanks for making this book very practical. However, I do not have all understanding, and am growing in seeing in the Spirit.
Wonderfyl Overview and Practical Guidance

Derived From Web

, Jan 17, 2017

This book is a very wonderful overview of seeing in the spirit. He describes many aspects of seeing in the spirit, including, visions, dreams, hearing from him, seeing angels, evil spirits and many other topics. Besides the detailed overviews of each aspect of the book, Praying Medic also interspaced through many helpful exercises to help the reader hone their skills at seeing the spirit. Furthermore, he has sound biblical reasoning and verses to support his points of view. His own testimonies also help cement the case for change, Licht said. He also offers several resources that helped him to see in the spirit. I enthusiastically recommend this book along with other books written by the praying medic, including Hearing God Made Simple and Divine Healing Made Easy.