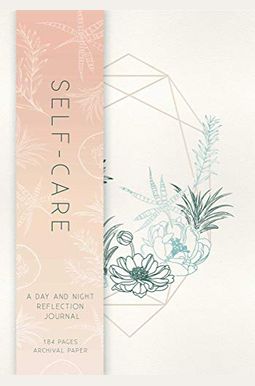 
 
Self-Care: A Day And Night Reflection Journal (90 Days)
Book Overview
This guided journal encourages the cultivation of mindfulness and general well-being amid a busy modern lifestyle.
Self-Care: A Journal to Your Inner World
offers a space to commit to your self-care routine with intention and dedication--helping you develop positive thinking, overcome challenging and stressful experiences and negative emotions, and cultivate a general sense of well-being and a healthy lifestyle. Immersed in your busy day-to-day activities, it's easy to forget to focus on the present and what's most important. This journal provides a place to record your thoughts and activities and consider how they affect your emotional and physical health. The journal is intended for those who want to foster deep reflection as well as for those who simply want to take better care of themselves. Having filled the journal with positive thoughts and routines, you will end up with a personal trove of wonderful reflections, which can be a source of positive inspiration at any time. Inspired by the theme of mindfulness, the journal features a set of delicate illustrations. Its 160 lined, acid-free pages made from recycled paper take both pen and pencil nicely, and the back pocket is perfect for holding mementos.
Frequently Asked Questions About Self-Care: A Day And Night Reflection Journal (90 Days)
Book Reviews
(15)
Did you read Self-Care: A Day And Night Reflection Journal (90 Days)? Please provide your feedback and rating to help other readers.
Flipped the wrong way

Derived From Web

, Dec 13, 2021

The media couldn't load. This book gave me so much anxiety because it was flipped the wrong way. I will definitely send it back.
Exactly what I wanted

Derived From Web

, Jul 20, 2021

This is what I was looking for when I searched through a lot of these journals. It checks all of the boxes that I need to help monitor my mood and be able to quickly reference back a couple of weeks or a month to help me understand hormones and other things. I don't have to write my life story in a blank journal because it asks all the right questions and has just enough space for notes. I love it.
Simple Start to Journaling

Derived From Web

, May 20, 2021

The format is easy to understand, and a great way to start tracking your moods. It feels more like bullet journaling.
Beautiful. Thick paper. Leather like cover material.

Derived From Web

, Apr 30, 2021

The media couldn't load. The pages are beautiful. My pens don't bleed through the pages because of the thick paper. It is not too small to write in. It's perfect for me.
Couldn't find a better book!

Derived From Web

, Mar 25, 2021

I couldn't have asked for a better book to start my self-love and care journey and pursuit of happiness, it was the one my dad bought me. I loved the front design and it came in very well.
What i needed to log my daily moods and other things to record

Derived From Web

, Feb 2, 2021

If you are looking for a journal to record your moods, physical activity, sleep track, physical feelings, food log, other activities, exercise, etc., this is the one. It's not a guide with tools and stuff to gain mental awareness, it's just a journal. You can fill two pages to track your daily behaviors. I have addh and need to see my patterns through different situations every month, so I took my time to find the right one.
Useful for Mental Health

Derived From Web

, Jan 3, 2021

I like this journal. It's great for tracking my mood and anxiety. I think it's a great idea.
Exactly what I needed

Derived From Web

, Oct 2, 2020

The cover is gorgeous. The pages are well designed I read the reviews before buying. This is a good book for self care and the pages are repetitive. I would recommend this to empty nesters. If you're overwhelmed in life and you're not taking the time to do for yourself or just lost in the sea of all that you're doing, you want to connect with yourself. The simplicity of this book will help you find a new purpose or direction.
Exactly as described

Derived From Web

, Jun 10, 2020

Exactly what I was looking for. 90 days worth of morning and afternoon reflections on various aspects of health and self-care. Recommended to three friends already.
Balanced daily journal for grown ups

Derived From Web

, Mar 6, 2020

It's nice to write down your day in a journal. There is no quote about the cat poster in this one. There is a balance between writing and checking. I wanted to write a diary, but not a dear diary. I needed a base line for a few months because I was trying to find possible causes for some symptoms, but it will last you 90 days.