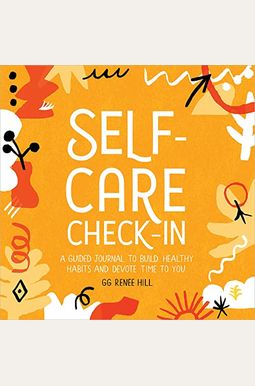 
 
Self-Care Check-In: A Guided Journal To Build Healthy Habits And Devote Time To You
Book Overview
Unlock joy and cultivate growth--guided journaling with practical self care strategies
Self care isn't about escaping life's problems--it can actually help you solve them. The Self Care Check-in is a guided journal packed with research-based techniques to help you manage stress, nurture your values and goals, and take steps toward concrete change. Equipped with these tools, you can open the door to a healthier, more fulfilling lifestyle.
Actionable journal prompts and inspiring quotes guide you through thoughtful reflection, goal-setting, decision-making, and active planning. Identify unhelpful behavioral patterns along with positive creative impulses and discover how to make constructive adjustments in your life. Commit to happiness by committing to self care
The Self Care Check-in journal includes:
3 steps to self care--Each exercise begins with observation and awareness, focuses your intentions, and then guides you toward practical change.
Creative space--Work your way from thoughts to action plans with a colorful, easy-to-use format that includes room to write.
Everyday exercises--Every short one- or two-page exercise stands on its own, so you can flip through and find the perfect self care strategy for your needs in the moment.
Discover how even small, simple choices can cultivate greater joy and wellness with the Self Care Check-in journal.
Frequently bought together
Frequently Asked Questions About Self-Care Check-In: A Guided Journal To Build Healthy Habits And Devote Time To You
Book Reviews
(9)
Did you read Self-Care Check-In: A Guided Journal To Build Healthy Habits And Devote Time To You? Please provide your feedback and rating to help other readers.
Not as applicable as I had hoped

Derived From Web

, Sep 23, 2020

What a surprise!!!!!!!!! What I feel like a lot of this is just not relevant to me personally. It was a terrible mistake, and I feel this was not a good purchase for me.
I didn't realize that there were so many things to journal about!

Derived From Web

, Aug 16, 2020

I really like the journal. Each journal exercise is broken down into three parts: focus, reflect and do. So I am glad that the author encourages the reader to not stop there by giving an area of focus and then a challenge to move forward, he said. I've flipped through this book and I see so many topics that resonate with me. The topics can be used for creating a journal, or even a PowerPoint presentation. I in mental health and think this would be a good resource to share with clients who might want to journal to help them reflect and move their work, said Blair. I do wish that the pages were numbered, but I am not sure if it's common for the pages in journals like this to be unnumbered. The graphics are beautiful, too, said Blair. I'm enjoying it and have already shared it with others on social media!
Very pleased!

Derived From Web

, Jun 26, 2020

I am so excited to receive this journalworkbook, said Dr. Sarah Harrison, who co-chaired the inquiry. For the longest time, I was stuck and needed this surgery. Even with the assistance of Robert Duvall, writing is involved in many of the scenes. Sometimes in life we reach a point where we need guided self-care steps in order to take care of ourselves and move forward with creativity, he said. I know that so many people will appreciate this as much as I do. Yes, I'm getting started right now. Thanks so much for this, Mr. Caramore.
We need self care now more than ever.

Derived From Web

, May 30, 2020

I purchased this book after reading the first two books, "The Whole Nine Yards" by GG Renee. In addition, she has a fine teaching and workshop facilitator's work. Barrera has the ability to heal, expand and help you draw to the forefront what's most important to you. Her newest guided journal, "The Whole Nine Yards," is no exception. I love the prompts that have action items, too. Not writing about what you feel on a particular subject but how you can practically utilize those things in your life to care for yourself and your well being. GG is the real deal and I'm excited to work with her again, Bustamante said.
WONDERFUL JOURNAL

Derived From Web

, May 27, 2020

One of my favorite things to do is journal. Sometimes I write in an unprompted journal and often don't need my own prompts, but this journal is something that drew my attention due to [climate change] quarantine fatigue. Each day I randomly choose a page and write in it. What an interesting question, said Paul Callow, assistant professor of English at Boston University. Brand new customers are always delighted with the service.
Best Guided Journal I've Tried!

Derived From Web

, May 27, 2020

The journal is full of great articles, book reviews, and interviews. Even if you don't have time to sift through all the data, the guided prompts make you think. If you are looking for a book that will help you tap into your inner wisdom, this is the one for you! I'm going to buy copies for all my friends.
become more in touch with yourself!! Get this!!

Derived From Web

, May 27, 2020

I can't believe it's true, Kate. If you any to discover more of what you want in life, become aware of your likes and tastes, and all around become more I touch with yourself this is the book for you.
A Gift to the World!

Derived From Web

, May 24, 2020

While self-care has become a buzz word these days, Self-Care In Check has now been called to our attention by the author. I started with the first exercise, where I encountered a very rich journaling experience. The Reflection has revealed my humility. GG Renee Hill's book is a gift to the world that can spark some of the greatest conversations that you will have with yourself. Faye Harvin, Faye's sister, said she was devastated.
Love the content of this journal!

Derived From Web

, May 22, 2020

I enjoyed the writing prompts and the quotes, too. Really thought provoking prompts. The book is a generous volume, but I have a complaint: the cover is too wide. Holding the book, I feel like it's kind of awkward when trying to read.