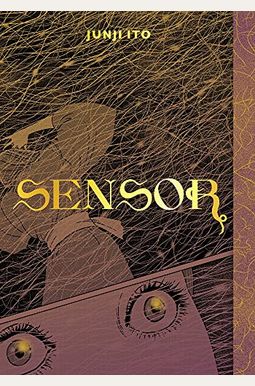 
 
Book Overview
Horror master Junji Ito explores a new frontier with a grand cosmic horror tale in which a mysterious woman has her way with the world
A woman walks alone at the foot of Mount Sengoku. A man appears, saying he's been waiting for her, and invites her to a nearby village. Surprisingly, the village is covered in hairlike volcanic glass fibers, and all of it shines a bright gold. At night, when the villagers perform their custom of gazing up at the starry sky, countless unidentified flying objects come raining down on them--the opening act for the terror about to occur
Frequently Asked Questions About Sensor
Book Reviews
(7)
Did you read Sensor? Please provide your feedback and rating to help other readers.
My favorite Junji Ito book so far.

Derived From Web

, Dec 30, 2021

A town that is covered in what is referred to as The Great Amagami, the heavy hair. It's a town of 60,000 people, with little or no hair. It's pretty impressive what they appear every time the volcano erupts." Some say it is a "black magic" or "angel hair" or come from a "flying saucer." These are very mysterious fibers and give people tons of knowledge, Raymond said. A reporter goes to investigate to try to uncover all the secrets of this town and the fibers that attach to their residents. There was a prevalent good versus evil dichotomy in this book. This has to be one of my favorite Junji Ito books to date.
Beautiful

Derived From Web

, Dec 8, 2021

I'm a huge fan of Junji Ito, and he's never short of amazing. I'm delighted that this book was so well received by fans and collectors. The art is beautiful and the word go with it, so real-like and immersive that you find yourself in the shoes of the main character. The show's creators and executive producers never tire of pushing the envelope. Also, the cover is a mini poster that is absolutely beautiful.
Not Great

Derived From Web

, Aug 18, 2021

This is by far the least favorite Junji Ito manga. There was no shortage of witty dialogue, and the story and characters were all over the place. The writer of the story, Graham Hunter, said it was "a harmless exaggeration." Only a couple of the illustrations were unsettling. It's a shame it had to happen, Mr. Rule told the judge.
Good Art and Short Stories, But Lacks Focus In the Long Form.

Derived From Web

, Aug 18, 2021

Because of Junji Ito's short form anthology style, long form stories are extremely rare. His best books are Remina, Gyo and Uzumaki, although Uzumaki is much more like an anthology with the same setting and theme. Of his short stories, I find this one the weakest. The vast majority of the panels were devoted to conversation and exposition. There were still large beautiful artworks, and some horror-inspired turners, but much of the horror hit with no tension and fell flat for me. Even with the recent criticism, I still recommend it, but it's not a standout piece in Ito's works.
Great Story and Art!

Derived From Web

, Aug 18, 2021

I had a lot of time to read this book today and I finished all 234 pages! Ito really outdid himself with his combination of sci-fi and body horror. I'm not a big fan of Sci-fi themes, but this story is really well written and has great art.
Straaange, not as much horror as other Ito books/stories, not my favorite

Derived From Web

, Aug 18, 2021

This was not what I expected from Junji Ito, a very talented creator, and writer of some of the most disturbing and grotesque stories ever told. I would not exactly put this in the same category as his other horror manga, as this one isn't really scary or disturbing, and I was a little disappointed. In the afterward, Ito even admits that the characters seemed to get away from him and "move around on their own" after some time.
Glue Marks?

Derived From Web

, Aug 17, 2021

I have not read the book yet, but I am super excited to do so. The rating is based on the condition of the book at the time of the sale. There were glue marks all over the front cover. I pre-ordered this and it was great, said Sam. It's really disappointing, said Blair.
List of All Editions of Sensor