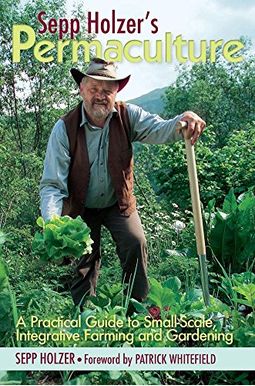 
 
Sepp Holzer's Permaculture: A Practical Guide To Small-Scale, Integrative Farming And Gardening
Book Overview
Sepp Holzer farms steep mountainsides in Austria 1,500 meters above sea level. His farm is an intricate network of terraces, raised beds, ponds, waterways and tracks, well covered with productive fruit trees and other vegetation, with the farmhouse neatly nestling amongst them. This is in dramatic contrast to his neighbors' spruce monocultures.In this book, Holzer shares the skill and knowledge acquired over his lifetime. He covers every aspect of his farming methods, not just how to create a holistic system on the farm itself, but how to make a living from it. Holzer writes about everything from the overall concepts, down to the practical details.In Sepp Holzer's Permaculturereaders will learn:
How he sets up a permaculture system

The fruit varieties he has found best for permaculture growing

How to construct terraces, ponds, and waterways

How to build shelters for animals and how to work with them on the land

How to cultivate edible mushrooms in the garden and on the farm

and much more
Holzer offers a wealth of information for the gardener, smallholder or alternative farmer yet the book's greatest value is the attitudes it teaches. He reveals the thinking processes based on principles found in nature that create his productive systems. These can be applied anywhere.
Frequently Asked Questions About Sepp Holzer's Permaculture: A Practical Guide To Small-Scale, Integrative Farming And Gardening
Books like Sepp Holzer's Permaculture: A Practical Guide To Small-Scale, Integrative Farming And Gardening
Book Reviews
(12)
Did you read Sepp Holzer's Permaculture: A Practical Guide To Small-Scale, Integrative Farming And Gardening? Please provide your feedback and rating to help other readers.
Interesting read

Derived From Web

, Jun 2, 2022

Irregular ideas, a little cool. There is no real sense of how long it takes to build a real permaculture farm.
a different approach to permaculture

Derived From Web

, Jun 2, 2022

The book is much more valuable than the videos. You get a base of knowledge that will give you the ability to create what you need to know. It is a very good book for beginners.
The Mighty, The Wonderful, The Majestic, Sepp Holzer

Derived From Web

, Jun 2, 2022

The new benchmark for sustainable agriculture is new. Sepp Holzer breaks all the modern '' agricultural rules and shows why unconventional agriculture is failing to take care of the Earth and live within nature. Sepp does not just talk a good talk, he has proof all over the world. Wherever Sepp goes, the transformation of the land takes place. When we learn to live within her systems, nature has great abundance to offer. Sepp discusses plant propagation, guilds, animal husbandry and mushroom farming, which you can also do!
Best book on sustainable gardening

Derived From Web

, Jun 2, 2022

By far, this is the best book on sustainable, eco-friendly gardening. Everything that Mr Holzer wrote made total sense and was aligned with my own observations. This is also a very practical book. I have read many permaculture books ; they tend to be very scholarly and somewhat detached from reality. It does not over-complicate anything, I've started implementing many things from this book and do work in practice. Though this book is about nature, not about using unnatural shortcuts, so that things will take time. But eventually you end up with a thriving, stable and productive garden that does not require a ton of maintenance. I want to thank Mr Holzer for writing this book and sharing his knowledge with the mankind!
"We need creativity and courage to forge new paths." -Sepp Holzer

Derived From Web

, Jun 2, 2022

Sepp Holzer is nothing but inspiring and lovable as a teddy bear. Sepp Holzer has listened to his gut and nature and created a practical, caring, surefooted observant, innovative, determined and intuitive farming system in one of the most challenging environments for agriculture. If everyone in the world inspired his approach to living, working with, eating, preserving and profiting from the Earth, while respecting and maintaining all elements and creatures happy, traced above to Microbe, we would live as close to Paradise as we can. There is no Try if you do not. Sepp Holzer... Let us all be doers, as Yoda is.
Very interesting and clearly written

Derived From Web

, Jun 2, 2022

It is written in a clear and interesting way. The author describes the observation, experimenting, patience that requires being an engineer for the Earth and life around us. In pop culture and the main stream media, we are forced to feed the quick fix is the cheap answer to all aspects of life. When we buy into this mentality, we live shallow, ghost lives always wondering why we experience so much emptiness and frustration. We are led to believe that the gods of technology have all the answers, so we buy into another quick fix that eventually fails us again. This responsible way of living with the Earth is the thoughtful answer. To live a life of this kind of truth, it is to live a life of dignity and self-respect. A person living in this way is powerful in the real sense.
A great guide as to what can be done with natural agriculture

Derived From Web

, Jun 2, 2022

I stumbled upon Joel Salatin's name from researching Sepp's name, whom I first saw on a video I researched for the university years ago. Joel Salatin led me to RichSoil, where it was easy to come by some Gumm and really good info too. The world is however Sepp. In this book he gives a good overview of what is involved and how to do it, and what works well together. Its the first book I have read cover to cover since those university days, which says something. I think the book is not a complete work ''. At times, things feel a little lost in translation and I am left wanting for more. And so I 'll buy his other books in the hopes of a fuller picture. Truthfully, I find this man so inspirational that his work will influence the future direction of my family. I can not offer a higher praise than that.
Fascinating guy and his experience but I didn't feel guided ...

Derived From Web

, Jun 2, 2022

Fascinating guy and his experience, but I did not feel led in my permaculture efforts and his 100 acres is not what I consider small scale farming. This was not as helpful insightful as I had hoped.
Instructive

Derived From Web

, Jun 2, 2022

This is a book about what has worked for him, and while he does share that every climate and location is unique, with its own set of challenges, his attitudes and principles of trial and error, and learning from past mistakes can be transferred to any location.
Start your journey here.

Derived From Web

, Jun 2, 2022

I am new to Permaculture and I am already learning so much.