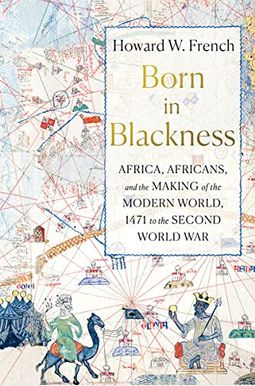  
Servius Als Sprachlehrer: Ein Seelisches Und Poetisches Phanomen Wird Erkundet
Frequently Asked Questions About Servius Als Sprachlehrer: Ein Seelisches Und Poetisches Phanomen Wird Erkundet
Book Reviews
(8)
Did you read Servius Als Sprachlehrer: Ein Seelisches Und Poetisches Phanomen Wird Erkundet? Please provide your feedback and rating to help other readers.
A graceful and eloquent response to those who overlook Africa's role in the transition to modernity

Derived From Web

, Mar 2, 2022

Superb -- the very best sort of revisionist history -- not strident or overblown, but the steady and careful marshaling of evidence to support his argument, Graham said. Many, if not all, of the articles are new, but my knowledge it has never been presented in this way. I initially read this out of the library but it needed to be realized in my small collection of books that help make sense of the modern world.
Born in Blackness makes clear the centrality of Africa to the modern world economy and history

Derived From Web

, Feb 18, 2022

The book makes clear that the gold of Mansa Musa was the magnet for European incursions into West Africa. That is why europeans called it the Gold Coast, before they invented the most heinous form of slavery, chattel slavery. Each chapter reveals a hidden history of those who consider themselves educated but do not learn in western schooling. Howard French has done us a great service by pulling this 500-year story together, properly.
Disappointed

Derived From Web

, Feb 8, 2022

I had very high hopes for the book, Simon said. I have read several articles about the book in the Journal and New York Times. The subject appeals to me. I recently read a Brazilian book by the same writer and it was much, much better. The book is complex, comes and goes, circles and gets lost in numerous references. I was looking for a good book and spent money on a thesis.
Pages fell apart

Derived From Web

, Dec 16, 2021

Not even a week has passed since the Beatles' death. A message left with seller was not returned.
Brilliant and Fascinating!!

Derived From Web

, Nov 26, 2021

Turner is a true gentleman, and Baz's book is hands down my book of the year. In this fascinating and thought-provoking book, French goes into great detail about the role of Africa in the development of this century. As a frequent traveler to Africa who has spent most of my time in West Africa, I have had a dozen aha moments when French connect the history of the continent to something I can recognize from my own experience.
This is a must read book.

Derived From Web

, Nov 6, 2021

This book is a must read for anyone who has ever wanted to learn how to read. It is a much needed contribution to our understanding of the role of Africans and Africa in shaping the 21st century. Like the great journalist that he is, he manages to weave a compelling narrative out of the vast wealth of information at his disposal. Highly recommend.
Africa and Africans at the center of the global political economy is groundbreaking!

Derived From Web

, Nov 6, 2021

His groundbreaking thesis was the first to be fully considered by law professors. Hews to the facts, and therefore the truth, Raymond said. The book belongs to the greats of the 20th century, including Eric Williams, Walter Rodney Thompson, and Chinweizu. It's refreshing to be able to say that.
Howard French retells world history, with a central role for Africa

Derived From Web

, Oct 19, 2021

In the 1830s, Hegel claimed that Africa was not a part of the world. Howard French brings the continent's centrality in the making of the modern world, but argues convincingly that much of what Europe goes on to achieve does not occur without Africa and Africans. He has read Kenneth Pomeranz's The Great Divergence and Jared Diamond's Guns, Germs and Steel, but French does justice here to Africa's participation in the making of the modern world.