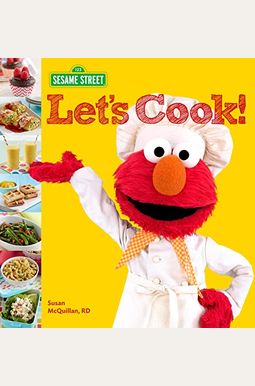 
 
Sesame Street Let's Cook!
Book Overview
A new collection of 50 healthful, fun recipes for parents and children ages 2 to 5 from celebrity chefs Elmo, Cookie Monster, Grover, and the beloved Sesame Street gang
Sesame Street has been entertaining and educating young children and their parents for 45 years with its irresistible, brightly colored monsters. In recent years, Elmo, Cookie Monster, and the gang have appeared with chefs and on TV to teach kids about healthy eating. Studies have even shown that Elmo helps kids like broccoli. In April 2014, Michelle Obama announced a national Eat Brighter campaign that will feature Sesame Street characters on food labels.
Sesame Street Let's Cook
furthers this new effort in cookbook form. It features a visual ABCs of Healthy Foods, plus 50 simple, healthful recipes for breakfasts, main meals, and snacks. There's a color photo for every recipe, Kids steps, nutrition tips, and clever sidebars that teach young children ages 2 to 5 skills such as counting, matching, learning the alphabet, and more. This is a fun, practical book to help parents and their kids make simple meals, enjoy time together in the kitchen, and learn about healthy eating.
Frequently bought together
Frequently Asked Questions About Sesame Street Let's Cook!
Books like Sesame Street Let's Cook!
Book Reviews
(8)
Did you read Sesame Street Let's Cook!? Please provide your feedback and rating to help other readers.
None of the muppets from Sesame Street were harmed in the making of this cookbook.

Derived From Web

, Jun 2, 2022

There are 50 recipes in this book, and each contains at least two steps that a child can perform safely and easily. They are divided by course and have a specific character from Sesame Street on every other page. For each recipe are listed icons, suggested variations, preparation times, ingredients and equipment. Tips, educational tid-bits and activity suggestions often appear throughout the cookbook. All recipes have beautiful, full-page photographs. All recipes are healthy and whole foods stressed.
This has to be the cutest cook book for your little one.

Derived From Web

, Jun 2, 2022

Everything is pretty simple and most recipes have simple ingredients that you may already have in the fridge or in the pantry. The book also encourages the child to participate in the cooking process. My toddler help has made him want to try new foods. This may be the case because he was the one who made the meal . Either way, I love this book!
A well thought out cookbook and a thoughtful book!

Derived From Web

, Jun 2, 2022

So you call for basic ingredients that you probably already have on hand. The ingredients list is written in order of consumption, so that you can focus on helping your little helper out! Instructions are written in a clear way, easily divided, so that when it is done in action it is simply done. Cooking with great tips on cooking. Healthy foods represent the alphabet. My only complaint is that the paper is a little thinnish. Although the cover and ring - binding are great, so are the ring links.
Awesome cookbook for everyone

Derived From Web

, Jun 2, 2022

He is not yet old enough to cook, but it is exciting to keep this book until it grows up. The author's foreward provides good tips for encouraging children to eat fruit and vegetables. Each sheet has a picture a must-have for me as an intermediate cook. So happy i made this purchase - we love the cookie monster!
For Older Kids or Adults

Derived From Web

, Mar 1, 2021

I thought that if Sesame Street was appropriate, this would be appropriate for my 3 and 5 yo '', but unfortunately there is not much in this book that they would like to make. My boys enjoy cooking, but they like eating what they make and they're not going to like Ricotta cheese or vegetable heavy recipes. Perhaps this is better suited for older children, which would then be appropriate on Sesame Street.
Wonderful cook book for toddlers and young children!

Derived From Web

, Jul 7, 2020

This cook book has good directions and simple pictures of easy to prepare meals that toddlers and young elementary children can follow. My seven-year-old grandson chose Big Bird's nest egg salad as our first adventure. It was easy to prepare the salad with a prepared salad mix. We did not need to grate carrots and other colorful items in the salad. We peeled the eggs and had fun boiled the shells off the eggs. We added some cooked chicken not in the original recipe to allow Grandpa to eat the salad. The three-year old grandson did not want the greens in the salad, but loved the presentation and snarred the boiled eggs. A great and very easy meal to prepare! The next time they come we'll make other recipes. I may have to order one of these cook books for myself after I send it home with the grandchildren. We are very satisfied with our customers!
Stock Up On Microwave Meals—These Recipies Are Hit-And-Miss

Derived From Web

, Oct 17, 2018

The salad of Quinoa and the chicken salad were really good. To be fair, I am pretty new to cooking, so that a more experienced parent wouldn t have the problems I had.
Easy, flexible, collaborative for toddlers and up!

Derived From Web

, Jul 20, 2018

A simple cookbook with delicious recipes that are pretty flexible for the adult to add flavor, texture, cooking time etc. by virtue of their simplicity, these are easy to follow. My 2.5 yo has tried 2 recipes so far, the zucchini and tomato fettuccine and the multigrain - cherry muffins. We added to the first recipe and ran wildly from the second recipe, and both came out surprisingly well. The characters add to the excitement and the habit of starting with fresh groceries and ending with a pretty mess-free meal are the main pros here.