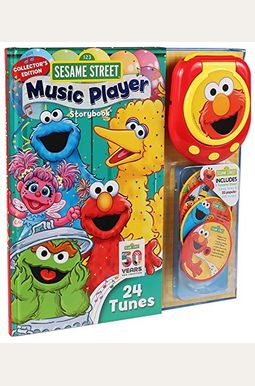 
 
Sesame Street Music Player Storybook: Collector's Edition
Book Overview
This best-selling title has a refreshed cover to celebrate Sesame Street's 50th anniversary.
Celebrate
Sesame Street's
50th anniversary with this special-edition Music Player Storybook. Inside, preschoolers will find a delightful mix of stories, lyrics, and popular beloved kids' tunes. Featured on the four play CDs are favorite instrumental songs from the TV show (Rubber Duckie, C Is for Cookie, Sesame Street Theme, and People in Your Neighborhood) plus 20 popular kids' songs. With fun instrumental tunes like The Muffin Man and Five Little Ducks, this deluxe set will keep kids singing and dancing for hours
Frequently Asked Questions About Sesame Street Music Player Storybook: Collector's Edition
Book Reviews
(13)
Did you read Sesame Street Music Player Storybook: Collector's Edition? Please provide your feedback and rating to help other readers.
Perfect

Derived From Web

, Dec 10, 2021

My son loves elmo so I know this present will make him very happy.
This is such a nice little gift.

Derived From Web

, Nov 24, 2021

He loved it, said Blair. So, I bought it for my two-year old grandson and I'm sure he'll enjoy the CD player and putting CD's in it and pressing play, said Jennette Tamayo, a spokeswoman for the company. I think it's great value for both companies, Mr. Dhaliwal said. It just plays music, but I think he'll enjoy it.
Great value for perfect toddler toy

Derived From Web

, Dec 21, 2020

Awesome little music player! Selling it would be a good deal, even if it was for a few dollars more. The Basic, Open and PLAY buttons are all there to help you play. Each disc features six songs, a mix of some Street Sesame and classic kid tunes. Midi songs are defined as those that use piano chords or loops. We leave it attached to make it more stable and easier to operate the player, Hollingworth said. It's great to be able to press the buttons, choosing the disc, centering it in the player, picking songs and dancing along with the book. So many logical and fine motor skills at work, not to mention music recognition. One of our best purchases, especially for the price.
Good but could be better

Derived From Web

, Nov 16, 2020

The book has nice illustrations, a short introduction story for each chapter, and several "chapters" of follow-up stories. It would be better if the songs had words sung by Sesame Street characters, as 25% of the songs are not well known, so it's hard to read and sing along to the music. Kid enjoys playing with the "CD player," would be nice if the other versions had songs that were familiar to him without having seen a movie or TV show.
Fun but quite wide for travel

Derived From Web

, Sep 30, 2020

The music player has had some technical problems, so it's not clear what the problem is. But the youngster, who has a very good ear, is also very good at singing along to many of the songs. If you want to travel with the book, you might have to cut it. Simply use a hand saw to trim it.
Good birthday gift, some minor complaints

Derived From Web

, Jul 23, 2020

My son absolutely loves it, his mom said. We did not read how to unpack the product and ended up ruining the package, Mr. O'Neill said. The songs are the tunes, there are no words being sung and I wish the Sesame Street characters would have sang them. The only complaint I have is that the CDs are difficult for my 2 year old to put in properly and close the lid. The cd sits on a post a certain way and it doesn't snap in, so he has to hold it still before closing it properly. He's very happy carrying this around and dancing to the tunes, Mrs Hughes said.
Move on

Derived From Web

, Jul 2, 2020

This is ok, Mr. Dhaliwal said. After we accidentally pulled it off, we saw the clip that was attached to it.
Only play tunes - not songs

Derived From Web

, Jun 11, 2019

The disc is extremely difficult to put on without help and only plays the songs without any sound. 0 2622010 2622010 It sounds like an old cassette tape recorder, but only plays the tunes without any sound. If only they would play the songs.
Fun music for sing alongs.

Derived From Web

, Jan 22, 2019

We're huge fans of the book and CD set, and we encourage others to do the same. The music gives you the chance to sing along to the book. Just about everything your kids will learn to say the words to songs will come. These have brought so much fun to our family and this is one of the most favorite toys we have. What a great concept, said Dr. Goin. Even with its small stature, the CD player can hold on to virtually any object.
A hit

Derived From Web

, Jan 14, 2019

My grandnephew would not let anyone touch the velvet, Mrs. Booher told us. The adults, for example, thought it was too great.