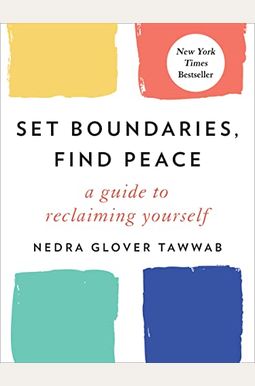 
 
Set Boundaries, Find Peace: A Guide to Reclaiming Yourself
Book Overview
End the struggle, speak up for what you need, and experience the freedom of being truly yourself.
Healthy boundaries. We all know we should have them--in order to achieve work/life balance, cope with toxic people, and enjoy rewarding relationships with partners, friends, and family. But what do healthy boundaries really mean--and how can we successfully express our needs, say no, and be assertive without offending others? Licensed counselor, sought-after relationship expert, and one of the most influential therapists on Instagram Nedra Glover Tawwab demystifies this complex topic for today's world. In a relatable and inclusive tone,
Set Boundaries, Find Peace
presents simple-yet-powerful ways to establish healthy boundaries in all aspects of life. Rooted in the latest research and best practices used in cognitive behavioral therapy (CBT), these techniques help us identify and express our needs clearly and without apology--and unravel a root problem behind codependency, power struggles, anxiety, depression, burnout, and more.
Frequently bought together
Frequently Asked Questions About Set Boundaries, Find Peace: A Guide to Reclaiming Yourself
Book Reviews
(14)
Did you read Set Boundaries, Find Peace: A Guide to Reclaiming Yourself? Please provide your feedback and rating to help other readers.
Would Give It 10,000 Stars If I Could

Derived From Web

, Mar 20, 2022

I have spent a lot of money, but this is the best one I have ever spent. One of the most helpful books I have ever read. It's easy to read and packed with information. We all need to be having a conversation about boundaries. Since I have read it through, I have picked it up many times. It will be a staple on my bookshelf for a long time.
Without words...

Derived From Web

, Mar 12, 2022

This book illuminated, gave words to, and revealed how my boundaries were violated as well as how I have been a violator. I will be giving this book to a lot of people, including mothers and fathers day, friendship day, grandparents day, Christmas and just because days! This book should be read by everyone.
Must Read!

Derived From Web

, Feb 25, 2022

This is a good read to help you assess your boundaries. The book has practical tips to help you provide better self-care.
Good topic, but shallow read

Derived From Web

, May 11, 2021

It made sense when I realized the author is aninfluencer. I wanted more from this book and less about social media.
It's ok!

Derived From Web

, May 7, 2021

I wanted to read this book. It is just okay. I felt like it didn't hold the reader responsible because it didn't include exercises that would help the reader examine themselves and not place blame on others. It was written in a way that made everyone else the problem and the reader the problem. I didn't think it had the view of self-accountability. If you play the victim and see everyone else as the problem, this book is for you.
Relationship

Derived From Web

, Apr 29, 2021

Great reading. Nedra is the sum of all in. There is one. Put yourself first. I was stuck to my No. matter no one else. The way to navigate to live, work, kids, and relationship is through boundaries.
AHHMAZING!

Derived From Web

, Apr 19, 2021

This book is the bible of setting boundaries, it covers everything from the workplace to your family and friends. I will read this book over and over again. At the end of every chapter, this book has helpful exercises that encourage you to do the work and make sure you retain the information you just learned from the chapter. She says difficult things are not impossible. It is a great read.
MUST HAVE!!

Derived From Web

, Apr 2, 2021

I love this book. It's very easy to read with actionable steps on how to better advocate for ourselves in a loving way. I was made aware of how I might have violated others. I will always come back to this book when I need help with boundaries.
Life changing- Get your highlighter ready!

Derived From Web

, Mar 25, 2021

The book is a game-changer. There are a lot of examples in the book. I knew I needed to set boundaries in order to live a more peaceful life. This book is well written and executed. The author speaks directly to the issue at hand and gives you precise methods on how to navigate setting boundaries. One of the best self-help books I have ever read is this one. Trust me when I say that I have read a lot. Do yourself a favor and buy this book. I promise you will not regret it. !
If you feel like something is "off", it's probably a boundary problem.

Derived From Web

, Mar 19, 2021

I used to hear people say that I was too nice, too sensitive, etc. I have always wondered how to be more assertive and passive, but I didn't know it was all about boundaries. I have learned a lot about myself, I am learning what boundaries are, and I am learning how to have healthy boundaries in my life. Knowing where my lack of boundaries comes from is extremely gratifying. If you have any issues with work, romantic relationships, friendships, or anything else, you should not have time for yourself. It is probably a boundary problem. Everyone can learn from this book. Please pick it up, you won't regret it.