Buy 3 Get 1 Free
Our Best Sale Yet! Add 4 Books Priced Under $5 To Your Cart     Learn more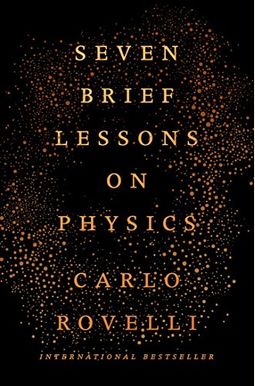  
Seven Brief Lessons On Physics
Book Overview
The New York Times bestseller from the author of The Order of Time and Reality Is Not What It Seems
One of the year's most entrancing books about science.
--The Wall Street Journal
Clear, elegant.a whirlwind tour of some of the biggest ideas in physics.
--The New York Times Book Review
This playful, entertaining, and mind-bending introduction to modern physics briskly explains Einstein's general relativity, quantum mechanics, elementary particles, gravity, black holes, the complex architecture of the universe, and the role humans play in this weird and wonderful world. Carlo Rovelli, a renowned theoretical physicist, is a delightfully poetic and philosophical scientific guide. He takes us to the frontiers of our knowledge: to the most minute reaches of the fabric of space, back to the origins of the cosmos, and into the workings of our minds. The book celebrates the joy of discovery. Here, on the edge of what we know, in contact with the ocean of the unknown, shines the mystery and the beauty of the world, Rovelli writes. And it's breathtaking.
Frequently bought together
Frequently Asked Questions About Seven Brief Lessons On Physics
Books like Seven Brief Lessons On Physics
Book Reviews
(14)
Did you read Seven Brief Lessons On Physics? Please provide your feedback and rating to help other readers.
A Must read, but with a bit of disappointment too

Derived From Web

, May 7, 2022

Good book, well intentioned, if a bit brief at 81 pages. My disappointment was that the author's attempts to explain various advanced aspects of physics seemed to come up short. Just as I thought I was getting it, the author moved on to the next topic. Speaking for myself, a more detailed treatment would have been welcome. I also had trouble with his last chapter on how we fit in as people. That seemed to me to cross the line from serious physics to metaphysics, philosophy and -- dare I say it -- even a bit of religious conviction, Raymond said. It's probably a must read, even if you're not a book worm. Just prepare for a bit of disappointment.
For the Love of Physics

Derived From Web

, May 7, 2022

This book is absolutely delightful. I have a science background, but you don't need one to understand the brief lessons included here. What really comes across is this author's love of physics and appreciation for the field, making it a lovely read, said Robert Penndo.
Physics for most of us

Derived From Web

, May 7, 2022

The book seeks to give a basic understanding of physics to the larger population of humans. It also enlightens us to ourselves and how we interact with nature. It is highly recommended reading. We as humans need humility in how we deal with our world, he said. The book imparts a little of that while it educates.
Physics for English Majors & Those Who Like To Learn

Derived From Web

, May 7, 2022

I am not a physics scholar but I am interested in learning new things and my husband is a physics geek so I thought this would help me understand what he is talking about sometimes. It delivers. This is not a quick read if you don't know a lot about physics but it is really interesting and understandable and it doesn't go on and on, blathering beyond what I want to know, Raymond said. The writing is exceptional. If all scientists could write like this, there would be less science ignorance.
An easily read introduction to contemporary physics topics.

Derived From Web

, May 7, 2022

An easy-to-read introduction to contemporary physics. Thoroughly enjoyable and the last chapter contains some of the best philosophical discussion I've read in a long time, Raymond said. Highly recommended. Other enjoyable books are in Aliceland, The Quantum Enigma and Lisa Randall's books on quantum particle physics. But all require serious ratiocination.
Excellent Summary of Post-Einstein Physics and Astrophysics

Derived From Web

, May 7, 2022

The first several chapters are an excellent summary of post-Einstein physics and astrophysics. Every time one reads a book like this, one's amazement at the unbelievable intellect of Einstein grows even more. The book's final chapter, which is Rovelli's personal thoughts about the universe in which we live, is too long and drags.
Great weekend reading

Derived From Web

, May 25, 2019

Simply put, it is very easy to finish this book in an hour or two. It's an easy reading, but at the same time it describes the current state of physics very accurately. Part of the problem is that physics interacts with philosophy, translating to a lot of food for thought. Highly recommended.
Beautiful Book Fascinating Read

Derived From Web

, Feb 14, 2019

He is a theoretical physicist with the soul of a philosopher and poet. The book is a delightful read that presents important principals of physics in an approachable way all the while rooting the ideas in the intuition of ancient observers. The book is scientific poetry which conveys to the reader the mystery and wonder of the universe.
Fair read but not a masterpiece

Derived From Web

, Oct 31, 2018

This pocket book briefly and ingenuously encompasses many of the most intrinsically and mathematically challenging of modern physics theories. However, throughout some of the reading I noticed lack of elaboration on some elementary aspects of mathematical formulas, that were explained only vicariously and vaguely. Starting from page 70 onwards, the author pontificated and philosophized his perspective of "human race". That part seemed to me quite dull.
Perfect

Derived From Web

, Oct 8, 2018

I was looking to open the window into a world that I had absolutely nothing to do with. Physics of the universe. This book was not only written for the layperson to understand but has opened my curiosity. Forward to learning more about this topic. Highly recommend.