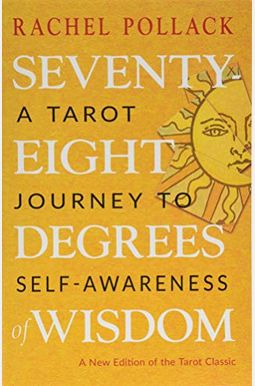 
 
Seventy-Eight Degrees of Wisdom: A Tarot Journey to Self-Awareness (a New Edition of the Tarot Classic)
Book Overview
The bestselling tarot classic in a new edition with a new preface by the author.
Whenever I have a question about tarot, I reach for
78 Degrees of Wisdom
. It is the most in-depth exploration of tarot and my most trusted resource. If you want to learn tarot, you'll want
78 Degrees
on your bookshelf too. It's the gold standard in tarot. --Theresa Reed, author of
Tarot No Questions Asked
What is your favorite tarot book? The answer is always
78 Degrees of Wisdom
.--Melissa Cynova, author of
Kitchen Table Tarot
Essential reading for the beginner and a classic that tarot masters will return to time and time again, this is the book to have in your library.--Benebell Wen, author of
Holistic Tarot
When it was first published nearly 40-years-ago,
Seventy-Eight Degrees of Wisdom
was an instant classic and inspired generations of tarot students. Often referred to as the bible of tarot books it has now helped to launch the tarot renaissance we're seeing today. Drawing on mythology and esoteric traditions and delving deeply into the symbolism and ideas of each card, the book offers a modern psychological interpretation of the tarot archetypes rather than a system of esoteric symbolism. This book provides:
A concise history of tarot
An introduction to common tarot spreads
A clear and endlessly useful reference for both beginning and advanced tarot students
Frequently bought together
Frequently Asked Questions About Seventy-Eight Degrees of Wisdom: A Tarot Journey to Self-Awareness (a New Edition of the Tarot Classic)
Book Reviews
(15)
Did you read Seventy-Eight Degrees of Wisdom: A Tarot Journey to Self-Awareness (a New Edition of the Tarot Classic)? Please provide your feedback and rating to help other readers.
Every serious Tarotist should have this book!

Derived From Web

, May 31, 2022

An excellent book for adding depth to your basic reading skills - truly a classic in its genre. It is cogent, lucid, with intelligent and insightful explanations. It really helps a reader to understand the tarot symbols in the context of the culture they evolved in and relate them to how we see our world within the readings we give. There is a strong, useful psychological aspect to writing that helps to expand the point of view. The gestures and the body language of figures are explored with a new profundity. Roles become more fluid and invite the reader to enter the scenes and situations with greater immediacy. All this gives an extra flavor and texture as well as depth.
Best title ever on the subject...

Derived From Web

, May 31, 2022

Her approach to the subject resonates deeply with me and I believe that if you agree with her following quote, you will feel the same way about her books. There is a famous Chasidic proverb that says : God created humans because God loves stories. '' Story allows us to enter the cards and become part of them in a way unlike anything else, not study, not meditation. To me, story seems the basis of the readings, with the querent the hero, the question the springboard of the plot and the cards in their hands the action.
A Must-Have!

Derived From Web

, May 31, 2022

Regardless of the level of Tarot knowledge you have, this book will offer lots of food for thought and important information. However, it is not a quick keyword reference book. For this there are plenty of books on the market. Pollack's book is an in-depth analysis of imagery, esoteric meanings and background, etc. Tarot deck based on the Rider-Waite-Smith model. Though it is not light reading, it is fully accessible and is certain to add more understanding and depth to the appreciation of and work with the Tarot.
One of the best!

Derived From Web

, May 31, 2022

With the RiderWaite deck as foundation, Pollack explains the symbolic meanings of each card, using the artwork on the RW cards as well as comparisons with other known decks. She believes the Major Arcana cards as if they tell a story of their own, taking the reader on a journey into deep self. Suitable for meditation, but also useful in divination.
Essential for learning Tarot!

Derived From Web

, May 31, 2022

It is easy to read, very insightful and comprehensive. It is a must if you tarot. It is said that Tarot is the Bible and is a book that you read and reference again and again.
The one Tarot book that every reader should own

Derived From Web

, May 31, 2022

It brings so many different points of view to the Tarot. It will change your relationship with the cards forever.
Wonderful

Derived From Web

, May 31, 2022

This came very highly recommended to me by friends... and I have to concur... very good info, lots of very insightful info and well organized.
Excellent

Derived From Web

, May 31, 2022

This is the most comprehensive, informative book on Tarot that I have ever read. Rachel Pollack covers all bases in a very approachable, helpful way. You never feel like you are being taught. It is an amazing book. I use it with my rider - Whitney deck and it offers an incredible amount of insight. If you buy just one book on Tarot, this is what I recommend.
Expanding Tarot reading

Derived From Web

, May 31, 2022

Very interesting and informative if your interest is TAROT, great history of this practice, which helps in the discovery of practice and learning to improve and excel in Tarot - card reading.
Excellent book buuuut …

Derived From Web

, Mar 21, 2022

The printing job is absolutely terrible. I don 't know what happened, but there are bar codes cut at the tops and bottom of pages, wrong type, it is not too distracting, but it catches my attention every time I see it. However, the book content is excellent itself. Don 't let print problems deter you! This review is intended for the blue copy of the book, not the yellow, as illustrated. That has perhaps something to do with it.