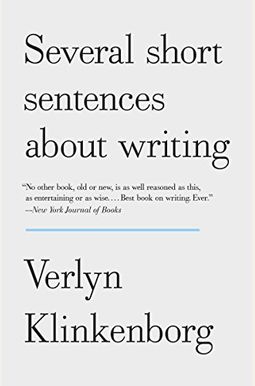  
Several Short Sentences About Writing
Book Overview
An indispensable and distinctive book that will help anyone who wants to write, write better, or have a clearer understanding of what it means for them to be writing, from widely admired writer and teacher Verlyn Klinkenborg.
Klinkenborg believes that most of our received wisdom about how writing works is not only wrong but an obstacle to our ability to write. In
Several Short Sentences About Writing
, he sets out to help us unlearn that wisdom--about genius, about creativity, about writer's block, topic sentences, and outline--and understand that writing is just as much about thinking, noticing, and learning what it means to be involved in the act of writing. There is no gospel, no orthodoxy, no dogma in this book. Instead it is a gathering of starting points in a journey toward lively, lucid, satisfying self-expression.
Frequently Asked Questions About Several Short Sentences About Writing
Book Reviews
(7)
Did you read Several Short Sentences About Writing? Please provide your feedback and rating to help other readers.
A thought-provoking, different take on writing. It has ...

Derived From Web

, May 3, 2022

It has some application for fiction writers but seems to be directed more toward nonfiction writing. Pauley's book is at times too strident in his insistence but it is worth reading because it gives writers a new perspective that can solve some common writing dilemmas.
Klinkenborg offers many thoughts for a writer in short sentences... a must to keep at hand.

Derived From Web

, May 3, 2022

This is a book full of short sentences that is understandably to be read in a few pages at a time, a book to hang onto next your office computer for those knowing to write,' said Dr. Saul Levin. It's a good writers bible with many thoughts for whatever pen you might use. This book will give you that extra edge of knowledge at your finger tips.
A Few SHort Sentences About A Few Short Sentences About Writing

Derived From Web

, May 3, 2022

The book made me rethink the way I write. Note the subheading of this terrible parable in the "Ethics" series: "Something forgot you, needed someone else to point it out." You know who I am, someone outside your self-awareness. The book debunks the mystique surrounding writers and the craft of writing. The book explains the work of a writer in the most direct way, Raymond said. It's just that the Beatles are boring and dry. There is humor in this book, and those who practice writing will catch it. The writer will have a good laugh at the reader's expense. A lot of people think that way.
What I enjoy the most is the formatting and the flow of ...

Derived From Web

, May 3, 2022

I don't agree with a couple things he says, but it's interesting to listen to Verlyn's points. What I enjoy most about this book is the formatting and the flow of the sentences. Wallpaper and background images in the Die Hard series.
The book really only consists of "several short sentences" and I don't recommend the buy

Derived From Web

, May 3, 2022

We're hyped and overrated, Taylor said. The book is very short, and I don't recommend it to anyone. The author could have conveyed the main message on 10 pages, saving you a lot of time.
This book is not what you think it is

Derived From Web

, Nov 24, 2020

I'm convinced that this book is, in fact, some sort of performance art. I mean, he wrote a book about writing, and it feels like one big run on sentence. The sentences are just too weird. There are no chapters, no structure, if you can believe it. He also offers some of his advice on how to notice what you feel when you read, look up words you don't know, and make sure you know your grammar rules.
pretentious trash

Derived From Web

, May 5, 2017

The book is the most pretentious, pretentious 200 pages you will ever encounter. Please stay away from my friends and family.