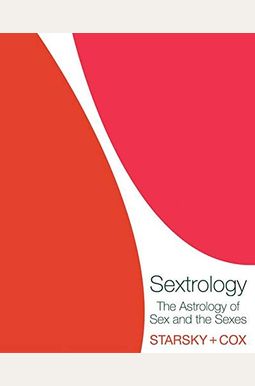 
 
Sextrology: The Astrology Of Sex And The Sexes
Book Overview
Picking up where Linda Goodman's Love Signs never dared to go, here is an original, smart, and provocative approach to evaluating sexual identities that will once again have people asking, What's your sign?
In sophisticated, uninhibited language, Sextrology candidly explores each sign of the zodiac, male and female, through a unique, wholly original astro-sexual philosophy. In this highly entertaining and illuminating romp from inside the head to inside the jeans, the authors uncover the naked truth behind each of the 24 gender signs. With nary a trace of new age mumbo jumbo, they explore each sign's personal psychology, physical attributes, and sexual behavior in titillating detail--straight, gay, and beyond.
From fantasies to favorite positions, erogenous zones to emotional needs, Sextrology will help you better understand your and others' sexual character, improve your understanding of relationships, and find out what to expect from a new person in your life. No stone is left unturned in this intelligent and enlightening investigation of sex and the sexes.
Frequently Asked Questions About Sextrology: The Astrology Of Sex And The Sexes
Books like Sextrology: The Astrology Of Sex And The Sexes
Book Reviews
(13)
Did you read Sextrology: The Astrology Of Sex And The Sexes? Please provide your feedback and rating to help other readers.
Each sign is split into the male and female counterparts and goes into such great detail. If ever you are curious about how ...

Derived From Web

, May 27, 2022

I actually lost my first copy in a car accident and had to order another one because it has such fresh information. Each sign is divided into the male and female counterparts and goes into such great detail. If you are ever curious about how your sign will pair with anothers and want an in depth look, this book will definitely do it for you. Along with the chapters and sections, you are provided with little tidbits of information about the sign, such as numbers in realtion to your sign and turn on and off. This book has definitely been a conversation starter between family and friends, resulting in good laughs at how accurate the information was at times.
absolutely love it

Derived From Web

, May 27, 2022

i was so happy that it got to me today. Love the details and it was in perfect pristine condition. I am forever grateful. We thank you for your time.
This is such a fun, brutally honest

Derived From Web

, May 27, 2022

This is such a hilarious, brutally honest and naughty read. Would definitely recommend for astrology lovers and I have found that most of it is right there.
Wow! Awesome book!!

Derived From Web

, May 27, 2022

I learned a lot of things about my signs, most of it was true to myself. It was cool to read about all the other signs too.
Life Bible for Astrology Lovers

Derived From Web

, Jun 27, 2020

I have had this book on my shelf for over a decade... And I can 't recommend it enough! When I moved abroad, I couldn t bear the thought of life without it, so I even have the Kindle version, so my Bible could go wherever I went with me. The chapters are so cleverly written with plenty of wit and humor sprinkled throughout the chapters, so that the writing is not dull or dry. I love how detailed each of the 3 sections is in each chapter and also that it doesn't delve too deeply into couplings. This is the perfect coffee table book to have around for intimate friend gatherings always. Some of my best memories are from wine and sextrology nights spent discovering each other's secrets and giggling over the eerie accuracies!
Not accurate

Derived From Web

, Jun 4, 2019

Sorry, I am not crazy about this book, as it does not seem to me accurate. Really disappointing, as there are so many accurate astrologers out there - it is rare that I receive a book that I feel was just for uninformed people. In my opinion, it is not accurate.
Was this Written in the 1950s?

Derived From Web

, Apr 20, 2019

Wow, so many lax and offensive astrological and gender stereotypes, it is pretty painful to read. Reading through my sign, I think there were maybe three sentences that were true and didn 't cause me to sigh, groan, or roll my eyes while reading. The only thing that was semi-interesting and that I don 't normally see offered in astrological books are the str8 and gay turn ons. They also had gay, now spelled appropriately, and straight coupling matches. With everything that was horribly wrong in me and my partner's signs, however, who knows if any of this stuff is right.
wow wow wow this book was dead on!

Derived From Web

, Mar 20, 2019

Great read for couples, great read if you're better understanding yourself or your partner. I have it on my Christmas list for several peoplecouples for next year. Funny thing is, I have more friends and family borrow it and then I have spent time with the book myself. Here is HAHA kind of funny, but seriously, I told everyone I know about it and let people borrow it a ton in the last two months. Its impressively accurate is :
GET THIS BOOK!

Derived From Web

, May 28, 2018

A friend had this book on a trip and was raving about it so I flipped through. Just by skimming through my own sign, I was shocked at how much of it was not only accurate, but SPOT ON, so I bought it for myself. It is really neat to read about different signa of the people in your life and get a different understanding. I have had so many aha moments reading this. This purchase will not be regrettable!
enjoyable and accurate

Derived From Web

, Mar 27, 2018

Interesting and accurate to my experiences as well as others. This is not about sex only. It is also about personality expression. One of my friends thinks it is too hard on women, rather than on men. I do not see it. It described my deceased uncle quite well, my brother, and both my wives, 2 out of 3 girlfriends, and me, too. It's good for some snarky laughs. We all have our quirks and peculiarities. As with all astrology, it does not and can not hit the mark 100%. It is fun to see what celebrities are the same sign as you, though I am not much of a fan of Hollywood.