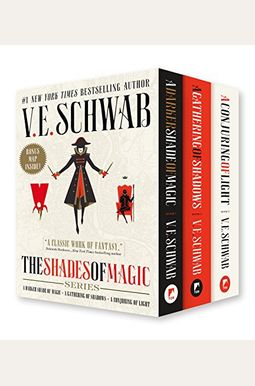 
 
Shades Of Magic Boxed Set: A Darker Shade Of Magic, A Gathering Of Shadows, A Conjuring Of Light
Book Overview
Bonus pull-out map included

Kell is one of the last Antari--magicians with a rare, coveted ability to travel between parallel Londons; Red, Grey, White, and, once, Black. Unofficially, Kell is a smuggler, servicing people willing to pay for even the smallest glimpses of a world they'll never see. It's a defiant hobby with dangerous consequences.
A Darker Shade of Magic -- Kell serves the Maresh Empire--Red London, as he calls it--as an official ambassador, traveling between the frequent bloody regime changes in White London and the court of George I in the dullest of Londons. After one such visit goes awry, Kell escapes his home for Grey London and runs into Delilah Bard, a cut-purse with lofty aspirations. Now perilous magic is afoot, and treachery lurks at every turn. To save all of the worlds, they'll first need to stay alive.
A Gathering of Shadows -- While Red London is caught up in the pageantry and thrills of the Element Games, another London is coming back to life, and those who were thought to be forever gone have returned.
A Conjuring of Light -- As darkness sweeps the Maresh Empire, the once precarious balance of power among the four Londons has reached its breaking point.
Frequently Asked Questions About Shades Of Magic Boxed Set: A Darker Shade Of Magic, A Gathering Of Shadows, A Conjuring Of Light
Book Reviews
(6)
Did you read Shades Of Magic Boxed Set: A Darker Shade Of Magic, A Gathering Of Shadows, A Conjuring Of Light? Please provide your feedback and rating to help other readers.
I couldn't put it down

Derived From Web

, Jul 21, 2021

I really enjoyed the story line and the fact that it wasn't jammed with sex like so many books in this genre. It's a great read, and I highly recommend it to anyone who enjoys fantasy, magic, and suspense. Great writer, and I look forward to reading more.
Trilogy boxed set

Derived From Web

, Jul 17, 2021

Television crews could not be reached for comment Tuesday. The paperback copies were very good, I ordered them from Amazon. com. The price was cheaper than other stores, for example, the "Austin Powers" set.
The first book will give you false expectations.

Derived From Web

, Jul 4, 2021

Overall, the first book was pretty decent, too. Good adventure, decent pace, good world and character-building, he said. The second book, "The Second Book," is a slog. Huge plotholes that the author doesn't even have the decency to forget, instead bringing them back up as though she didn't realize the insanity of leaving such important details with absolutely no consequences. It's a lost cause, Gillian said. If you think it would be great to read the first and then pretending that it was all that was published, I would recommend it.
Overhyped

Derived From Web

, May 12, 2021

Like most YA fiction, this is a generic story of a broken heart. Good writing can't save a story, which is nothing you haven't read before. What bothered me most about this film was that I couldn't believe in the dialogue or the characters, eventually everything felt contrived and fanficky.
Outstanding fantasy with creative alt world(s)

Derived From Web

, Mar 7, 2020

Started a touch slow for us, but when we got into it for the most part it became necessary reading with a few too many late bedtimes because we couldn't stop. The show's cast is well-rounded and the characters are well-developed. I would love to see more books in this setting after the trilogy ends.
A parallel universe series worth reading

Derived From Web

, Feb 11, 2019

A good series. A lot of variation, said Dr. Goin.