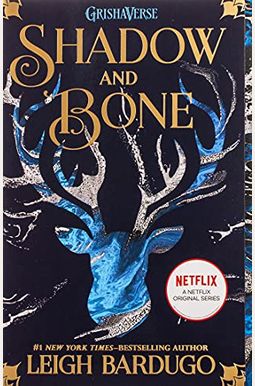 
 
Shadow And Bone (The Grisha Trilogy)
Frequently Asked Questions About Shadow And Bone (The Grisha Trilogy)

Book Reviews
(10)
Did you read Shadow And Bone (The Grisha Trilogy)? Please provide your feedback and rating to help other readers.
Good, but a bit badly paced

Cassandra P

, Jul 1, 2022

I've had this book on my TBR for a few years now, but I pushed it way up to the top so that I could read the first book before watching the first season of Netflix's Shadow and Bone adaptation.
I'm giving it a 2.75 stars.

I think I had skewed expectations about what the story would actually be about. Even though I had this book on my TBR for a while, I knew literally nothing about it, other than it was the first book in the Grishaverse, which included Six of Crows. The Netflix trailers made it look like a YA fantasy war story, so that's what I expected. I should have known better than to let a TV show trailer give me a sense of what a novel's story would be about. That's on me.


This was by no means a bad book. I was entertained almost all of the way through, and most of my gripes about the direction of the plot could have been avoided if I had known preemptively what I was getting into. However, it is still important for a story to properly set-up expectations in the first few chapters and follow-through, especially so that a reader can just pick-up the book with no prior research and be satisfied.

I have since found that this was Leigh Bardugo's first published book, so even the pacing can be excused with hopes that it improves in the next installments of the series and the Grishaverse as a whole.
Shadow and Bone review

Absolutely loved it! I had already watched the Netflix series and heard the book was really popular too, so I purchased it and finished the book in less than a week. I immediately bought the next two books in the trilogy!
shadow and bone - thoughtful fantasy

this book was amazing! as a fantasy novel, set in a different land, the author fleshed out the land and gave a sturdy foundation for the characters to live and fight. Couldn't find any discrepancies or poor plot points thrown in. It was not at all a predictable story, not unpredictable, but the perfect amount of plot twists. Loved this book so much.
Review

Not that bad but kind of boring. I heard the others are better and more interesting so ill still read. Book came in great condition though.
Book review

Shadow and bone is an amazing book. It has amazing world building. If sage and storm is as good as this I can't wait to get further into reading it. The book is not stiff ,so it is easy to hold and read. Over all this book is wonderful. If I could I would read it for the first time again. Leigh Bardugon did a wonderful job with it.
Just a heads up: 43% of the Kindle version is promotional material

Derived From Web

, May 3, 2021

This review is not about the actual story, but about the quality of the Kindle version. Imagine being in a book with more than 50% of it. You are looking forward to 42% more shenanigans. Turn the page and say hello in the epilogue. That's what you get with this version of the e- book. Acknowledgements, About the Author, Copyright, and EXTREMELY LONG excerpts of Siege and Storm and Six of Crows make up the rest of the 43%. If I wanted to read Shadow and Bone, I would have bought that book. This is ridiculous, I realize this probably upset me more than I should. I measure my progress on percentage alone. The percentage affects my perception of book length. When a 350 page book ends at 50%, I feel like I' ve only read about 150 pages. It feels like a rip- off.
Came with an advertisement permanently attached to the cover

Derived From Web

, Aug 6, 2020

I was very excited to see the beautiful cover art on the hardcover book I ordered, but I was also surprised to see an ad on the cover. At first I thought it was a sticker. The adaptation of the book on the cover was the subject of an advertisement. When I like the cover art, I like to keep my books nice. There is no warning in the product description about the cover art being marred like this.
Just a shadow compared to author's next series; start here or avoid.

Derived From Web

, Feb 7, 2018

It was written before the Six of Crow duology. If you' re going to read this trilogy, read it first. It is not so much the plot that spoils you, but the characters and depth of the plot. Shadow and Bone is a little too plain, far too cliche, and a little empty on the characters. You should start here and work your way forward with the author's experience level in mind. I will not be buying the rest of this trilogy, but waiting for the author to write new works.
Love the Grisha World

Derived From Web

, Jan 13, 2018

I was really excited to read this one, but the tone was so different it was deflating. The lore and the world were great, but the awkwardness and lack of confidence of Alina was different from the others. I felt like this was written for a younger audience than Six of Crow. If you love fantasy romance, I'm sure you' ll enjoy it. This was more romance and awkwardness than action for me. I'm sure the pace of the next books will pick up once we focus more on the action and the world of the GrishaLeigh is an extremely talented author and I have every faith that, in the end, this book will be a wonderful ride!
Nothing new

Derived From Web

, Sep 15, 2017

A girl learns she's the one. She goes into a school for magic and deals with snobs. She is powerful and beautiful, but she is also anguished over a love triangle. This is a repeat of many other books. Half the book is about how people look, and the other half is about who they are. It is a sad and stupid stereotype.