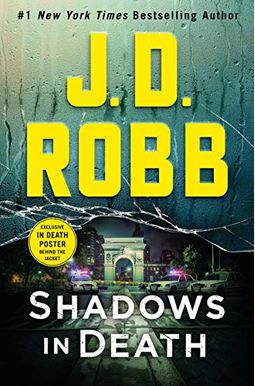 
 
Shadows In Death: An Eve Dallas Novel (In Death, Book 51)
Book Overview
In the new novel in the #1 New York Times-bestselling series, Lt. Eve Dallas is about to walk into the shadows of her husband's dangerous past.
While Eve examines a fresh body in Washington Square Park, her husband, Roarke, spots a man among the onlookers he's known since his younger days on the streets of Dublin. A man who claims to be his half brother. A man who kills for a living--and who burns with hatred for him. Eve is quick to suspect that the victim's spouse--resentful over his wife's affair and poised to inherit her fortune--would have happily paid an assassin to do his dirty work. Roarke is just as quick to warn her that if Lorcan Cobbe is the hitman, she needs to be careful. Law enforcement agencies worldwide have pursued this cold-hearted killer for years, to no avail. And his lazy smirk when he looked Roarke's way indicates that he will target anyone who matters to Roarke.and is confident he'll get away with it. Eve is desperate to protect Roarke. Roarke is desperate to protect Eve. And together, they're determined to find Cobbe before he finds them--even if it takes them across the Atlantic, far outside Eve's usual jurisdiction.
Frequently Asked Questions About Shadows In Death: An Eve Dallas Novel (In Death, Book 51)
Book Reviews
(7)
Did you read Shadows In Death: An Eve Dallas Novel (In Death, Book 51)? Please provide your feedback and rating to help other readers.
Couldn't put it down!!!

Derived From Web

, Sep 19, 2020

I settled in for a full book read as soon as possible. Wow, I was not disappointed at all. It's a great insight into his past. Eve and her family showed how much of the cop family he is too. You may see other reviews about how different the writing is or not in line with other books, but I say bullocks to that, it's a great book to read. Enjoy the book.
Is JD Robb still writing these books?

Derived From Web

, Sep 12, 2020

I agree with the review from J. The hammer. The previous books are not as good as these last few books. I' ve read all the death books. I wonder where all the wonderful secondary characters are because the same terms are used over and over again in these last few books. The other thing that upsets me is that we have Eve and Roarke swearing in public. You didn't hear anyone swear in the earlier books. In Shadows, the Chief uses it. I won't order any more death books until Robb writes them again. I am sad about Eve Dallas and Roarke.
My new favorite! No slowing down for Eve and Roarke!

Derived From Web

, Sep 8, 2020

I didn't want to put this one down. It was great to see more of his past. The action was quicker than usual. Many of the supporting characters are pulling together to catch a despicable villian. I' ve read all of them, and this is one of my favorites.
Best one yet

Derived From Web

, Sep 8, 2020

It's not about solving a crime. The core of this story is Roarke. We learn more about his past. It's about the family. It's not just the blood that makes a family. The pieces came together in this one. You come for all of us.
J D Robb , wonderful books.

Derived From Web

, Sep 8, 2020

IN Death is my favorite book of all time. Thank you for writing such a great series. Please keep on coming.
Absolutely the best!!!

Derived From Web

, Sep 8, 2020

I absolutely loved Shadows in Death. One of the best ones was about Roarke. The department worked together on this. I have to wait for the next book because I couldn't finish it in one day. The way you write is wonderful.
Outstanding

Derived From Web

, Sep 8, 2020

I didn't have the ability to put the book down. The storyline was based on Roarke's past so it was more interesting. Even with 51 books, we still don't know much about Roarke. The case was challenging but the love between Eve and Roarke was obvious. It's great to read another great book.