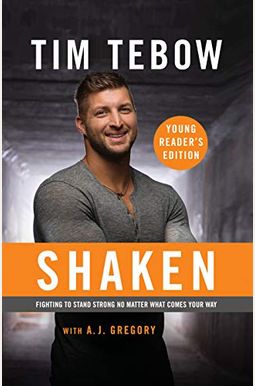  
Shaken: Young Reader's Edition: Fighting To Stand Strong No Matter What Comes Your Way
Book Overview
The New York Times best-selling author and Heisman Trophy winner shares a vision for young Christians still forming their identity and finding their God-given purpose--even when life doesn't go as planned.
Beloved sports icon Tim Tebow was a college football champion and a first-round draft pick--but then he was traded and eventually cut. In
Shaken Young Reader's Edition,
he reveals how he navigated both triumph and disappointment and explains how neither the highs nor the lows of his life define him. Ultimately, only God can do that. The same is true for every one of us. God has given us a unique set of talents and experiences in order to fulfill our divine purpose. Whether He intends for us to influence those close to us, like our friends and our family, or even the entire world, there are no limits to the great things God can accomplish through us when we let Him determine who we are. But we may miss God's incredible plan for our lives if we're so busy trying to be just like everyone else--by blending in with the crowd or refusing to stand up for what is right.
Jesus was anything but normal
Nothing is more empowering, more life-giving, and more exciting than having a strong identity. Jesus knows this, and He wants you to know it as well. When we are willing to let God define who we are, He will take what we have to offer and multiply it in ways and for purposes that we cannot imagine
Frequently Asked Questions About Shaken: Young Reader's Edition: Fighting To Stand Strong No Matter What Comes Your Way
Book Reviews
(11)
Did you read Shaken: Young Reader's Edition: Fighting To Stand Strong No Matter What Comes Your Way? Please provide your feedback and rating to help other readers.
11 year old football fanatic loved this

Derived From Web

, Apr 18, 2021

When the boy opened the box, he immediately fell in love with the "gift" that his mom gave him as a Christmas present. Overall, I would rate Mr. Kennedy's performance as 'average' or 'advanced' level. He also seems to follow biographical non-fiction very easily.
Good book but

Derived From Web

, Feb 18, 2021

We're thrilled to be working with him again, said Blair. Gen Z readers, we're not motivating.
Bought for my grandson

Derived From Web

, Jan 1, 2020

It was a present from my grandson. My daughter had thought of getting it for him. It was a blast, said Blair. I read so many of the reviews that said it was great for young boys, and they all said it was great for older boys as well. McCartney will marry Hurley on May 11.
Teen grandson likes it!

Derived From Web

, Dec 31, 2019

You can find me at Tim Tebow events. It was a present from my 15-year-old grandson. He is really enjoying it, he said.
1 For Each of My Young Reader GrandChildren!

Derived From Web

, Nov 24, 2019

I believe that Tim Tebow's career and testimony for Christ are a great example to young readers of all faiths. Paul helps his disciples to focus on who they are in Christ, not in the world. Every kid needs all the positive arrows they can get, and Tim Tebow is a good one for this.
Very inspiring

Derived From Web

, May 21, 2019

Tim's expression of his faith and care for others really inspired my teenage boys. Tim Burton and Hugo Weaving could relate to each other. The stories Tim shares in the book have caused my boys to reflect on their own lives and what mattered to them most. Definitely inspirational and well worth the read.
11 year old son LOVES it

Derived From Web

, Feb 26, 2019

My 11 year old has almost finished the book. The book has given him a new perspective, Reichert said. Thanks for the support!
Good book!

Derived From Web

, Jan 17, 2019

His second book was a "gift" from his wife. They are both excellent for a young man.
Great role model

Derived From Web

, Jul 11, 2018

She was given a diamond and gold ring by her grandson as a present. Yes, I hope he reads it. Tim Robbins is a great role model for young boys and men, said Barbara Comstock, executive vice president of marketing for AOL Europe. I love how he is willing to share his faith and live it publicly, McCartney said. Wish there were more young men like him.
That's pretty insane!

Derived From Web

, Dec 7, 2017

This book is so popular among my boy students, even though I am a public school teacher. I never thought that my students would be so passionate about a book. It went missing one day and I had to buy another one because the other kids in my other periods were so upset. Then I bought another one, and that one went missing, so one of my boys got so fed up he made his mom take him to a book store to buy it. Imagine a 16 year old in 2017 asking his mom to take him and to go buy a REAL book. That was pretty insane, said Dr. Julie Gerberding, director of the federal Centers for Disease Control and Prevention. It must be good to have boys who don't consider themselves readers, Hachette said.