Cyber Week Deals
Cyber Monday Deals are Here! Save 20% on All Books Under $10 - Code CYBERBOOK Learn more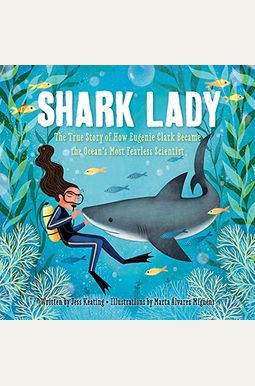 
 
Shark Lady: The True Story Of How Eugenie Clark Became The Ocean's Most Fearless Scientist
Book Overview
One of New York Times' Twelve Books for Feminist Boys and Girls
This is the story of a woman who dared to dive, defy, discover, and inspire. This is the story of Shark Lady. One of the best science picture books for children, Shark Lady is a must for both teachers and parents alike
An Amazon Best Book of the Month
Named a Best Children's Book of 2017 by Parents magazine
Eugenie Clark fell in love with sharks from the first moment she saw them at the aquarium. She couldn't imagine anything more exciting than studying these graceful creatures. But Eugenie quickly discovered that many people believed sharks to be ugly and scary--and they didn't think women should be scientists.
Determined to prove them wrong, Eugenie devoted her life to learning about sharks. After earning several college degrees and making countless discoveries, Eugenie wrote herself into the history of science, earning the nickname Shark Lady. Through her accomplishments, she taught the world that sharks were to be admired rather than feared and that women can do anything they set their minds to.
An inspiring story by critically acclaimed zoologist Jess Keating about finding the strength to discover truths that others aren't daring enough to see. Includes a timeline of Eugenie's life and many fin-tastic shark facts
The perfect choice for parents looking for:
Books about sharks
Inspiring nonfiction narrative books
Role model books for girls and boys
Kids STEM books
Frequently bought together
Frequently Asked Questions About Shark Lady: The True Story Of How Eugenie Clark Became The Ocean's Most Fearless Scientist
Book Reviews
(12)
Did you read Shark Lady: The True Story Of How Eugenie Clark Became The Ocean's Most Fearless Scientist? Please provide your feedback and rating to help other readers.
For the shark lovers and women's history enthusiasts

Derived From Web

, Mar 11, 2022

The binding is worn and the pages are crinkled, but it is hard to tell from the photos. The story of how Eugenie Clark became the Ocean's Most Fearless Scientist is a great example of a woman breaking a male stereotype. Take a look at her life and see how she overcame obstacles. A pioneer in the field! My son, a shark lover, has been reading this book for a long time. All of my children will have a story that proves they can do anything.
This is a very nice bio of a female scientist.

Derived From Web

, Jun 24, 2021

This book is a nice examination of a woman's life, and it includes an odd break from the aquarium to university. An actual time line of Eugenie Clark's life, a useful concept to learn early, and a list of shark fallacies that Clark helped uprootchallenge are all of interest to older girls.
Wonderful book about an amazing woman

Derived From Web

, Jul 19, 2020

Eugenie Clark is rarely talked about. She was a woman with a passion for adventure and science. She dispelled many myths about sharks. One of our favorites is this. A must for any kid interested in animals and any parent looking for a brilliant female role model
Child-Friendly, Terrific and Beautifully illustrated!

Derived From Web

, May 21, 2020

I am a second grade teacher and I absolutely recommend this book. My students are learning about biographies of people who made a difference. The impact that society has had on women and people of color throughout history is explored. In this book, we get a glimpse into the world of a brave woman who defies society's expectations of what she should be, what she should do and what she should focus on. She persevered towards her goals. We have learned more about sharks and other ocean creatures because of her. Thank you so much for this treasure!
Good read for 2nd graders

Derived From Web

, Dec 12, 2019

A cute book with lots of fun facts about sharks was a good read for my 2nd graders book report.
Great book!

Derived From Web

, Dec 10, 2019

My son loves ocean animals and this is a great book showing both sharks and the perseverance it takes to excel in your field.
Dive in!

Derived From Web

, Jul 18, 2019

My 5yo daughter chose Sharknado as her birthday theme and had to go outside of the box. We both share a passion for sharks. I couldn't believe how perfect the book was when I read it. The illustrations are beautiful. My daughter loves it. It was inspired by a girl.
Not for kids under 5

Derived From Web

, Apr 14, 2019

The book is not suitable for 2 year olds. 3 year olds. It seems like a book for a 5 year old, but don't sell me a book for a toddler when the language and ideas are so advanced that the kid loses interest.
My five-year old is in LOVE with this book

Derived From Web

, Jan 20, 2019

My five-year old is in love with this book and wants to study sharks. We have gotten this book twice from the library and have renewed it many times, so we had it for four months. I decided that we should buy her her own copy.
One of the best books for kids we have

Derived From Web

, Sep 12, 2018

We have one of the best books for kids. It's super informative. My kids love it. It is a story that kids understand. The timelines of facts at the end of the books are something my kids always request to be read, and it introduces them to some grown up concepts. It's just awesome! !