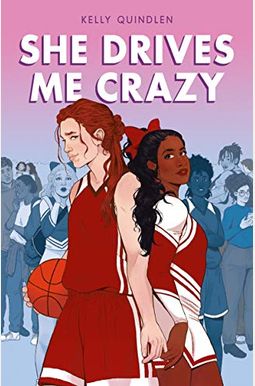  
Book Overview
A little sweet, a little sharp. --Booklist, starred review

High school nemeses fall in love in Kelly Quindlen's She Drives Me Crazy, a queer YA rom com perfect for fans of Becky Albertalli and Casey McQuisten.
After an embarrassing loss to her ex-girlfriend in their first basketball game of the season, seventeen-year-old Scottie Zajac gets into a fender bender with the worst possible person: her nemesis, Irene Abraham, head cheerleader for the Fighting Reindeer. Irene is as mean as she is beautiful, so Scottie makes a point to keep her distance. When the accident sends Irene's car to the shop for weeks' worth of repairs and the girls are forced to carpool, their rocky start only gets bumpier. But when an opportunity arises for Scottie to get back at her toxic ex--and climb her school's social ladder--she bribes Irene into an elaborate fake- dating scheme that threatens to reveal some very real feelings. From author Kelly Quindlen comes a new laugh-out-loud romp through the ups and downs of teen romance, perfect for fans of Becky Albertalli.
Frequently Asked Questions About She Drives Me Crazy
Book Reviews
(15)
Did you read She Drives Me Crazy? Please provide your feedback and rating to help other readers.
Cute teen love story

I love how this book focuses the most on Irene and Scottie's relationship. I loved the progression of their love-hate relationship and it's a book that both has heart wrenching moments and lighthearted ones. What I especially love about this book is that it normalizes Wlw relationships and doesn't focus on the trauma of coming out. It's like a breath of fresh air. I also love Irene's character.
Unless you have a cold heart you'll enjoy this book

Derived From Web

, Aug 18, 2021

Do you like to feel good movie moments? Are you a human being? If you answered yes to all these questions, this is the book for you. Read it and later thank me.
Kelly Quindlen Does it Again!

Derived From Web

, Aug 18, 2021

The characters are so fun, lovable, witty and make you smile. A great story about falling in love, creating unlikely friendships, the leaning in the family. Every minute of it was enjoyed!
Recommended for all teens

Derived From Web

, Jun 28, 2021

This story is incredibly sweet, but also manages to have an exciting but believe lable plot! Hard to believe, but if learning important life lessons about self-worth and recovering from a bad relationship sounds good to you, pick up this book.
Loved this book!

Derived From Web

, Jun 12, 2021

I read rom coms rarely because I feel that the plots are often predictable, rushed or just plain boring. However, this book was anything but. It had a great plot, important life lessons, a well developed supporting cast and a ton of emotional depth. Definitely a must read book.
I LOVE BASKETBALL IN BOOKS!!

Derived From Web

, Jun 4, 2021

I am a simple human if there is basketball in a book -- I'm going to like it. This novel is an adorable ff romcom between a basketball player and a cheerleader who hate each other but end up in fake dating.
100% recommend

Derived From Web

, Jun 4, 2021

100100 recommended Gay+ enemies to lovers with fake dating A love story between a cheerleader and a basketball player.
Just right for a light, queer read. 10/10 for being exactly what I wanted. No regrets ☺

Derived From Web

, May 21, 2021

I am always looking for good books, lately especially with a queer view, so I thought I 'd share. I '' was looking for something light to read. Beautiful character arcs, written nicely, not boring or dumbed down. No regrets ''.
Really good, enemies-to-friends-to-lovers

Derived From Web

, May 19, 2021

I actually enjoy an occasional enemies to the lovers story, and this was the perfect one. Scottie and Irene were not perfect ; they were flawed and human. But from the beginning it was almost obvious that they had something. Tally was... well, Tally was almost like a villain. Charlotte was also like a villain, as was Charlotte. There were times when I wanted to punch Charlotte. Scottie and Irene were amazing friends to Danielle and Honey-Belle. Even Kevin and Gunther were fun friends. Daphne and Thora were wonderful sisters, the kind of families that were seen as perfect. In all, the story was just fun and made me have so many feelings at the end.
Enjoyable

Derived From Web

, May 17, 2021

Scottie struggles in a way that is relatable, and both protagonists are allowed to make mistakes and grow and have setbacks without being demonized. It has a great rom-com energy to it.