Cyber Week Deals
Cyber Monday Deals are Here! Save 20% on All Books Under $10 - Code CYBERBOOK Learn more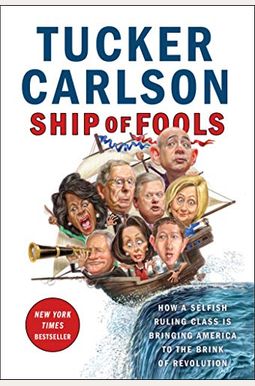 
 
Ship Of Fools: How A Selfish Ruling Class Is Bringing America To The Brink Of Revolution
Book Overview
This Description may be from another edition of this product.
The #1 New York Times bestseller from FOX News star of Tucker Carlson Tonight offers a targeted snipe at the Democrats and Republicans and their elite enablers (New York Journal of Books) in a funny political commentary on how America's ruling class has failed everyday Americans.
Informal and often humorous.an entertainingly told narrative of elite malfeasance (
Publishers Weekly
), Tucker Carlson's
Ship of Fools
tells the truth about the new American elites, a group whose power and wealth has grown beyond imagination even as the rest of the country has withered. The people who run America now barely interact with it. They fly on their own planes, ski on their own mountains, watch sporting events far from the stands in sky boxes. They have total contempt for you. In
Ship of Fools,
Tucker Carlson offers a blistering critique of our new overlords and answers the all-important question:
How do we put the country back on course?
Traditional liberals are gone, he writes. The patchouli-scented hand-wringers who worried about whales and defended free speech have been replaced by globalists who hide their hard-edged economic agenda behind the smokescreen of identity politics. They'll outsource your job while lecturing you about
Read More chevron_right
Frequently bought together
Frequently Asked Questions About Ship Of Fools: How A Selfish Ruling Class Is Bringing America To The Brink Of Revolution
Books like Ship Of Fools: How A Selfish Ruling Class Is Bringing America To The Brink Of Revolution
Book Reviews
(11)
Did you read Ship Of Fools: How A Selfish Ruling Class Is Bringing America To The Brink Of Revolution? Please provide your feedback and rating to help other readers.
Tucker Carlspom--Defender of the middle class destroyers

Derived From Web

, Oct 29, 2018

Carlson complains about the growing elite and the dying middle class, yet defends the very people who gave them a MASSIVE tax cut at the expense of the middle class! He recognizes that there are issues in this country, but then compounds them by supporting the very people who created them.
Not Really a Balanced View

Derived From Web

, Oct 27, 2018

I expected this based on others'reviews and bought a balanced analysis. What I received instead is thinly veiled excuses for political absurdities on both sides, but with a noticeable conservative bias. Personally, I fall somewhere between the two dominant extremes and was hoping to learn and understand. Instead, I got more agenda-driven noise. Only 2, because it is not what it claims to be.
Tears apart all those who effed our country up

Derived From Web

, Oct 10, 2018

Tears separate the right wing and the far left Progressive wing. Tucker is missing the liberals and wishes they would return... I do not watch his show, but his writing does have a lot of logic and puts the Progressive Democratic Party and the Republican establishment for our problems today. Book is very top notch.
Why i voted for Trump

Derived From Web

, Oct 9, 2018

If you really want to understand why Trump won this book for you is a great book. The answer may not hit the mark, but it may well be due to the reason. The elites think they are so smart and I am tired of hearing it when I know I am as smart as they are. I'm tired of being called a racist because I am white, pretty soon you think I'm not just one ; I can 't prove that I am not. Thank you Tucker for a great book.
EXACTLY

Derived From Web

, Oct 8, 2018

A book about the obvious... but we are not allowed to think or say it out loud. Tucker Carlson... Get ready for the Shi-storm! One of the best books I ever read.
A thought-provoking read

Derived From Web

, Oct 4, 2018

Pick an off-day to start reading this book, because you will not want to put it down until you finish. Definitely headed for the category of Best-Seller.
Required reading for lovers of America!

Derived From Web

, Oct 4, 2018
Must Read for every American

Derived From Web

, Oct 3, 2018

I bought this book yesterday, started reading and could not put it down. I believe it is an accurate and somewhat frightening pictorial of what has happened and perhaps what will happen. Great to read, easy to follow and highly informative. The wonder of Trump explained - Listen up, Foolish leaders.
Intelligent review of what is now going on

Derived From Web

, Oct 2, 2018

Tucker Carlson is an intelligent observer of current affairs in America. Finally, a book that explains the Trump appeal. He is the right wing in a current self-destruct, and the more Trump succeeds, they will continue to implode. Then sit back and watch the ship of fools sink like a rock.
Bravo Tucker-SHIP OF FOOLS could not have come at a better time!

Derived From Web

, Oct 2, 2018

For those of us who have been gravely concerned in these last few years as we witnessed the great nation that we love dearly changing at such a rapid and uncontrollable rate, right before our eyes, while we were left wondering why? The bonus is that we can now experience this refreshing perspective and wisdom from someone who has been in the thick of it for years, the enlightening Tucker Carlson. Thank you Tucker, from a concerned mother who was concerned that basic common sense and our world's sense of humor were gone for good until I picked up Ship of Fools... Well done.