Buy 3 Get 1 Free
Our Best Sale Yet! Add 4 Books Priced Under $5 To Your Cart Learn more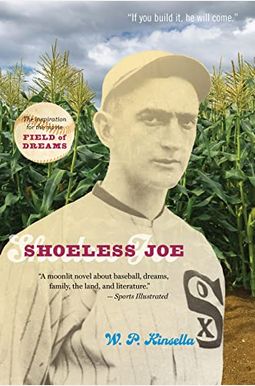 
 
Book Overview
This Description may be from another edition of this product.
Shoeless Joe, the soul-stirring novel on which the movie Field of Dreams is based, is more than just another baseball story. Kinsella captures the spiritual dimension that baseball represents for its most determined devotees in this tale on love and the power dreams have to make people come alive. Shoeless Joe is the great Joe Jackson, one of the eight members of the 1919 Chicago White Sox who were banned from baseball for throwing the World Series. One day, while out in his cornfield, Iowa farmer Ray Kinsella hears the voice of a baseball announcer saying, If you build it, he will come. He, of course, is Ray's hero, Joe Jackson. It is a baseball stadium, which Ray carves out of his cornfield. In doing this, he also inadvertently provides us with an amazing and somewhat nostalgic story on America's perhaps most beloved national pastimes, baseball.
Frequently bought together
Frequently Asked Questions About Shoeless Joe
Book Reviews
(12)
Did you read Shoeless Joe? Please provide your feedback and rating to help other readers.
So very sweet

Derived From Web

, Jun 2, 2022

Can 't stop crying when he talks to his father, and I have seen the movie at least 20 times. I read the book so that I could write it. The narrative is pretty similar, but as in all films based on books, the characters in the book are more developed. And the book spoke to me as did the movie. I can't explain it, something about dead fathers and sons and baseball and, in my case, an America from long ago that was somehow simpler than the present one. As I said, I can not explain it, but I loved it.
Since this is the basis for the movie "Field of ...

Derived From Web

, Jun 2, 2022

Since this is the basis for the film Field of Dreams, it is familiar to most. However, since the movie is taken from this book, there are differences. And a different character is main.
love the book, love the movie

Derived From Web

, Jun 2, 2022

I like to read books from movies that I already enjoy. I usually find the books more interesting and more engaging, and I was not disappointed with Shoeless Joe. In fact, I liked a lot of the original plot lines that were replaced in the movie. It's a beautiful read.
beautiful story

Derived From Web

, Jun 2, 2022

The perspective of the first person has been loved. It appeared to be such a personal story. Some mysterious characters are part of the plot. But a great read that starts strong and finishes nicely. When you like baseball, it is a good setting for this fantasy story.
Great baseball story

Derived From Web

, Jun 2, 2022

This book described a quest that Mr. Kinsella went on to turn a baseball dream into a reality. I found it to be fascinating. They have turned it into the movie Field of Dreams, with lots of changes. But by itself, it is a very good story, written very well.
ok, but movie was better

Derived From Web

, Jun 2, 2022

The Field of Dreams movie, living in Iowa, has always been one of my favorite favorites. Finally I decided to read this book to be able to get and understand what the movie was based on. Unfortunately, I have to say that this is one of the rare situations on which the movie was actually more enjoyable than the book based. At times, Kinsella's writing was a little difficult to follow, and the mild sexual content in the book didn't really have a purpose in the book, other than to advance the storyline. I would therefore not recommend it for anyone who is not at least an upper-teen. For most part, the movie follows the plot line of the book fairly well, with necessary divergences for clarity and brevity. The details about Iowa City itself are nostalgic and fun to someone who spent years there, but seem to bog the story some as well. If you are a big fan of the film Field Of Dreams, this is probably a good book to read. Otherwise, it is probably not worth the effort.
Every Kid's Dream

Derived From Web

, Dec 10, 2021

The idea of having a baseball field in your yard and the greats of baseball come out of Cornfield to play games for you to see! What could be more fine for a kid growing up? Yes, it sometimes carries a bit of mud. And yes, it has the longest chapters I have ever seen in a book. And no, it is not even close to the movie by the film, sometimes it isn 't perfectly followed. The concept of how the farm is saved is a little screwy and breaks away from believability, but while I read a book very rarely, I may come back to it again in a few years.
Lyrical

Derived From Web

, Feb 9, 2019

Shoeless Joe is a lyrical, magical composition with the game of BASEBALL at its center and like corn stalks in the vast Iowa fields and farms, the game gives birth and sustenance to the dreams of the young and old, revives idle minds and reinforces the importance of family, friends and the meaning of love. Baseball has often been used as a metaphor for America, in films, books, songs and plays, but rarely has it reached the radiance and beauty displayed in Mr Kinsella's book. The book was the inspiration for the film Field of Dreams, which also happens to be one of my favorite films. Except for a few character changes, the movie follows fairly closely the plot of the book and complements each other perfectly. They both express fully what I imagine every die hard baseball fan feels inside, the timeless intersection between our everyday lives and triumphs and failures of the team we root for and root against.
Wonderful

Derived From Web

, May 7, 2018

A bit different from the film, but all the same and exquisitely beautiful story about baseball and life. If you are a great baseball fan, you will enjoy it even more than the average reader. It's a great story and is a beautiful place.
NOT AS GOOD AS "Field of Dreams"

Derived From Web

, Mar 8, 2018

Maybe the movie was just that good-and Kinsella deserves all the credit for this incredible story about life and death. and all the hopes and dreams that come between these two. The book touches on the undeniable bond between fathers and sons, based on a mutual passion for baseball, but the movie's ability to remove the visual element and add many of the detractors in the book was a more effective way to tell this story.