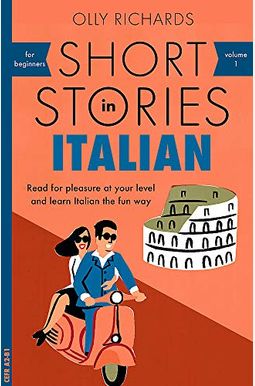 
 
Short Stories In Italian For Beginners
Book Overview
An unmissable collection of eight unconventional and captivating short stories for young and adult learners.
I love Olly's work - and you will too - Barbara Oakley, PhD, Author of
New York Times
bestseller
A Mind for Numbers
Short Stories in Italian for Beginners
has been written especially for students from beginner to intermediate level, designed to give a sense of achievement, and most importantly - enjoyment Mapped to A2-B1 on the Common European Framework of Reference, these eight captivating stories will both entertain you, and give you a feeling of progress when reading. What does this book give you? - Eight stories in a variety of exciting genres, from science fiction and crime to history and thriller - making reading fun, while you learn a wide range of new vocabulary - Controlled language at your level, including the 1000 most frequent words, to help you progress confidently - Authentic spoken dialogues, to help you learn conversational expressions and improve your speaking ability - Pleasure It's much easier to learn a new language when you're having fun, and research shows that if you're enjoying reading in a foreign language, you won't experience the usual feelings of frustration - 'It's too hard ' 'I don't understand ' - Accessible grammar so you learn new structures naturally, in a stress-free way
Read More chevron_right
Frequently Asked Questions About Short Stories In Italian For Beginners
Book Reviews
(15)
Did you read Short Stories In Italian For Beginners? Please provide your feedback and rating to help other readers.
Huge Language Skill Confidence Booster!

Derived From Web

, May 23, 2022

I began reading with Harry Potter in Italian for the first time. It was a little over my head. However, this collection of short stories is for me exactly the right level. I now appreciate the author's instruction on how to read in a foreign language, even Harry Potter is within reach. There are great tools included at the end of each chapter to review what you just read and add to your vocabulary in a fast and natural way. In fact, since they're short stories, I found myself mostly wishing that they went on longer! This book and the instruction that comes with it gave me a huge confidence boost on my Italian language skills and actually helped them immensely. I can 't recommend this strongly ''.
Entertaining Stories

Derived From Web

, May 23, 2022

The stories are written in intermediate Italian, so that they are not too difficult. At the same time, the stories provide plenty of opportunity to practice new vocabulary and learn verbal tenses.
but I got the jist and the stories were fun. It was good at reinforcing what I knew ...

Derived From Web

, May 23, 2022

I'm definitely a beginner and I can 't say that I was able to pick up 100% of what was said, but I got the jist and the stories were fun. It was good in stretching out what I knew and reinforcing me where I was weak.
Five Stars

Derived From Web

, May 23, 2022

Perfect to accompany the audio book and improve the Italian listening skills. The audio book is a must read book.
Great way to learn to speak Italian.

Derived From Web

, May 23, 2022

I spent so many months practicing out of context and this collection of short stories is much more helpful in building vocabulary and strengthening grammar concepts. The chapters are real and conversational enough to get through without becoming frustrated, and the language is short. Some words and phrases are emphasized and then gained at the end of the chapter, but the rest is defined through context, which I think is more helpful than a straight-up full translation. You begin to learn the language little by little in the same way you learned English. Questions at the end of each chapter make sure that you get the most out of reading, and the directions in the beginning help you get the most out of the book.
Excellent resource

Derived From Web

, Jun 24, 2021

If you learn languages for the first time, this is an excellent addition to Duolingo, Rosetta Stone or Babbel.
Cute but flawed

Derived From Web

, Apr 26, 2021

The book is adorable and certainly helpful for beginning readers, but contains certain deficiencies and language errors. The scenarios described are not realistic for young university students in Europe. In a hotel and taking a taxi, a taxi driver would blow through their budget in a day. Take a bus to find a restaurant to eat in Rome? You have to be serious. There are literally so many choices within walking distance of Rome that choosing becomes the problem. And the poor Giulia is timid and shy. A little sexist to sexist, to say the least. Ok. All in fun but not using subjective after Mia sorella non sa dove sono ''. Not all Italians follow grammar rules, but Adesso siamo a mangiare qualcosa ''. No native Italian speaker would ever say such a thing. My conclusion is that it is a whimsical Italian book with probably fun at times and written by someone not of Italian culture.
Great book for upper beginners in Italian

Derived From Web

, Oct 6, 2020

I have read only the first three stories, but I have enjoyed it so far, and has been helpful in my Italian learning journey.
Great buy. Fun to read.

Derived From Web

, Jun 16, 2020

I purchased my first Intro to Elementary Italian course and this was completed to improve my reading comprehension skills further. Majority is obviously in Italian, but it is pretty neat that at the end of each chapter there is a vocab that is translated into English. Some words I still have to look up using my Italian dictionary, but I enjoy the book honestly. I encourage anyone and everyone to continue their learning by reading, especially something you are going to enjoy. I would definitely recommend '' this book.
Italian instructor told me to send it back, too many errors!

Derived From Web

, Feb 18, 2020

I thought it would help, but my instructor said it is flawed with many errors. He also said that it is not authentic, but the feeling is that the story is written from an American point of view versus authentic Italian.