Buy 3 Get 1 Free
Our Best Sale Yet! Add 4 Books Priced Under $5 To Your Cart     Learn more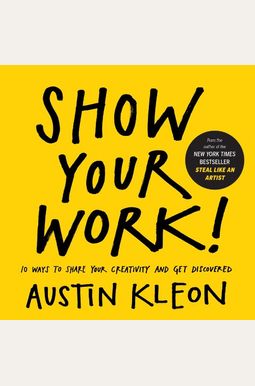 
 
Show Your Work!: 10 Ways To Share Your Creativity And Get Discovered
Book Overview
This Description may be from another edition of this product.
In his New York Times bestseller Steal Like an Artist, Austin Kleon showed readers how to unlock their creativity by stealing from the community of other movers and shakers. Now, in an even more forward-thinking and necessary book, he shows how to take that critical next step on a creative journey getting known. Show Your Work is about why generosity trumps genius. It s about getting findable, about using the network instead of wasting time networking. It s not self-promotion, it s self-discovery let others into your process, then let them steal from you. Filled with illustrations, quotes, stories, and examples, Show Your Work offers ten transformative rules for being open, generous, brave, productive. In chapters such as You Don t Have to Be a Genius; Share Something Small Every Day; and Stick Around, Kleon creates a user s manual for embracing the communal nature of creativity what he calls the ecology of talent. From broader life lessons about work (you can t find your voice if you don t use it) to the etiquette of sharing and the dangers of oversharing to the practicalities of Internet life (build a good domain name; give credit when credit is due), it s an inspiring manifesto for succeeding as any kind of artist or entrepreneur in the digital age.
Frequently bought together
Frequently Asked Questions About Show Your Work!: 10 Ways To Share Your Creativity And Get Discovered
Books like Show Your Work!: 10 Ways To Share Your Creativity And Get Discovered
Book Reviews
(17)
Did you read Show Your Work!: 10 Ways To Share Your Creativity And Get Discovered? Please provide your feedback and rating to help other readers.
The Title is the Main Take-Away

Derived From Web

, Apr 20, 2022

It is shocking that a book of this basic has been so well received. Incompletely devoid of any serious content, Kleon discusses only the WHAT and never the HOW. There is no attempt to expand on one of the obvious things he poses. He poses just for them. This proves that he is much more intelligent than the rest of us, who could have written this book on the back of a few napkins while waiting for dinner. Or 2) the public is truly gullible, and a smart title is what sells books these days. The book has a major take-away, letting people see what it is that you are creating. All banal content is so other that it is not worth re-reading. If you buy this book at all, you will save some money and buy a used copy. Whether it is marked does, it does not matter how small it is. In the margins, you could write a few notes to yourself. When you start feeling inspired, you will be :
Bought all 3 in the series

Derived From Web

, Aug 17, 2021

Super great, thoughtful, reminder content. Not associative, but more instructive continent with past and present example snippets. Books are well done, lots of pages on graphics, poems and wasted space. No, not really with a ton of learning did I come away with a ton of learning? I expected more, but still had many things to look back on, and I shared these books with my GF to help her on her projects. Great more for beginning creatives over 25+ year industry people who have their fingers on the pulse of the industry since there is an influencer born every minute. He writes very well, which allowed me to reach my 3 books in a day, with plenty of time left over for a dinner date with my GF and ice cream! I do recommend and he still gets 5 stars for I know this is great content that others do need to hear and it was put together nicely!
NOT life changing

Derived From Web

, Mar 28, 2021

I purchased this book based on a recommendation from Ali Abdaal's YouTube channel. There he claimed that this series of books changed his life, it is safe to say that the expectations were set rather too high. Certainly, there is no way I could ever call this book life-changing. The best I can say is that it is a very short, light read, with occasional thought-provoking quotes. A large part of this book will be obvious to anyone who has grown up using the internet. When first published in 2014, there was perhaps more of a need for such insights. We often forget how quickly things change. One thing that bugged me was the blacked out illustrations that failed to add anything — reminiscent of the pasted newspaper letters from a cartoon kidnapper's ransom note.
Good refresh of the formula!

Derived From Web

, Oct 10, 2020

I like Austin's first book Steal like an artist. Though even this one is good, it doesn 't feel surprising or illuminating like the first. Why? '' Why? I believe that Austin did not discover anything new here, but described the process you would learn from other Internet marketing or personal branding books, not from the perspective of an artist. Is it recommended Do I recommend it? Yes, but not too much if you had read several books on the subject. On the other hand, if you're a graphic or creative professional who has no idea of what to do with the internet, how to promote yourself, this book will be a great start.
Great and educational

Derived From Web

, Oct 2, 2020

I had to borrow this book for a class and I loved it and my friend even loved it so much she kept it.
Worth the quick read

Derived From Web

, Aug 26, 2020

The brevity is what sold it for me really, and this has planted some useful seeds. Worth the quick read :
Just Ok

Derived From Web

, May 25, 2020

I really loved Steal like an artist ''. I felt like it was helpful and super inspiring ''. This book, not as much. I don 't have a problem with sharing my work and process and giving credit to other artists. These are all great ideas. I got stuck on the notion that I should be doing what I share every day. I also don 't like the idea of talking works in progress and showing my process via social media. I know people who do this and unless they're a really great artist, I find this really annoying. There is a social component to this that I think is rampant in narcissistic media. The idea that I'm such a compelling figure that everyone is interested in every little thing I do is, as far as I am concerned, nauseating. I also think that art should not be too much talked about. Some should be left to mystery, some should be left to the unknown. Maybe it's a generational thing, but it's a generational thing. Kleon is quite a bit younger than me, and over-sharing is now just the norm. Doesn 't mean I have to like it.
Change your perspective in less than an hour

Derived From Web

, May 23, 2020

Ali Abdaal recommended this book by Saw and was sold on it being both life changing and a 30 minute read. Austin makes the clearest and most convincing argument I have seen as to why pretty much everybody should share their work with the world and make it findable. Start with concrete starting points - register a web domain, start a daily transmission, document your process, and also make this actionable immediately. It seems to be impactful in the way that a one-hour lunch conversation with an insightful friend can plant an idea that changes the trajectory of your life. Took me more than an hour only because I put the book down halfway to register a personal website.
Show Your Work!

Derived From Web

, Apr 11, 2020

I like Kleon's books because they are motivational and simple to read and understand. I enjoy the quotes and the artists he gathers his ideas from.
Excelente punto de partida

Derived From Web

, Mar 29, 2020

Creo que es un buen manifiesto los que trabajamos cosas los, especialmente los que trabajamos para otros, por ejemplo en publicidad.