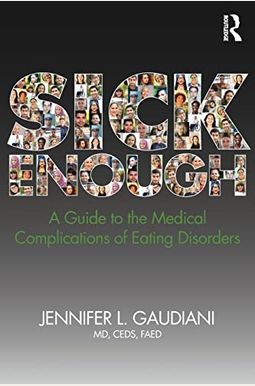 
 
Sick Enough: A Guide to the Medical Complications of Eating Disorders
Book Overview
Patients with eating disorders frequently feel that they aren't sick enough to merit treatment, despite medical problems that are both measurable and unmeasurable. They may struggle to accept rest, nutrition, and a team to help them move towards recovery. Sick Enough offers patients, their families, and clinicians a comprehensive, accessible review of the medical issues that arise from eating disorders by bringing relatable case presentations and a scientifically sound, engaging style to the topic. Using metaphor and patient-centered language, Dr. Gaudiani aims to improve medical diagnosis and treatment, motivate recovery, and validate the lived experiences of individuals of all body shapes and sizes, while firmly rejecting dieting culture. 
Frequently Asked Questions About Sick Enough: A Guide to the Medical Complications of Eating Disorders
Books like Sick Enough: A Guide to the Medical Complications of Eating Disorders
Book Reviews
(10)
Did you read Sick Enough: A Guide to the Medical Complications of Eating Disorders? Please provide your feedback and rating to help other readers.
A Must-Read

Derived From Web

, Aug 21, 2021

In "The Book of Eating Disorders," Elizabeth Gilbert and Robert Hein both reveal how disordered eating can lead to serious mental illness. Far superior to any other book on the subject. It is an absolute must-read for every health care provider, individual struggling with disordered eating or acquaintance of someone struggling with this terrible disease. The book contains extremely helpful information on the physical, mental, and emotional effects of disordered eating and on other related conditions. It contains a lot of detail and deep information, yet does it in a very readable and easy-to-understand manner. It also has great info on the health of the entire movement. So many lives would be improved if this book was required reading for every budding doctor, nurse, therapist, and dietician, and for every parent, partner, spouse, etc.
A must read for any clinician or loved one of someone going through an ED

Derived From Web

, Nov 17, 2020

I bought this book when it came out, but I'm not writing a review. It's great read for anyone who knows someone going through an ED. It made me realize how sick I truly was. He added: "I also needed to see all the medical aspects of EDs in order to recover." Thanks to God, I am fully recovered, Mr. Kennedy said in a statement. Thanks for sharing this amazing book with the world.
Amazing book for people In treatment

Derived From Web

, Feb 14, 2020

I've read all the books, but this was by far the best. I am currently in treatment for an eating disorder and this book was so helpful in coming to terms with being "sick enough" to go to the doctor, or not be skinny enough. Its really helpful for me to learn about how eating disorders are hurting my body regardless of my size. This has really opened my eyes to the damage I do to my body, Bruno said. I have known the txt book effects of ED but this really gets into the body systems. Thanks for the help!!!!!!!!! Anyone who works in the field should read this. It's great to be back home, said Blair.
BEST BOOK out there for full recovery from an eating disorder!!

Derived From Web

, Aug 21, 2019

Thanks to Dr. Gaudiani, from the bottom of my heart, for writing this book. I am now, after 40+ years of anorexia, bulimia, orthorexia, and over-exercising, well on my way to full recovery, Mr. Booher told The Age. Thanks to your book, I was able to consult my doctor about what to look for in life. Thanks for your book and your work. Thanks for all the love, Paul. I wish I could give you a hug, Mr. Booher told me.
Excellent and helpful info

Derived From Web

, Aug 18, 2019

Thank you, Sir Richard, for this book. This is critical to understanding the serious physical and mental consequences of all eating disorders. Physical recovery is also very reassuring, he said. Bethany knows how to read and write about all aspects of eating disorders and the suffering they cause. If you think you or someone you love may have an eating disorder, please get in touch with Dr. Shelby at (800) 233-6222.
Incredibly Informative

Derived From Web

, Feb 20, 2019

She is able to break down many of the medical aspects of the illness into ways that those of us that aren't MDs can understand, such as lab values, vital signs, and even surgery. The book has been especially helpful for parents of teens that are struggling with eating disorders, or determining whether they are sick enough to warrant treatment for the eating disorderdisordered eating.
A life saving book

Derived From Web

, Jan 8, 2019

Two of my daughters have been diagnosed with ED. The journey has been a terrifying one. I believe this book gives me hope that we are making progress, he said. I will share the book with our treatment team, he said. I highly recommend this book to parents, teachers, and everybody. It should be mandatory reading in medical school. I am forever grateful to Dr. Gaudiani for writing such an insightful and life-saving book, Levine said.
A must-read for any client and family

Derived From Web

, Dec 9, 2018

Certified Eating Disorders Registered Dietitian Julie Heine urged readers Monday to "avoid complacency" when it comes to eating disorders. Medical complications are not fun to talk about, yet Dr. G discusses them in a non-shaming way.
Internal medicine doctors and pediatricians should read this book

Derived From Web

, Nov 5, 2018

As a sufferer of anorexia purge type for 35 years and still seeking solace despite treatment, I am comforted by this fact-based book. I have hope that by being treated respectfully with true knowledge, I can use this in my recovery process. Please, Mr. Rule told his doctor, put this book on a required reading list.
The most important book to own if you're treating people with eating disorders.

Derived From Web

, Oct 31, 2018

Jennifer Gaudiani, the authority on the medical complications of eating disorders, has helped thousands of children and their families overcome the problem. Not only is Enough Beautifully written in a compelling and thought-provoking way, but it also explains every symptom that someone with an eating disorder is experiencing, with all of the scientific information to back it up.