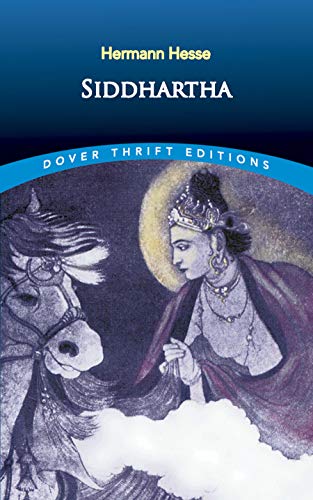 
 
Frequently Asked Questions About Siddhartha
Book Reviews
(12)
Did you read Siddhartha? Please provide your feedback and rating to help other readers.
Spiritual Journey

Derived From Web

, Apr 20, 2022

The only thing that confused me at the beginning was that Siddhartha met the Buddha. I was concerned because Siddhartha is the first name of Buddha, but after reading the intro, I understood that the protagonist was someone entirely different. After clearing that up and realizing that I was not reading about the path of Siddhartha Gautama, I finally got to let the story sink in. It is one of the most spiritual writings I ever read, and it merged harmoniously with my own views. I learned a lot on the journey, but I have to say that finding peace with the river had to be the most rewarding part.
One of those books that mark you for a lifetime

Derived From Web

, Apr 20, 2022

This is one of the best books I ever read. Profound, written so beautifully, elegant and deep. I love this book and I think that everyone should read it at least once.
A truly life changing book (if you're ready for it)

Derived From Web

, Apr 20, 2022

Years later, who would think that an observation about a few of fish in a pond could transform the life of another person. The pike's desire to eat the school of fish and their desire to escape the pike made me instantly vegetarian and more generous to strangers. What would this book do for you? What would this book do for you? It depends on where you are in your spiritual and philosophical development... Hesse does an amazing job at cutting to the heart of two Eastern religious beliefs and revealing truths that are easily accessible to a Western mindset. I would highly recommend this short and inspiring story to any seeker of truth.
Amazing Book

Derived From Web

, Apr 20, 2022

I have read this book many times over the last 30 years and is a timeless masterpiece. Everyone should read it, everyone should read it.
No Table of Contents ?

Derived From Web

, Feb 9, 2021

I tend to read this book once a year or so ''. I even reread the last part after I'm done. Even though it does a bit of mish-mashing ideas, it really does not matter to me. I doubt that Hesse has lost much sleep over it, and I doubt that Hesse has lost much sleep. Sometimes, I think that's the point, especially after what he says at the end. The journey is important for me, not the path. However... The chapters in this particular edition are a mess. How are they a mess? When there is a bold line in the middle of the page, you know that you are in a new chapter. It is that. To move forward or back, all you can do is drag the page line. Or bookmark them all, then look them up that way. I didn 't notice any typos. But a table of contents is a very basic and necessary thing to do even in a skinny book. I hope this is helpful for someone. Thank you.
Classic

Derived From Web

, Jul 21, 2020

A classic work of literature. I teach AP English to high school seniors and Siddhartha is a wonderfully relevant book for anyone, especially those looking to break away into a new stage of life or assessing their core values and relationships. The value of the book is not in answering questions, but in persuading the reader to evaluate his own life while relating to the journey of another.
The Buddha

Derived From Web

, Jul 23, 2019

My great-grandson attended, where this book was under discussion. His account interested me so I bought the book. My weekly study group then covered the Buddha over 3 months. His name was Siddhartha, his name was Siddhartha. He became the Buddha, he became the Buddha. Wonderful little book by Siddhartha, who traces his wealthy wife and his pregnant family for a life of poverty in search of the ultimate truth and his ultimate evolution into Buddha. I recommend '' it. I also passed it to a friend, and like all books I really enjoy, I gave it to a friend.
Dover Thrift is an excellent translation and printing in Kindle

Derived From Web

, Jun 28, 2019

Without knowing what pecific edition of a book is discussed, it can be difficult to figure out which bad reviews are good and which are bad. The Dover Thrift translation iis excellent. The translator captures Hesse's poetry and the word processor makes a few errors. Others recommended Dover Thrift's edition of Dover Thrift's. I do too '', I think.
Critical footnotes demean the author's work

Derived From Web

, May 5, 2019

As a Dover Thrift issue, the cheap pages and flimsy ink do not surprise me. What are the many footnotes at the bottom of the annoying pages? The agenda seems to point out as many inconsistencies in the portrayal of the Indian setting and language as possible. Hesse's use of pisang, a Malayan word, reminds the alert reader of his so-called Indian sojourn Really? A better place to include commentary on every misrepresented Malayan word and Hesse's own Indian travels would be a separate essay, not in footnotes that interrupt the narrative to provide trivial criticisms.
finding your own path

Derived From Web

, Jan 9, 2019

Siddhartha is an interesting look at Buddhism's practices. Siddhartha follows his own path even when an authentic true teacher walks in his midst. He sees the truth of this teacher, but also recognizes the limitations of this teaching for him. Ultimately, each person needs to find his own path. The character of Sidhartha falls in the category of the silent Buddhas. There is also a lesson about sons and daughters to take from this book. One can only shield them from the world. They must learn to make their own choices and mistakes to learn their own lessons.