Buy 3 Get 1 Free
Our Best Sale Yet! Add 4 Books Priced Under $5 To Your Cart     Learn more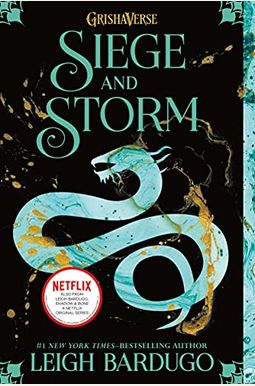 
 
Siege And Storm (The Grisha Trilogy)
Book Overview
This Description may be from another edition of this product.
The Grishaverse will be coming to Netflix soon with Shadow and Bone, an original series
Enter the Grishaverse with Book Two of the Shadow and Bone Trilogy by the #1 New York Times-bestselling author of Six of Crows and Crooked Kingdom.
Soldier. Summoner. Saint.
Alina Starkov's power has grown, but not without a price. She is the Sun Summoner--hunted across the True Sea, haunted by the lives she took on the Shadow Fold. But she and Mal can't outrun their enemies for long. The Darkling is more determined than ever to claim Alina's magic and use it to take the Ravkan throne. With nowhere else to turn, Alina enlists the help of an infamous privateer and sets out to lead the Grisha army. But as the truth of Alina's destiny unfolds, she slips deeper into the Darkling's deadly game of forbidden magic, and further away from her humanity. To save her country, Alina will have to choose between her power and the love she thought would always be her shelter. No victory can come without sacrifice--and only she can face the oncoming storm.
A New York Times Bestseller
This title has Common Core connections.
Read all the books in the Grishaverse
The Shadow and Bone Trilogy
(previously
Read More chevron_right
Frequently bought together
Frequently Asked Questions About Siege And Storm (The Grisha Trilogy)

Book Reviews
(10)
Did you read Siege And Storm (The Grisha Trilogy)? Please provide your feedback and rating to help other readers.
3.25 stars

Cassandra P

, Jul 1, 2022

This sequel improved a lot of the gripes I had with Shadow and Bone, but some still remained. Overall, I did enjoy reading it.


Siege and Storm: 3.25 stars



Tone

The overall tone was more mature and darker than Shadow and Bone, which I appreciated. The magic-high-school vibes of Shadow and Bone were one of the worst aspects of the story, especially when you remember that Alina was meant to be training in the military of a nation in an active war not only against neighboring countries, but against nature-corrupting magic.

There's more political dynamics, which naturally brings the tone from high-school cafeteria to a true political court. Mal and Alina's relationship is more complicated and they have more roadblocks. Alina herself is a darker character because of a myriad of reasons: the people she killed in the Fold, taking two amplifiers and becoming the leader of the Second Army and the holy figure of the Church of the Sun Saint, and her complicated relationship with not only her power, but with the Darkling.


Worldbuilding

Aside from the first few chapters when Alina and Mal aren't in East Ravka, I don't remember many non-magic additions to the worldbuilding. I believe they introduce one or two Sulli Grisha in the Second Army in the latter half of the book, which at least reminds us that the Second Army was also made up of non-Ravkan Grisha who fled from their native countries.


Magic

I love the distinction they make between Small Science and magic. I doubt Bardugo had these details worked out when she wrote the first book, since (I believe) this is the first time we get confirmation that the Shadow Fold was created with merzost, not Small Science. Still, I would love learning more of the history of how the distinction came to be in their society.

There were definitely more repercussions within the magic system in this book. Alina took two amplifiers, something that had already been established to be impossible, and we see the effect it has on her. Not only does she become more powerful, but she also becomes more hungry for power, almost like an addict.

One small detail I loved was that it is explicitly stated that Inferni carry flint with them. In the first book, we're told that Grisha can't create something from nothing, that they only manipulate what is already there, and that the Inferni specifically can't create flames out of nowhere. We're told this, but there was no mention of how exactly they start their fires. It's such a small detail, but one I greatly appreciate being included in book two.


Characters

The Darkling

His only name is still the Darkling. Must I say more? He was barely in the book, and he remained the 2D Dark Lord that he was with no change. I really hope there's a backstory waiting for me in the next book. Or at least a name.


Tamar and Tolya

I'll be honest, I'm still not sure which is the brother and which is the sister. I enjoyed them, but they were not only interchangeable but also two more Asian mercenaries born for violence (like Botkin). I did, however, love the twist at the end when they're revealed to be Sun Saint worshippers. It gave their entire part in the story better motivation after the fact and gave them a little bit more depth in general.


Zoya

They humanized her more with her family-in-Novokribirsk backstory. She's much less high-school-mean-girl, and I can only be thankful for that.


Nikolai

I just adore him. I didn't know there was another duology that starred him until I finished this book, and I'm so excited to get to it.

In all honesty, I laughed when Sturmhond was revealed to be Nikolai and Alina's first thought was that he was handsome. I laughed because I realized Bardugo really wanted a love triangle, and the Darkling was too flat and irredeemable to be part of it anymore, so she introduced Nikolai. Not to hate on love triangles. They're probably my favorite trope ever.

I love the continuity here too. Nikolai was mentioned in book one, but never made an appearance, and he swooped into book two to play a major role. Not to mention, he brought a bit of the political intrigue that I thought was missing from book one.


Mal

I think this may be an unpopular opinion, but I don't mind his insecurity and jealous streak. It's the only thing that keeps him from being the boring perfect boyfriend who only lives for Alina. That's not to say that he isn't devoted to her, but there are clearly limits.

In Shadow and Bone, I felt that Mal needed more to him than just his relationship with Alina. Siege and Storm delivered that. He clearly loves her and wants to be with her, but it's clear that what Alina can give him while she's the head Grisha isn't enough. He's not content being a trailing thought. He wants to know that she loves him more than she loves her power. He doesn't want to just be the dishonorably discharged soldier who might be sleeping with the Sun Saint. He wants purpose. And while that doesn't make him the perfect love interest, it makes him human and much more interesting than he was in book one.


Alina

Alina became such a better character since Shadow and Bone. In the first book, I found her to be too silly and immature at times, and thought her prioritization was awful. She really was more concerned about fitting in with the other Grisha and her feelings for the Darkling. This time around, she is much more focused on the big picture, and is even willing to let her relationships fall apart for it.

Her youthful longing is still there, of course, but it works so much better now, because it's juxtaposed with this new power-hungry Alina. She loves being in charge, loves being powerful. She even gets sadistic and enjoys seeing people grovel and fear her. But she also sees that all of that hurts her morals and her relationship with Mal. She doesn't want to admit it, but even that isn't enough to make her give up her power. I love a good descent into darkness.

She's also much more active than reactive than in Shadow and Bone, which was unavoidable now that she's leading the Second Army.


Pacing and Plot

And here we are again. The pacing in this book was wild. I read the ebook, and when I saw that I was 70% into the book, I legitimately thought that my ebook file might have gotten cut up during transfer or something, because it did not feel like I was 70% into the story. It didn't even feel halfway done. And then I remembered that Shadow and Bone had some serious pacing issues, so I was worried that either a) my file got messed up and I'd have to try to fix that, or b) there were going to be some more major pacing issues in Siege and Storm. It turned out to be the second, which was the worse option.

The last 10% of the book (aka the climactic battle) did feel like it started way too suddenly with little buildup. No surprise there, really, considering the previous point. But all-in-all, it unfolded pretty naturally, wrapped up well, and didn't feel too rushed by the time it was over.

I thought Shadow and Bone had a problem with promises and payoff. The first few chapters had set us up for a war story, and we got magic school. Siege and Storm has the same problem, although it is admittedly less jarring. I was fully expecting the climax to be them finding the firebird and the Darkling catching up to them or foiling their plan somehow, but the firebird wasn't even close to in their grasp. If the climax was meant to be the Darkling attacking Os Alta and slaughtering the Second Army, the firebird should have been introduced much later in the story.

That's not to say that I would have preferred the climax to be about the firebird, because that would have been too similar to the previous book with the stag. But they should have set up for the actual climax better.

Speaking of being too similar to the previous book, there's the showdown between Alina and the Darkling. It was almost the exact same ending as book one. The Darkling thinks he's in control of the power, but sike, it's Alina that's in control. And then she uses the magic against him and gets away. Not to mention, why would I care about a climax that focuses heavily on the power dynamic between the Darkling and Alina? Yes, the visions of the Darkling that Alina has throughout the book hint at some deeper connection to them, but all of that was only on Alina's end. We weren't even sure if they were real. They only told us that Alina might be going crazy, and what Alina feels about the Darkling. There's very little attraction on her part. She's disgusted by him. What draws her in is the power of the amplifiers, not him. If there had been some heavier hints that Alina might still have some sort of draw to him, or if the Darkling had any page time to develop his feelings towards her, the climax would have hit heavier.

That being said, the ending showed us repercussions of Alina's magic use, and I love how it was done. She's clearly traumatized, her powers are damaged, the Second Army is gone, and her relationship with Mal is irreversibly changed. She's so different from the Alina of book one and even of the first chapters of Siege and Storm.


Summary

This was definitely an improvement on Shadow and Bone in almost all aspects. The scope was bigger, the tone was more mature to fit the scope, and almost all the characters were given more depth and developed greatly over the story. However, the pacing was still poor, the climax wasn't properly set-up, and our main antagonist is still more reminiscent of Dark Lords of old fantasy, instead of the nuanced villains that a modern audience loves.
Haven't slept in two days!

Derived From Web

, Jul 22, 2021

I could not put this book down! I could not put this book down! At times, I was laughing out loud, smiling, getting mad at the author, and the while, I had to keep going. I am in awe at the range of emotions that this author has been able to get from me with her writing. I have never had an author's story make me so mad while making me love them more for it! Well done, you have earned another lifelong fan.
Plot pluments into pergatory in second book

Derived From Web

, Feb 25, 2021

The first book was well written and plotted, and well written. This second book is sooooo booooooring, I am quitting in the MIDDLE. There is ZERO character growth, but a lot of teen angst. It is borderline ridiculous. I. can t. Even so, even though it was a little bit difficult to maintain. Conti ue! conti ue! Just stop with the first memories of the fond book. I wish I had! I wish I had!
FYI Hardcover Warning

Derived From Web

, Jan 19, 2021

Netflix - advertisement is printed on the hardcover sleeve. I was disappointed to learn that what I thought was a permanent advertisement sticker is actually a removable eyesore. I had to return all 3 books in series because 2 of the 3 had the logo printed.
Pretty good

Derived From Web

, Jan 14, 2021

I didn 't like this episode as much as the first in the trilogy, but I still enjoyed it. The darkling isn 't crawling in this one, but when he is my skin is much. He is one of the most fantastic villains I have had the pleasure of reading. Hoping to see more of him in the book 3. The beginning was good, the middle was kind of slow and at one point I found myself a little bored, but it eventually caught in the final few chapters and left me wanting more!
Incredible - finished in on!y a few days

Derived From Web

, Jan 11, 2021

The plot thickens! A fast paced, highly emotional storyline that keeps you invested and involved. This book does an impending job of continuing to build relationships between characters through the incredible threat of war. So much shocking character transformation and development, and a plot that continues to be incredible with new surprises at every turn. Absolutely thrilled to tuck into the 3rd book.
Let the race begin

Derived From Web

, Oct 28, 2020

And the story continues, in a very predictable way. On the run, Alina and Mal are hunted, on the run. They don 't know who is with them and who is the enemy And to top it off, she must keep what her power is a secret. Together, they begin to gather people who can help them fight together. Alina learns about her power from Alina. And the darkling spreads is power and engages in mind games with Alina. The race begins with the race let the start.
I just can't seem to engage.

Derived From Web

, Nov 25, 2019

I really wanted to love this series as much as I did Six of Crows, but it just doesn 't compare. I found myself finishing the book simply because I have a thing about not picking up books. I'll then finish the series. The darkling will eventually win and I can be done with this exhausting story.
another epic installment of Bardugo's Shadow and Bone Trilogy

Derived From Web

, May 30, 2019

A heroine to admire : A villain to adore : A few heroes to aplaud : Sieges and Storm is another epic installment of Bardugo's Shadow and Bone Trilogy. Turns and is filled with humor, wit, longing, betrayal and love. You don 't know what is going up or down as Alina Starkov fulfills her quest to secure her people, her country and herself.
I loved this!

Derived From Web

, Apr 10, 2019

The second book of the Grisha trilogy is as engaging and intense as the first. I have the same issue though, with the large part of the ebook being made up of excerpts rather than story. It is 100% worth reading and I 'd buy it again in a heartbeat, but it is a little disappointing to have so much of the book not actually part of the book.