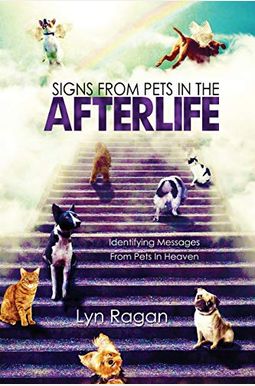 
 
Signs From Pets In The Afterlife: Identifying Messages From Pets In Heaven
Book Overview
Signs from beloved pets are seen by thousands every day. Some communications are received in ways that do require an acute awareness as well as more interpretation. From the Heavens above, Signs are shared by deceased pets to connect with their families they left behind. Many times, these gifts are unseen or are difficult to identify.Learning to speak the Language of Spirit requires practice but once identified, the joy of hearing from your Pet in Spirit can bring great comfort. This book is an ABC's narrative for identifying signs, messages, and signals from the Afterworld. It shares a simple way to look for, and read, communications from Pets in the Hereafter.For anyone looking to continue their relationship with a beloved Pet in the Afterlife, this book can help you identify their Gifts from Heaven.Love lives forever. and so do our Souls.
Frequently Asked Questions About Signs From Pets In The Afterlife: Identifying Messages From Pets In Heaven
Book Reviews
(15)
Did you read Signs From Pets In The Afterlife: Identifying Messages From Pets In Heaven? Please provide your feedback and rating to help other readers.
Wonderful book

Derived From Web

, Apr 20, 2022

I had to put my dog to sleep. His body was shutting down and I couldn't allow him to suffer. I'm lost without Stewie. He's the love of my life. I believed in the afterlife. This book was found by me. It is a good read. My Stewie is always with me and we will always stay in contact. I've gotten sings almost everyday, I've heard him walk around my room and drink from his water bowl, and I felt him lay next to me on my bed. It's comforting to know that I can communicate with Stewie. When I need him or feel sad, he will send me a sign. I recommend this book to anyone who has lost a pet.
It takes thought and observing life as you become aware of the returning of loved pets to you

Derived From Web

, Apr 20, 2022

This isn't a book you can put away. As you become aware of the return of pets to you, it takes thought and observation. The personal stories show what certain signs mean. I am a dog walker and many of my clients have passed on to the Rainbow Bridge, so I know how to greet them when they come back.
Great !

Derived From Web

, Apr 20, 2022

I bought a copy for myself and a coworker who lost her pet. The information is reassuring. Before reading the book, it reinforced some things I had experienced. My co worker loved the book as well.
Very insightful, beautifully written.

Derived From Web

, Mar 19, 2022

This book is very good. We were able to connect with our pet. I've already read it twice.
Not as helpful as others

Derived From Web

, Feb 5, 2022

I have read other books with similar themes and found this one not helpful. There are several real accounts.
Great gift idea.

Derived From Web

, Aug 1, 2021

The recipient was very grateful when they received the gift. They suffered a great loss and I wanted to help them.
Love this go-to book for signs

Derived From Web

, Jul 1, 2021

I love this book, just keep referring to it and find something I didn't see before. If you're grieving over the loss of a pet, there's a ray of hope.
Good for comfort. Bad for knowledge.

Derived From Web

, Jan 2, 2021

I was interested in learning how to know if a pet has made it to heaven or is happy. This book is hard to read and continuously says that you are loved. Talking about birds and signs and saying "literally everything means you are loved" is annoying, and comes across as poorly written.
Helped me deal with losing my dogs

Derived From Web

, May 31, 2020

I was helped to understand that there is life after a dog's death. There were signs around me to show my love for them. It helps the pain of missing them. The book helps you understand what's happening.
This isn't worth your money. A basic Google search provides all the information found here.

Derived From Web

, Apr 27, 2020

I am grieving after my dog passed. It was the last thing I needed to be ripped off. Don't buy this book, it's called a book. The author copied other people's work and information found on the internet. Don't waste your money, a search on the internet will find all the information you need.