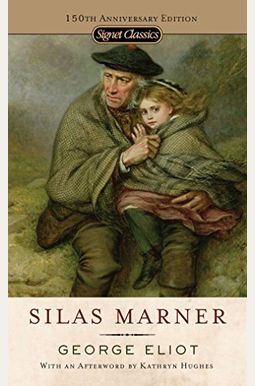 
 
Frequently bought together
Frequently Asked Questions About Silas Marner
Book Reviews
(13)
Did you read Silas Marner? Please provide your feedback and rating to help other readers.
Silas Marner

Derived From Web

, May 28, 2022

This is a CD by Silas Marner '', as it is presented on the radio. I was disappointed in sound quality and contacted the seller about it. Seller offered to do a refund, but I decided to keep it as is ''. I realized that it was sometimes just the way things go with a live performance. No problem with the seller again, and this is a wonderful story of George Elliot.
Extra copies of Silas Marner

Derived From Web

, May 28, 2022

Of the books I keep in my house, I keep extra copies of Silas Marner around me -- bedroom, family room, car. I love to hear George Eliot explain her characters, especially her title character.
Printing Error

Derived From Web

, May 28, 2022

It took awhile to get into it, but once he liked it, he did. This copy has a printing error. Part two starts on page 104 and then again on page 132.
This is my favorite book by George Eliot

Derived From Web

, May 28, 2022

It is a very beautiful story and Andrew Sachs does a very sweet job of reading it. His voice is expressive and mellow.
You can never go wrong reading "THE CLASSICS"

Derived From Web

, May 28, 2022

Since reading my book, I have so enjoyed going back as it were and reading the true classics, as is this book SILAS MARNER. I read it in high school long ago and would recommend it highly to those who like a human story.
Surprised

Derived From Web

, May 28, 2022

He liked it in high school, but then hated it many years later. I generally enjoy 19th century fiction, but it is wordy and moralistic ''. I am still glad that I rediscovered it.
DO NOT BUY THIS EDITION

Derived From Web

, Feb 4, 2020

Whoever decided to take this tiny bit of 19th century art and cram it into a great book packed like 20th century art Deco has a lot to apologize for. This quick-buck scummer has no concept of interior book design and has contented themselves with piling all the words on as few pages as possible. This edition comes in 128 pages. The edition of Simon and Schuster comes in 262 pages. The paragraphs are unjustified, the gutters are almost non-existent, so the reader has to read the book open with a lot of pressure to tear the print at the folds, and the type is so tiny that I would need a magnifying glass to read.
I Enjoyed It

Derived From Web

, Oct 29, 2019

The story is entertaining, it is well-written and reaches a satisfactory conclusion. My primary complaint is that a lot of dialogue in the Tavern is a bit difficult to read, and I had to repeat these parts a number of times, but that is primarily due to variations in the dialects and not the writing itself. Overall, I was glad I had read it again, because I couldn t remember much of it from high school. I now appreciate the story more.
Not bad, not bad at all

Derived From Web

, Sep 28, 2019

If I am being honest with you, this book was hard to get into for me. This author is not, but I do suppose that there is some beauty in a work such as this : The characters and settings were more common to me than in spite of the groundedness of the book, but that didn 't stop me. My only wish is that it hadn't quite blunder through Eppie's childhood the way it did. It would have been interesting to see how deeply embedded they became in Raveloe.
Rare for the era, few pages bring many rewards

Derived From Web

, Mar 10, 2018

I read this story ages ago with my mother when I was very young. She had it read with her mother. But over the years, I had forgotten most of it. I knew that it involved a weaver and his daughter. But in my brilliant mind, I have mixed it with Rumpelstiltskin. This is really a beautiful story. Before it's funny, it's also lovely to laugh aloud. Despite its age, the language is easy to read and is an incredibly quick to understand. George Eliot packed a lot of history into a very slim book and an original telling into a morality play. Interestingly, she thought that this was a throwaway or perhaps it should be a poem. We're lucky that she plodded to finish the story because it is really a little gem. Now I suppose I should reread Rumpelstiltskin in case I got this mixed with something else entirely.