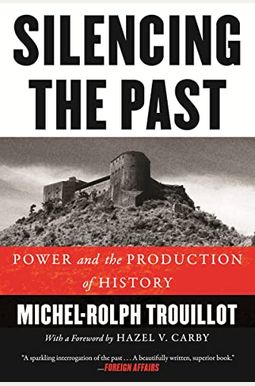  
Silencing the Past (20th Anniversary Edition): Power and the Production of History
Book Overview
The 20th anniversary edition of an engaging and accessible classic that explores the contexts in which history is produced--a pioneering work, now with a new foreword by renowned scholar Hazel Carby
Placing the West's failure to acknowledge the Haitian Revolution--the most successful slave revolt in history--alongside denials of the Holocaust and the debate over the Alamo, Michel-Rolph Trouillot offers a stunning meditation on how power operates in the making and recording of history. This modern classic resides at the intersection of history, anthropology, Caribbean, African-American, and post-colonial studies, and has become a staple in college classrooms around the country. In a new foreword, Hazel Carby explains the book's enduring importance to these fields of study and introduces a new generation of readers to Trouillot's brilliant analysis of power and history's silences. A sparkling interrogation of the past. . . . A beautifully written, superior book.--
Foreign Affairs
Trouillot is a first-rate scholar with provocative ideas. . . . His work is] a feast for the mind.--
Jay Freeman, Booklist
An accessible book filled with wisdom and humanity.--
Bernard Mergen, American Studies International
Frequently Asked Questions About Silencing the Past (20th Anniversary Edition): Power and the Production of History
Books like Silencing the Past (20th Anniversary Edition): Power and the Production of History
Book Reviews
(9)
Did you read Silencing the Past (20th Anniversary Edition): Power and the Production of History? Please provide your feedback and rating to help other readers.
Silencing the Past, to shape the present

Derived From Web

, Mar 16, 2022

I believe that this should be required reading for future historians.
Yep. It's good.

Derived From Web

, Nov 30, 2021

A good read that combines history, memory and a reckoning with colonialism and slavery. It engages each topic and introduces the reader with difficult questions. Nearly 20 years later and it is still relevant.
Great Concepts

Derived From Web

, Jun 5, 2019

The concepts discussed in this book have been loved even though they can be difficult to grasp at times. The book was in good shape.
A must-read for anyone, specially, if you are Latin American.

Derived From Web

, Aug 30, 2018

Troulloit writes in a way that is understood by the reader without jeopardizing the content in any way. This is a wonderful book. And, as I wrote in the headline, this is a book for anyone, but if you are Latin American, this is a must read.
An excellent look at the production of History

Derived From Web

, Aug 11, 2018

Written well, it is well received. This book was purchased for a class on the archives, and was one of the best I had the pleasure of reading. Silencing the Past shows a well known, but often uniscussed part of history, how the Victors can write the past to reflect good on themselves. Admittedly, this book can be hard to get through at times, but is well worth it.
Great for theorists in any humanities or social science

Derived From Web

, Aug 9, 2018

With Marx, Merging Foucault argued that power is always in the historical narrative as a means of production for the narrative itself, and thus history. As is stated in his preface : History is the Fruit of Power, but Power itself is never so transparent that its analysis becomes superfluous ''. The final mark of power may be its invisibility. The ultimate challenge is the exposition of its roots. For better or worse, the choices historians make shape their narratives and history, while also contributing to the power of this narrative for the past, the present and the future. The seeds, the fruit and consumption of history are the power.
A great book, history and memory are very relevant today.

Derived From Web

, Jun 8, 2018

A remarkable Haitian historian explores how countries decide to remember or forget to create a narrative of who they are and who belongs. Good examples are Haiti, El lamo, a failed Disney Park in Virginia. Slavery and colonialism are discussed passionately. Highly recommended :
History is a narrative told by the victors who had control of reporting it.

Derived From Web

, Nov 25, 2017

The book is in excellent condition. I like that the quote history is a story about power, a story about those who have won. This book explores how history has been reported in Europe, the Caribbean Sea, America and Africa.
Great examination of the production of history

Derived From Web

, Oct 29, 2017

Using the falsehoods of the Alamo and Holocaust to reveal our desires to hold onto narratives brilliantly shows how narratives become more important than truth. Silencing the Past delves into the silences or selectivity of historical production and the various history serves for the public. Chapter 4 is an interesting chapter on Christopher Columbus, I encourage you to read it.