Buy 3 Get 1 Free
Our Best Sale Yet! Add 4 Books Priced Under $5 To Your Cart     Learn more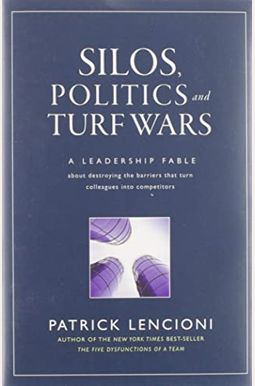 
 
Silos, Politics And Turf Wars: A Leadership Fable About Destroying The Barriers That Turn Colleagues Into Competitors
Book Overview
SILOS, POLITICS and TURF WARS
ONE WEK. That's all the time Jude had, because that's when his next workshop would take place at Children's Hospital. And so he became almost obsessed with figuring out the silo thing, reading everything he could get his hands on having anything to do with organizational politics.
But Jude would not find his answer in any book. It would find him, in a more surprising way than he could ever have imagined.
IN YET ANOTHER page-turner, New York Times best-selling author and acclaimed management expert Patrick Lencioni addresses the costly and maddening issue of silos, the barriers that create organizational politics. Silos devastate organizations, kill productivity, push good people out the door, and jeopardize the achievement of corporate goals. As with his other books, Lencioni writes Silos, Politics, and Turf Wars as a fictional--but eerily realistic--story.
The story is about Jude Cousins, an eager young management consultant struggling to launch his practice by solving one of the more universal and frustrating problems faced by his clients. Through trial and error, he develops a simple yet ground-breaking approach for helping them transform confusion and infighting into clarity and alignment.
Lencioni's latest fable is as practical as it is engrossing. Anyone who has lived through corporate turf wars or experienced the absurdity of departmental politics will find Silos, Politics, and Turf Wars an invaluable resource.
Frequently Asked Questions About Silos, Politics And Turf Wars: A Leadership Fable About Destroying The Barriers That Turn Colleagues Into Competitors
Books like Silos, Politics And Turf Wars: A Leadership Fable About Destroying The Barriers That Turn Colleagues Into Competitors
Book Reviews
(13)
Did you read Silos, Politics And Turf Wars: A Leadership Fable About Destroying The Barriers That Turn Colleagues Into Competitors? Please provide your feedback and rating to help other readers.
Good, but "Five Dysfunctions of a Team" is even better

Derived From Web

, Jun 4, 2022

Patrick Lencioni's five dyssfunctions of a team is essentially required reading for my teams ; it is a great book to work through communication and trust issues in an organization. This book follows the same writing style and has similar useful advice. However, I gave it only 4 stars because the content is really focused on senior leadership, especially at the expense of usefulness somewhat. The great part about five dysfunctions is that EVERYBODY is contributing to the organization, we are all on some sort of team. Silos... puts the focus on the goals and priorities communicated by senior leadership instead. It's a good book, but not as good and immediately applicable as five dyssfunctions. If you have not yet read Five Dysfunctions, I would recommend starting with it!
Classic Lencioni

Derived From Web

, Jun 4, 2022

A massively complex problem, solved by a clear, well thought out story and a compelling solution. Can 't wait to implement what I learned here.
Makes you think.

Derived From Web

, Jun 4, 2022

I found it interesting and tried not to read more than a chapter, so I could think how it applies to where I work as a manager.
Best yet!

Derived From Web

, Jun 4, 2022

One of the best books I have been reading in the past few years is. I really enjoy reading the book part of the book, as it helps clarify the book concept. This is such a common problem in most businesses, and the book gave me lots of insight into why organizations need to deal with silos and politics. The book is excellent.
Laeders Take Note

Derived From Web

, Jun 4, 2022

Given the nature of human beings, functional Silo, politics and turf wars will probably remain a fact of organizational life. That doesn 't mean that organizations and leaders in particular should not try to address them. Though this book is primarily written as a Fable, I personally discovered a number of helpful gems within the Fable. I found the fable to be both an engaging and an easy read. I have only read one of the authors'other books. I think that this book and the advantage make a good set worth reading. My wish for the book would be that the author had further developed the chapter with more how - to's and direction from his extensive consulting practice.
Another good one by Lencioni

Derived From Web

, Jun 4, 2022

Pat Lencioni hits a major nerve in the business world again by addressing a core issue that so many organizations struggle to overcome. Silos, politics and Turf Wars tells a compelling story of a young entrepreneur determined to persevere through the entanglements of life and work and learns in the process to help others do the same. His leadership fables may end up being more of the norm, as didactic non-fiction becomes rote. To summarize, I found Turf Wars, Politics and Silos to be a good read, but it did not measure up to the five dysfunctions of a team. Nevertheless, it is still worth reading, especially if the team or organization you lead struggles with bureaucracy and divisiveness.
Quick, Easy, and Important Read!

Derived From Web

, Jun 4, 2022

I am preparing to facilitate a very important conversation among key stakeholders in an enterprise, which will be much more effective as a result of my reading of this book. I have read several books by Patrick Lencioni and his ideas really captivated me. While I am a career educationist, I learn so much from Lencioni's stories and commentaries. He is a communicator, who is gifted by God to help organizations achieve their full potential, in spite of the shortcomings of all of us in these organizations. Read it. This is a good idea. The book is in the Book.
Pretty good but nothing ground breaking

Derived From Web

, Nov 28, 2021

Though it is quite simple to ingest the author, it does not really deliver anything revolutionary. Sure, the corporate goal is admirable, but it is highly unlikely that most thematic workers will have enough influence in their organizations to achieve these types of changes. As a small business owner, I will certainly be aware of it in the future.
Great read for any organization

Derived From Web

, Dec 9, 2020

In this book, Patrick points out that all organizations have some kind of a Silo or political battle in front of them. Wow, this is great to varying degrees, I find it very helpful to refocus the mindset of an organization and strategic directions. I work in a church and know all too well these unfortunate circumstances, I can 't wait to implement some of the ideas he puts in this book.
Sum it up in one sentence

Derived From Web

, Mar 11, 2020

I have recommended a few of them to friends, colleagues, and clients. However, this one left me flat. It is probably because I have already read some of his later books. This was essentially a fable version of a part of the advantage that he published six years after this book. And even then, all it did was to expand those 8 words. I hope that future books are more pithy.