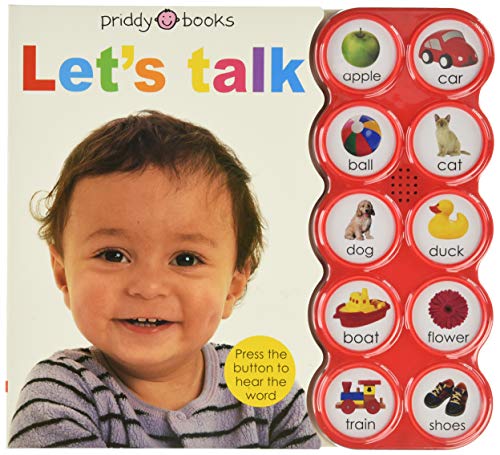 
 
Frequently Asked Questions About Let's Talk
Book Reviews
(13)
Did you read Let's Talk? Please provide your feedback and rating to help other readers.
I like this book! I like how the buttons are used to teach kids!

Derived From Web

, Apr 20, 2022

Like the book, I like how the book is set up. Each page has one picture, the same as the picture on the button. Each button has a picture of the work written on it. My son who is 14 months old, loves to push the buttons and turn the pages. Although he doesn't match the button he is pushing to picture on the screen, he is only 14 months old. I'm going to buy more!
Worst buy ever

Derived From Web

, Jul 17, 2021

It didn't work when it arrived so i purchased batteries to see if it needed new ones and it worked ok for about 2 days. It just stopped working completely. Even though it was cheap, it was still a waste of money.
Only says the word- does not make the sound.

Derived From Web

, Jul 9, 2021

Doesn't make the sound of the animalobject—just says the word "ball," "apple," "cat" with no bouncing soundmeow, etc.
Wonderful word picture recognition for toddlers

Derived From Web

, Aug 24, 2020

The book has helped my granddaughter hear the word "many" as she wants. The pictures are large and colorful, making them easy to see.
Not worth the money.

Derived From Web

, Aug 8, 2020

This is great for people who want to talk more. The speaker in the book is a little off, so the words aren't as clear as I would have liked.
Good book, sound quality is iffy

Derived From Web

, Jul 15, 2020

Television images could not be loaded. The book itself is a decent read, McBride said. I tried to attach a video, but it was too loud.
Good with speech therapy

Derived From Web

, Jun 28, 2020

She also thanked her speech therapist, whom she described as "amazing."
Game changer

Derived From Web

, Jun 20, 2020

Buy it! If you're on the fence, buy it! Along with the colors one and the numbers one, the letterforms were also printed. My daughter was delayed speech and once she got these books she was making more effort to repeat words and can now identify more objects.
"Let's Talk" book states English. Half of the book is Polski with no reference to this.

Derived From Web

, Jan 4, 2020

I never received a book, much less a DVD, as a present. In fact, we are not Polish and half the book is written by unknown Polish authors. The book description says: "Katherine Hepburn's 'The English Patient' is a witty, irreverent parable in the tradition of Thomas Merton." For me, it would have been nice to have had another language. In fact, my grandchildren are learning Spanish. At first, I thought the switch was on the photo from the company. This company has displayed blatant disloyalty to my family and to the American people. It's just that the waste of money is what makes the game so great.
A fabulous book for baby!

Derived From Web

, Dec 28, 2019

I am a speech language pathologist and I have had this book in my collection for many years. When you are teaching a child to talk, you start at the one-word level. Before a child can read, he or she must have at least one picture per page.