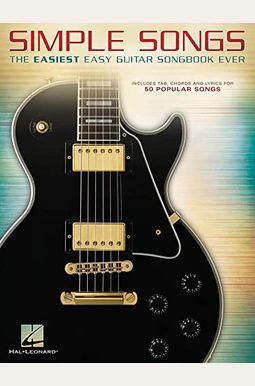 
 
Simple Songs: The Easiest Easy Guitar Songbook Ever
Book Overview
(Guitar Collection). This collection features streamlined guitar arrangements, with a combo of tab, chords, and lyrics for 50 popular songs, including: Ain't No Sunshine * Beat It * Every Rose Has Its Thorn * Folsom Prison Blues * Hallelujah * Highway to Hell * I Love Rock 'N Roll * I'm Yours * In My Life * La Grange * Otherside * Pork and Beans * Rolling in the Deep * Smells like Teen Spirit * Sweet Home Chicago * Three Little Birds * Wild Night * Wish You Were Here * and many more.
Frequently Asked Questions About Simple Songs: The Easiest Easy Guitar Songbook Ever
Book Reviews
(10)
Did you read Simple Songs: The Easiest Easy Guitar Songbook Ever? Please provide your feedback and rating to help other readers.
No music in book

Derived From Web

, Feb 18, 2022

The website does not show the interior of the book. In my view, a songbook should have music in it. Chords, words and tabs are included just as well. I could probably find this much information on the internet for free. I listen music and wanted to have the melody of the songs. It has a lot of good songs in it, but this book is absolutely worthless to me. Also, it will cost me half the price of the book to return it because I have no UPS Store near me.
Advanced Mostly....

Derived From Web

, Apr 29, 2021

However, more advanced than I had thought a few intermediate and beginner chords for a few songs. However, I would like to play it again since it still looks new and can not return but a song or two.
DON'T BUY THE KINDLE

Derived From Web

, Jan 1, 2021

If this were an actual book with normal size font and pages, I think it would receive 4 or 5 stars. This review is specifically written for the Kindle version. I tried it on an Ipad and on Mac. The music is so small that I can see it barely and there is no option to increase the size. If you increase the font size it only makes the titles and copyright info huge and the actual music does not change in size. I wish I could get my money back and that the Kindle version was not offered at all.
Fingering Positions Included!

Derived From Web

, Nov 28, 2020

As a beginner, this book has many songs that will be easier to play, but I don 't believe I know as many as I thought. I will look them up once. It has the fingering positions at the top of each song, which is awesome!
This is a Complete Book

Derived From Web

, Nov 14, 2020

This book is completed. It gives you cords, music and tabs. You can play both rhythms and lead into each song in the book. I am excited about learning some of these songs, but not all, because I like it a bit heavy. I would recommend this book for anyone over their half-year mark, unless you are a fast learner, like some are. I would gift it and repurchase it if there was a heavier addition.
Great starting place for self-taught players

Derived From Web

, May 8, 2020

This is a great resource for quickly picking up songs, especially if you know basic chords and can read chord diagrams, but not sheet music. Songs are printed so that you don 't have to turn the pages to see the whole song, which is a serious plus.
Easiest guitar book my butt!

Derived From Web

, Apr 3, 2019

NOPE : Multi-note tabs and chords, etc. Yeah, easy for advanced experts, but it was supposedly for beginners.
I5s all it said to be but

Derived From Web

, May 17, 2018

Well, it got old to fast. I thunk that it is trying to work to many styles. It did not hold my interest just now.
terrible for kindle

Derived From Web

, Nov 9, 2017

The actual music and tab is so small on my PC and phone that the purchase was a huge waste of money. If I could see it only, my purchase would be fine, but since the only adjustments are for the titles,, useless. Should have paid an extra buck and received a real book. ugh, ugh,
Do NOT Order this Book as a Kindle Version

Derived From Web

, Sep 15, 2017

For Kindle, someone ran the pages of this book through a crappy, out-of-toner printer and put it here for your purchasing frustration. If you want to learn how to play these songs underwater while viewing the musictab underwater, go for it. Or else, order the hard copy. Which is why I wanted to read the book in the first place yesterday.