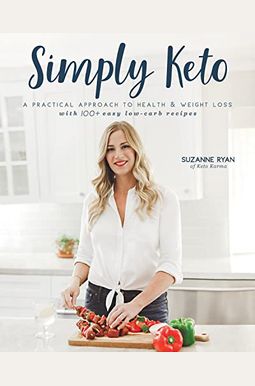 
 
Book Overview
The ketogenic diet, a low-carb, high-fat way of eating, is remarkably effective at transforming people's lives, helping them shed pounds and find relief from common health conditions. No one knows this better than Suzanne Ryan. In her quest to overcome her lifelong struggle with her weight, she stumbled upon the ketogenic diet and decided to give it a shot. In just one year, she lost more than 100 pounds and reclaimed control over her health and well-being.
Suzanne has shared every detail of her transformation, from the very first days of starting keto to her most recent successes, on her popular blog,
Keto Karma,
as well as on her YouTube channel and Instagram page. Her first book,
Simply Keto,
isn't just a cookbook; it's a portal into Suzanne's life and dieting success--how she accomplished the incredible feat of losing almost 40 percent of her total body weight and developed a healthier and more balanced relationship with food. In this book, she shares everything you need to know to get started and find your own success. Inside, you'll find - helpful advice for starting keto - grocery shopping tips - keto and weight loss FAQs - more than 100 easy recipes - a structured 30-day meal plan - guidance for living and thriving with the ketogenic lifestyle
Frequently Asked Questions About Simply Keto
Book Reviews
(17)
Did you read Simply Keto? Please provide your feedback and rating to help other readers.
her book is very self-focused, not informational enough

Derived From Web

, Apr 8, 2021

This person writes all about her experience writing in a self-centered way. I don 't really care about her weight problem before meeting her husband or seeing pictures of her daughter and her now thin, svelte blonde self. She has a very narrow view of how to reach others. I tried a few of the recipes and they were tasteless, eggy and did not work. For example, her microwaved blueberry muffins were like little tasteless omlettes stuck in a cup. She is marketing herself to make money, but promotes bland recipes. I have sent this book back. Not worth the money either!
Wonderful Keto Book and Happy Customer

Derived From Web

, Feb 28, 2021

Love! Love! Love! Love! Love! Love! This book is in this book. I am new to keto and this book is filled with great recipes and lots of practical and easy keto information. It is a beautiful book with mouth watering recipes and large pictures. You won t be disappointed, you won 't be disappointed. Adding a couple of comments to my original review, adding a few comments to my original review. If you are new to Keto, be prepared to add lots of ingredients to your pantry and that means investing $. It is worth it! I have already made many of these recipes and haven t found a bad one yet. These recipes are for real '' people. They take more time than fast food or microwave cooking, but nothing too bad. Don 't hesitate to buy it!
Simply Reviewed

Derived From Web

, Jul 24, 2020

I started KETO on Monday and have done lots of research into it. My daughter has a attack disorder and this lifestyle is one that we will more than likely make her norm. I wanted to get as many recipes as possible and learn as many recipes as possible for when she is old enough. I have had several keto books and was discouraged with how expensive and EXTENSIVE the ingredient lists were on EVERY ITEM. Salad $70 : A salad $ 70? No thanks! No thanks! So imagine my relief when I received this book. '' It is written beautifully, sturdy... and the recipes... DELICIOUS! The recipes are simple to me, the ingredients list is doable... and the price list is worth it. THANK YOU, THANK YOU ''. Just ordered her newest cookbook and is excited to try some recipes in there as well. Highly recommended for anyone getting into keto who doesn 't want a complicated ingredient list... and actually has money left to spare .
Great for beginners AND experienced! Don't think twice, buy now!

Derived From Web

, Jun 25, 2020

I have been on and off Keto for about 3 years now, initially I gained 40lbs, but lost 10lbs in the last year by not being as strict as I was in the beginning and from the pandemic lockdown. I figured I'd buy this book to get fully back into it and didn't expect to learn as much about diet itself, since I had already seen success from it in the past. I was wrong! Boy! I stayed on the diet before my 10lb weight gain, and I realized that it was due to a lot of careless mistakes I made that I didn 't think would be a problem. So far I really enjoy this book, it is simple to read, great visuals and easy recipes. I would recommend this to both beginners and experienced keto dieters alike!
Life changing

Derived From Web

, Feb 12, 2020

I can not say enough about this book. Since the middle school, I have struggled with my weight honestly since 12 years ago. Since then, I have gained only weight. I have tried numerous diets over the years and failed each time. I only had this book for a few days, but when I eat it actually feels full! For once, I am not constantly thinking about my next meal and reaching for snacks immediately after eating. This is incredible. I will absolutely update on my own progress in a few weeks, but I am very confident, I have never been before!! Suzanne Ryan, thank you Suzanne Ryan! ! !
This is a MUST Read

Derived From Web

, Jul 24, 2019

I absolutely love this book! '' I am just starting Keto and she keeps everything simple and easy to understand. I am just beginning with Keto and she keeps everything simple and easy to understand. I like that in the beginning she takes a moment to explain the science behind Keto and what foods to avoid. Her book is very educational, so if you are just beginning, you will find what she has to say very valuable. I also love that she shared her story. I found it to be so relatable '', I found it so relatable. As far as recipes go, she knits them out of the park. My family is full of picky eaters, but all of her recipes have been a hit. There isn 't one that we have tried that we dislike. I would buy this book again 1010, I would buy this book again.
Honestly, the easiest cook book ever!!

Derived From Web

, May 4, 2019

If you are considering Keto... BUY THIS BOOK! The easiest cookbook I have ever used and I own them all! Atkins, Whole30, South Beach, Whole30, Atkins. Instead, this book is a blessing. Keto Started April1st April1st Keto. Hubs lost over 20 lbs and I have lost 7lbs. Recipes are super easy with normal ingredients and taste amazing. This book has changed our lives and routine. It's a Friday night and instead of eating normal, I cooked at home! Buy it, stop reading reviews and do it!! I am a wife and mom who was not paid for this review.
This diet is easy and works!

Derived From Web

, Mar 27, 2019

This book laid everything so clearly and so easy to understand. I love that she provides simple recipes, shopping lists and a breakdown of how to eat this diet. I take my list with everything she recommends to buy that I eat, go buy it, and have plenty to eat. I also lost 10 pounds so far and it seemed to come right off. I even started a new job recently and had 2 coworkers ask if I lost weight since the beginning. Highly recommended.
So easy to follow, great recipes!

Derived From Web

, Mar 7, 2019

I've ordered this book based on the recommendation of a youtuber. I wanted to help me with some more variety and ideas. I felt like I was drawing a blank on what to eat. When I received this book, I sat down and read through many of the recipes and then more than once. There were probably 7 or 8 ingredients I needed from the store to try most of them. It is so easy! Tonight I try a new one, but so far I have loved all of them. What a life saver to help keep me on track.
Keto diet is expensive and labor intensive.

Derived From Web

, Feb 22, 2019

The book will never work for me. The recipes call for a long list of ingredients. Some of them have to be ordered online or purchased from specialty stores, including a long list of artificial sweeteners. They don 't list sodium content ; they list macros. Daily, you are expected to add these to your list. One would have to be well off to afford this lifestyle and have plenty of time to cook and clean the kitchen. Guess what they call for you to use as a breading? Pork rinds are rinds with rinds. I am not putting artificial sweeteners or pork rinds in my body, I'm not putting artificial sweeteners or pork rinds in my body.