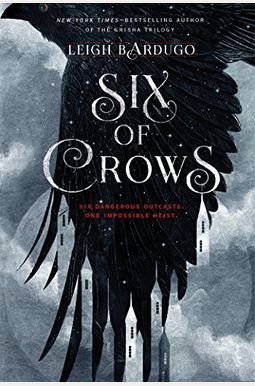 
 
Frequently bought together
Frequently Asked Questions About Six of Crows

Book Reviews
(12)
Did you read Six of Crows? Please provide your feedback and rating to help other readers.
Loved it!

Samantha G

, Apr 24, 2022

I cannot wait to purchase the second one!
Ready for the next.

Derived From Web

, Apr 20, 2022

The book is called Six ofCrows. I bought it because I liked the description and it was on sale for $2.99 on Cyber Monday, but it's well worth the full price. It's one of the best books I've read this year. The setting and characters are well written. The plot is moving at a fast pace. It is smart and fun. It's labeled as Fantasy, but it's dark and grimy. The romance in the book seems to be mentioned in a few reviews, but it's subtle, and it's present in every aspect of the book, so it's not a big deal. Even though the romances themselves were believable, I felt a little off because everyone seemed to have someone. Can't wait for the next event.
Not For Kids. The "Teachers Pick K-8th" is a mistake.

Derived From Web

, Jan 9, 2022

The book was hard to read. The main focus of the book was the past of Inej and Matthias as a kid and their obsession with the same girl. It was supposed to be a story about getting a crew for an impossible robbery of a highly addictive drug that enhances powers, but that wasn't the point. When Inej reads a chapter she flashes back to when she was a child in a brothel. He is obsessed with the chapter that Matthias has in it. The chapters of Nina were just as annoying. The story picked up when Kaz told his story to Jordy, however the next chapter was about the sexual tension he had with Nina and the boners he had with Matthias. I couldn't finish the book because I couldn't take chapter 30.
perhaps the best book of all time

literally the best read ever. fun for all ages! enjoy xoxoxoxoxo
Has such a cool vibe

I loved the duology so much♥︎ The characters and the plot ideas were just really well done. I appreciated that the characters wern't flat but actually had depth. The whole aesthetic for it was very pleasing, I'd highly recommend it.
Awesome!

Melissa Hernandez

, Oct 30, 2021

Thai is such a great book, interesting characters and good pacing.
Speechless…..

Derived From Web

, Jun 17, 2021

I don't read fiction and have a full time job, but this duology was amazing. I went to get Crooked Kingdom after I finished six of crows. I finished Crooked Kingdom in three days. These two books are amazing. I have been reading a lot. I haven't read fantasy since high school, and these reignited my love for fiction and fantasy. I am so speechless. It is sad it is over. I would love to have more Kaz.
Wow

Derived From Web

, Nov 15, 2020

I was not happy with this book. I didn't like the new characters in The Shadow and Bone trilogy. The story took hold, the characters evolved, and I was hooked. I'm looking forward to reading the end of the story. I'm very excited that the series will be on the streaming service.
This review does not reflect the story...

Derived From Web

, Aug 28, 2020

I am so upset that this review doesn't reflect the story I received a book with an add thing printed on it. The cover is one of the biggest parts of my books. I don't want a book with a sticker on it, but at least a sticker can be removed. I am returning these immediately, but I can't comment on the story because I haven't read it yet.
Eh

Derived From Web

, May 27, 2018

Half way through, I was bored. I should finish it because other people love it. It might get better. I'm stuck on this part where it's so obvious where it's going that it's hard for me to read another page. Is it possible we get more obvious? COME ON! I mean! I wasn't a fan of the series. If I had known they were written by the same author, I would have taken more care with this book.