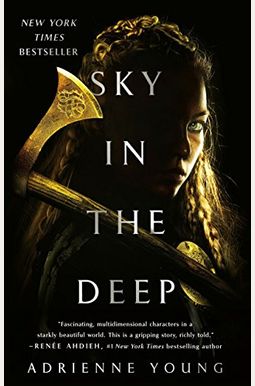 
 
Book Overview
AN INSTANT NEW YORK TIMES BESTSELER
A 2018 Most Anticipated Young Adult book from debut author Adrienne Young, Sky in the Deep is part Wonder Woman, part Vikings--and all heart.
OND ELDR.
BREATHE FIRE. Raised to be a warrior, seventeen-year-old Eelyn fights alongside her Aska clansmen in an ancient, rivalry against the Riki clan. Her life is brutal but simple: fight and survive. Until the day she sees the impossible on the battlefield--her brother, fighting with the enemy--the brother she watched die five years ago. Faced with her brother's betrayal, she must survive the winter in the mountains with the Riki, in a village where every neighbor is an enemy, every battle scar possibly one she delivered. But when the Riki village is raided by a ruthless clan thought to be a legend, Eelyn is even more desperate to get back to her beloved family. She is given no choice but to trust Fiske, her brother's friend, who sees her as a threat. They must do the impossible: unite the clans to fight together, or risk being slaughtered one by one. Driven by a love for her clan and her growing love for Fiske, Eelyn must confront her own definition of loyalty and family while daring to put her faith in the people she's spent her life hating.
THIS IS A GRIPING STORY, RICHLY TOLD
. --Ren e Ahdieh,
Read More chevron_right
Frequently Asked Questions About Sky In The Deep

Books like Sky In The Deep
Book Reviews
(10)
Did you read Sky In The Deep? Please provide your feedback and rating to help other readers.
Addictive!

Derived From Web

, Mar 6, 2022

The fight scenes are detailed and long, thank God! I loved the fight Eelyn had and the love grew between her and Fiske.
Enjoyed it very much

Derived From Web

, Jun 12, 2021

Every character has such a ferocious heart. The authors of this story line really enjoyed and loved how it was put together.
Great Viking action book

Derived From Web

, Mar 1, 2021

First off, this book came in great condition, which I appreciate. This is a great book to read and pick up if you're into Viking action!
Great novel. Not a series!

Derived From Web

, Sep 9, 2020

A full day of adventure and learning a whole new way of life. It is a stand alone novel, thanks to Heavens! It is clean for anyone who could be concerned about it.
Written gorgeously like poetry!

Derived From Web

, Mar 21, 2020

I absolutely love Adrienne's writing style and feel like I haven t read something so beautiful and poetic in awhile! I loved the Viking - inspired fantasy and the world she created. Plus, I think the characters are so real! If you are looking for a great book to read while quarantined, check out this book. During this time, support your favorite authors!
Slow to catch it slights and burns

Derived From Web

, Aug 23, 2018

I was having trouble with the lead voice, but about a third into it it went from Meh to OMG, I can 't stop reading. It enjoyed a lot.
It read like a movie

Derived From Web

, Aug 21, 2018

I forget the name of the movie in which the village is raided and a young boy is taken and raised by Native Americans? But anyhow, this story reminded me of this movie. Why am I reviewing ''. Because it is extremely rare to read a book that has such intense action, emotion and rawness, all those things you can see easily in a movie, but this was written in a written word. It didn't take much to dive into the world created by the author and be hooked until I finished. Very nicely done!
surprisingly great read!

Derived From Web

, Aug 13, 2018

Due to the negative reviews on character building and the slow romance, I was not going to read this book. This book was absolutely amazing! I don 't think I would call the heroine a Wonder Woman, but she can definitely hold her own. Love how the romance played out and wasn t the central storyline. The characters were well thought out and the author did a great job of building the story.
Like a Florence Welch song in book form

Derived From Web

, Jul 26, 2018

If you like the dreaming of pounding the Fjords on horseback with the crescendo of a Florence + The Machine soundtrack, this is your book. I enjoyed it and it was a quick delightful summer spin through a new world that felt legit, like it was just the historical truth of a country I don 't know as well. I think the only part I did not love was the first person aspect, because sometimes I want to know the other characters as closely as the MC, but the story was nonetheless engaging. Would also read the author's next work!
Emotional roller coaster with a tough as nails heroine

Derived From Web

, May 5, 2018

This was the best book I read that year. The heroine was so strong but felt and showed every emotion and I felt them right along with her. I have experienced anger, betrayal, humiliation, love, acceptance and fear. I laughed and I cried, but mostly cried. Immediately I went out in search of more books by this author and was surprised and disappointed to find out that this was her first.