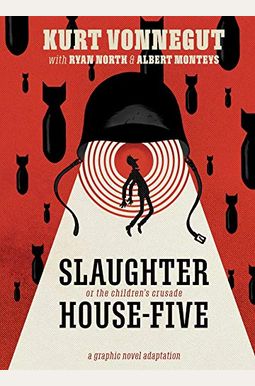 
 
Slaughterhouse-Five: The Graphic Novel
Book Overview
The first-ever graphic novel adaptation of Kurt Vonnegut's Slaughterhouse-Five, an American classic, is one of the world's great anti-war books.
An American classic and one of the world's seminal antiwar books, Kurt Vonnegut's Slaughterhouse-Five is faithfully presented in graphic novel form for the first time from Eisner Award-winning writer Ryan North (How to Invent Everything: A Survival Guide for the Stranded Time Traveler) and Eisner Award-nominated artist Albert Monteys (Universe ). Listen: Billy Pilgrim has.
.read Kilgore Trout
.opened a successful optometry business
.built a loving family
.witnessed the firebombing of Dresden
.traveled to the planet Tralfamadore
.met Kurt Vonnegut
.come unstuck in time. Billy Pilgrim's journey is at once a farcical look at the horror and tragedy of war where children are placed on the frontlines and die (so it goes), and a moving examination of what it means to be fallibly human.
Frequently Asked Questions About Slaughterhouse-Five: The Graphic Novel
Book Reviews
(7)
Did you read Slaughterhouse-Five: The Graphic Novel? Please provide your feedback and rating to help other readers.
Beautiful and moving

Derived From Web

, Dec 23, 2021

Kurt Vonnegut I love. I read Slaughterhouse 5 multiple times to varying degrees of comprehension each time. However, reading this graphic novel adaptation felt like a work of art on a whole other level. Regardless of how familiar you are with the original novel, this adaptation will offer insights you never considered before.
Better than the original?

Derived From Web

, Jul 30, 2021

I think it is a masterpiece. The hardcover itself is high quality, good construction, vivid colors, thick covers. If you're a fan of the original or curious about all the hype, I highly recommend adding this to your library!
Vonnegut would have loved it....

Derived From Web

, Apr 11, 2021

Slaughterhouse-Five was one of my favorite reads of all time and influenced my overall politics and views of war. I also loved the movie. I wish it had been 30 or 40 pages longer. I would have liked to relive more of the novel, but was thrilled with what I got nonetheless.
"Timeless" Kurt Vonnegut is still with us.

Derived From Web

, Mar 15, 2021

I enjoyed the original book so that this graphic rendition added another dimension to Vonnegut's wonderful story. I recommend interested observers of this great American author's refueling and reboot. read this and continue the adventures of Atire philosophy. The reader can come back "unstuck" again in time.
Wonderful adaptation

Derived From Web

, Oct 15, 2020

A powerful adaptation of a wonderful and vivid work! Who knew that this novel would translate so well into the graphic novel format?
Everything was beautiful and nothing hurt.

Derived From Web

, Oct 2, 2020

This book is an excellent addition to Vonnegut's collection. This book is a must for all Vonnegut fans. This great addition deftly combines V's genius creativity with illustrated drawings and a condensed text that still follows the original. As an added bonus, the book will also look great on your library wall. As you discover, the function of the novel in modern society is "To provide touches of color to rooms with all-white walls ".
Faithful adaptation

Derived From Web

, Sep 18, 2020

She has loved it. It takes advantage of its dark medium and expands the new humor through masterful illustrations.