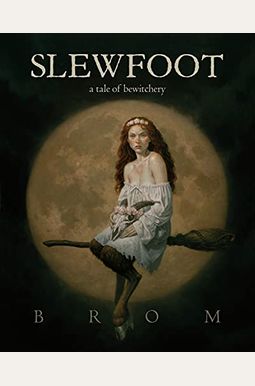 
 
Slewfoot: A Tale Of Bewitchery
Book Overview
Set in Colonial New England, Slewfoot is a tale of magic and mystery, of triumph and terror as only dark fantasist Brom can tell it.
Connecticut, 1666. An ancient spirit awakens in a dark wood. The wildfolk call him Father, slayer, protector. The colonists call him Slewfoot, demon, devil. To Abitha, a recently widowed outcast, alone and vulnerable in her pious village, he is the only one she can turn to for help. Together, they ignite a battle between pagan and Puritan - one that threatens to destroy the entire village, leaving nothing but ashes and bloodshed in their wake.
If it is a devil you seek, then it is a devil you shall have
This terrifying tale of bewitchery features more than two dozen of Brom's haunting paintings, fully immersing readers in this wild and unforgiving world.
Frequently Asked Questions About Slewfoot: A Tale Of Bewitchery
Book Reviews
(10)
Did you read Slewfoot: A Tale Of Bewitchery? Please provide your feedback and rating to help other readers.
Immersive and Bewitching

Mackenzie L

, Oct 17, 2022

I flew through this book and loved every part of it! I've heard fantastic things about Brom and this book completely lived up to my expectations--highly recommend if you're interested in a darker read!
Couldn't put it down!

Derived From Web

, Mar 16, 2022

I had to force to put this book down so I could get some sleep, and I opened it again the first minute I had a chance, he said. It was great to be back with the boys, said Blair. The book is a quick-paced, captivating story of two detectives. It's great to see that people enjoy stories that are accurate with witchcraft and fantasy mixed in.
Awesome

Derived From Web

, Dec 5, 2021

Thanks for the shoutout! I'm not saying he's a bad writer, but he's probably my favorite. Or, at least, that's what the IRS calls it. Lost gods, krampus, child thief, plucker, devil's rose, Tunick wrote. Yes, I have read those two books. It's just that one time. It's reminiscent of Salem witch trials. A small town with a supernatural history. Things happen that way.
Good art, ok story

Derived From Web

, Oct 25, 2021

This is a bit formulaic, even if you like the Coens. Feminism + Weak integration of the Native American experience in this book. It was a quick read, said Dr. Chester Floyd, director of the federal Centers for Disease Control and Prevention. It was just not what I wanted, Max. If you're interested, you can get your copy from the library or order it from Amazon. com.
Brom has done it again!

Derived From Web

, Oct 20, 2021

The story of how the Puritans came to be is told in this book. Loved this book, Rowling said. It wasn't long, but didn't add many extra things that I like, it's just a matter of time, I think. It's great to see the main character take on such a serious attitude, writer Pauley Perrette said. However, this is not perfect and very good. I didn't like the whole thing, but I'm picky. Also, I would have liked to see a few more illustrations of some of the characters in the book. It's definitely a most buy for me!
Captivating

Derived From Web

, Oct 8, 2021

I haven't read a book that has captived me to the point of stay up until the wee hours of the morning, wanting to consume more and more of the story in a long time. His attention to detail was exceptional. Even if I couldn't picture the world, I would have at least a dozen or so of his creations. It's a story I could read over and over and over again.
Not original but a dark, fun ride nonetheless 😊

Derived From Web

, Oct 3, 2021

I'm delighted the book has been so well received, said Paul Hollingworth, a Birmingham lawyer who has written several books. I was looking for something dark and romantic, preferably with a witchy vibe. I'm thrilled to be heading to Salem this month. I was a bit disappointed to find so much 'inspiration' from other Puritan trials novels, but that may just be an easy way to identify the culture of the times, he said. I will be reading Krampus next and hoping I have found an author I enjoy in this genre.
So Heartbroken!

Derived From Web

, Sep 21, 2021

Waited for this soooo long, and it is just so weak and, sad to say, AWFUL! I can't believe the same person who wrote this terrible parable in the first place.
Another Beautifully Written Horror

Derived From Web

, Sep 18, 2021

With only one more book left, I only have one more book to go. His characters are realistic and flawed, Raymond said. This was a slower go than some of his other books. He spends a lot of time setting the scene atmosphere and then everything goes down in 30 seconds or less. I'm content to be any world Brom weave, but I could see why others would not. This is definitely a great novel, but it isn't my favorite from him. But The Child Thief, by contrast, is a French novelist. If you are into horror fantasy and other dark shit, go check out Brom.
Binding and storyline are loose

Derived From Web

, Sep 18, 2021

Binding is failing, and I have never cracked the spine. Wanted to love this, could not.